Building Your Own Custom Home Series, Part XV: Framing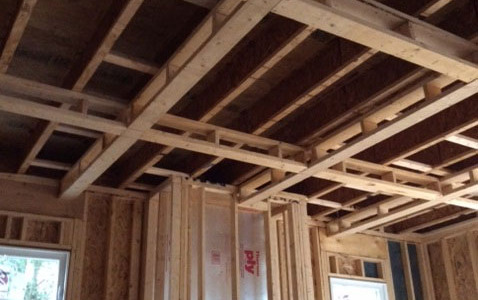 We're framing out at Great Falls Street (GFS)! I love the smell of fresh lumber. I love walking through a house right after the framers have cleared out. There's still a little sawdust on the floor and you can feel the home taking shape. This is the first time we've built the Sherwood Model so we've all been really excited to get the house out of the ground.
It takes about 30 days for us to frame up a house including the roof, windows, and doors. While every stage is important, framing the house with precision and attention to detail is important in building a good house overall. If critical areas like kitchens and bathrooms aren't square and plumb, the cabinet, vanity and countertop install won't go well. If windows aren't installed and shimmed correctly, they won't operate properly.
And if quality building materials aren't being used, it will impact the house forever. Engineered framing materials like Truss Joists, Advantech subflooring and OSB subsiding and roof sheathing are essential. If you are talking to a builder who still uses plywood for the subfloor, run. Using plywood in new construction is like using a dial up modem for your internet connection. It's outdated and inferior to engineered products like Advantech which is top of the line in subflooring. There are custom builders still using plywood (I've seen it as recently as the last 12 months) so be sure and ask the questions.
Our Project Managers spend a lot of time in the house during the frame stage. We have some of the best framing crews in the area working for us, but it is still important to pay attention to what they are doing. One of the most important quality control processes we have is during the frame stage. We actually do a frame check twice before the mechanical trades start. The Project Manager does the first and then our Construction Operations Manager goes behind them and conducts the second frame check before we start the HVAC install (it's a lot easier to adjust something in framing without duct work getting in the way).
We also conduct a Frame Walk with our client. At the Frame Walk, we review what's been happening on the site and discuss any issues or concerns. The Project Manager will also verify placement of any electrical options like extra recessed lights, structured wiring, or media wiring. This is a great opportunity for clients to add any additional electrical options. And since we don't charge a change order fee, our clients can make changes to their house without feeling penalized.
It is really important to make the framing is correct before moving on to the next critical path phase. Make sure your builder takes the time to get it right. It's important to keep a swift pace during construction but you can also pay attention to detail at the same time.
So how did the first Sherwood model turn out? I LOVE it.
Here's a peak at the front porch.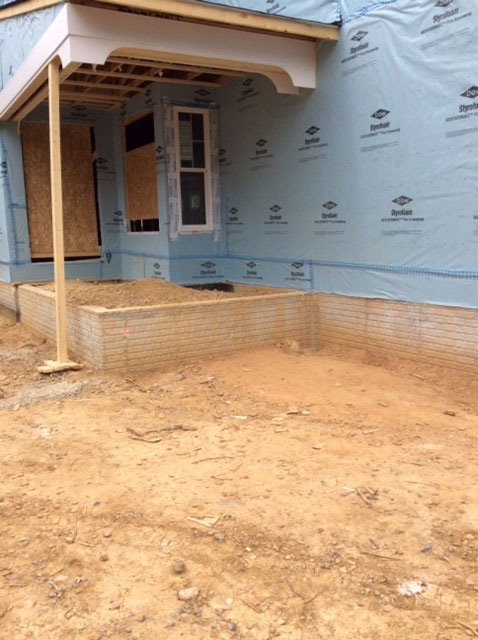 And the coffered ceiling in the Family Room.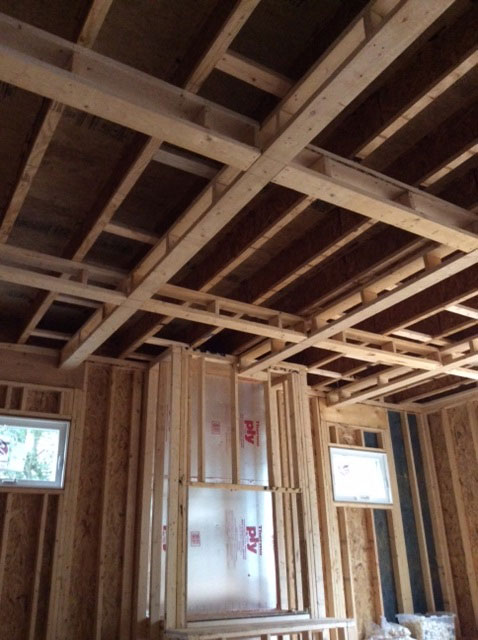 Did I tell you we're building out the optional loft area at GFS?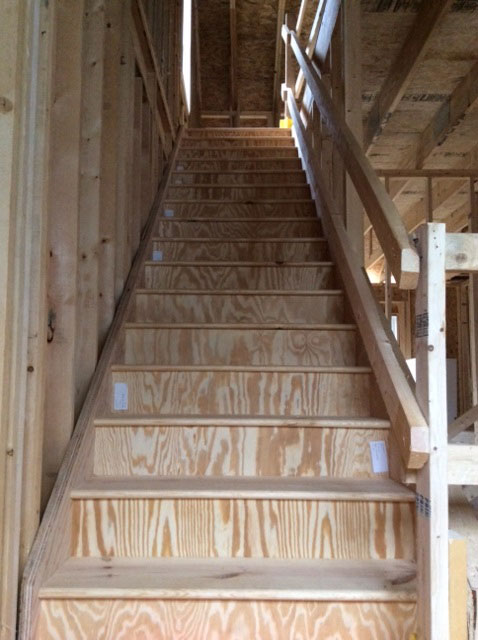 I can't wait to show you more. Stay tuned.
Dream Big. Build Smart.