Building A Custom Home: Advice If You Have Small Kids Or Pets
If you have small kids or pets, there are a few things you might want to think about when designing your new custom home. I have two boys (ages 4 & 5) and we are KNEE-DEEP in all things messy. So if you are planning a custom home project and you have small children or a pet (or just a messy adult), here are a few ideas.
#1 – Consider A Light Colored Granite
If you have a kitchen island, you might consider doing light colored granite instead of a darker color. The island is where everyone congregates so you definitely want something that won't highlight fingerprints and smudges. I've had black island granite before, and it is impossible to keep looking clean. Especially with these two…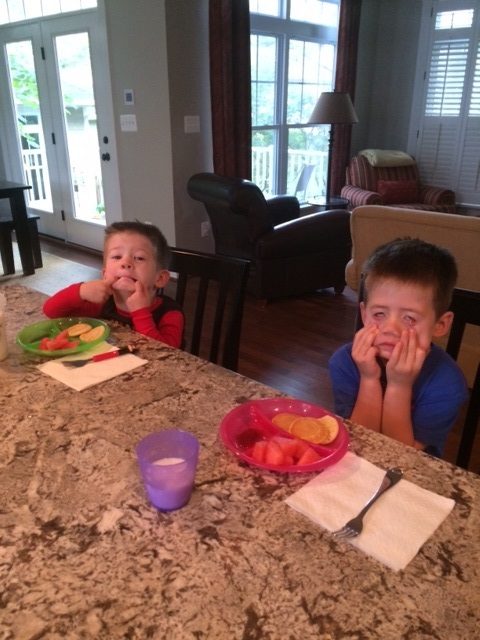 Those sticky little fingers will leave smudges and fingerprints EVERYWHERE. But on the lighter stuff, you don't see it as much. We have White Diamond granite on our island, and we love it.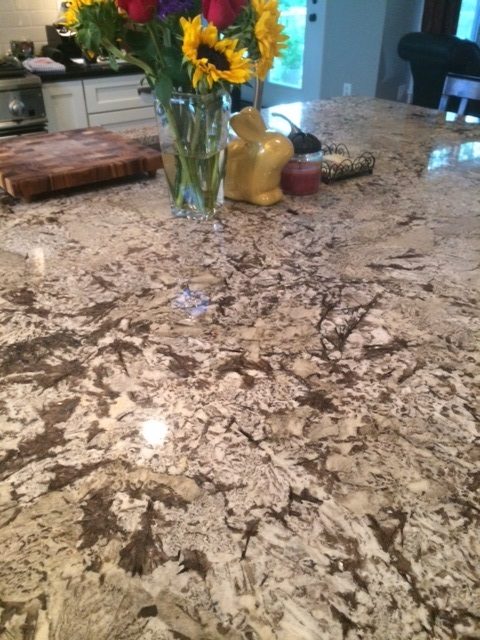 Now the fingerprints and smudges don't bother me because I don't even know they are there (until I stick my elbow in day-old maple syrup).
Choose The Right Flooring
Opt to put hardwood wherever you can. Carpet is not forever, especially when you have small kids and pets. Our standard carpet is great because we put a high quality pad under it, but when it comes to making carpet last over a long period time, it is nearly impossible (unless you never walk on it but who lives like that?).
My friend Kristen, mother of three boys, recently posted this picture of her carpet, showing some artwork by two of her boys with bright orange Play-Doh all smashed in.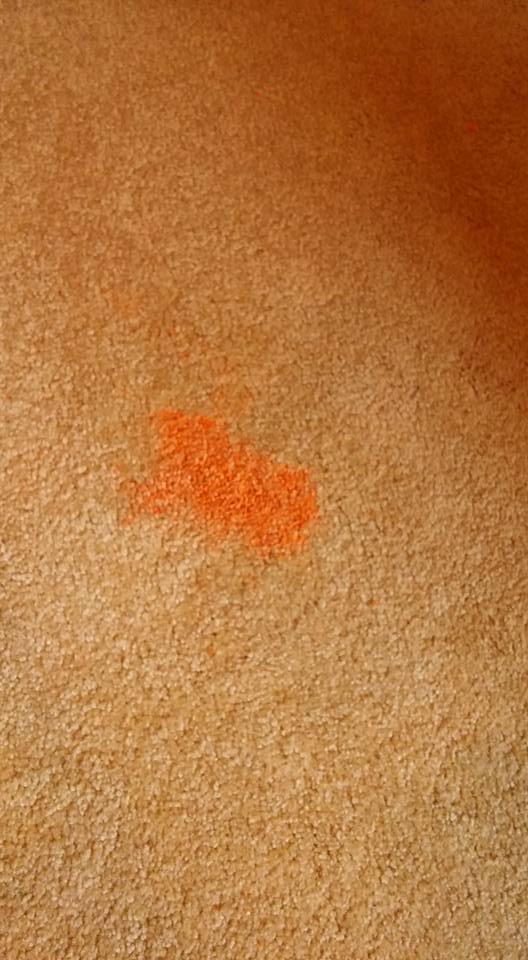 Kristen has three very well-behaved boys but even they get creative sometimes!
So if you have the budget, hardwood in the high traffic areas (we include it in the foyer, kitchen, nook, dining room, powder room and the main staircase) is a good idea. When Paul and I built our home, we opted for hardwood everywhere except the basement and the boys' rooms. Carpet in the basement makes sense to me (I like it cozy down there and tile or wood everywhere just seems cold) but I wish we had originally put hardwood in the boys' rooms. We ended up pulling the carpet out after just 4 years because it was so trashed and never seemed clean.
Depending on your style, you might opt for lighter colored hardwood. Just like granite, lighter floors don't show dirt. We built a home for a client in 2014, and she swears by her light maple floors. They are gorgeous!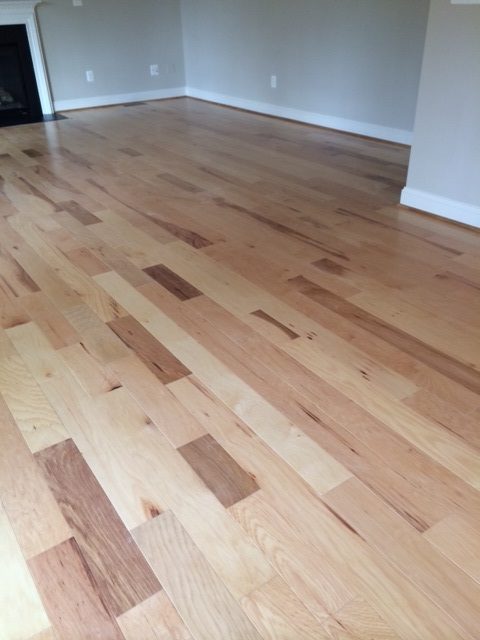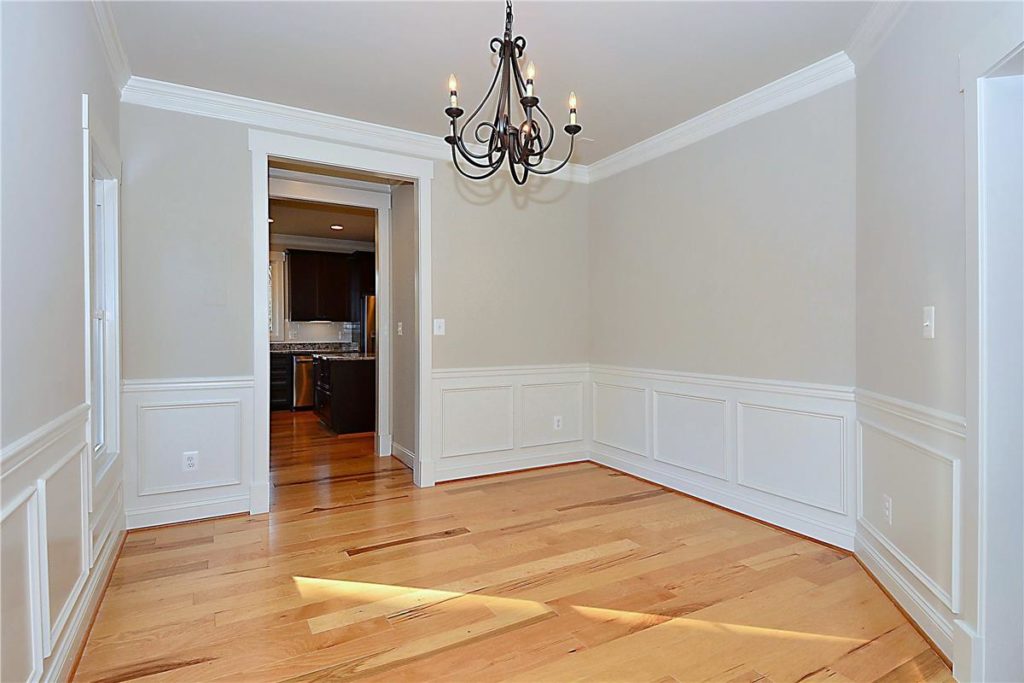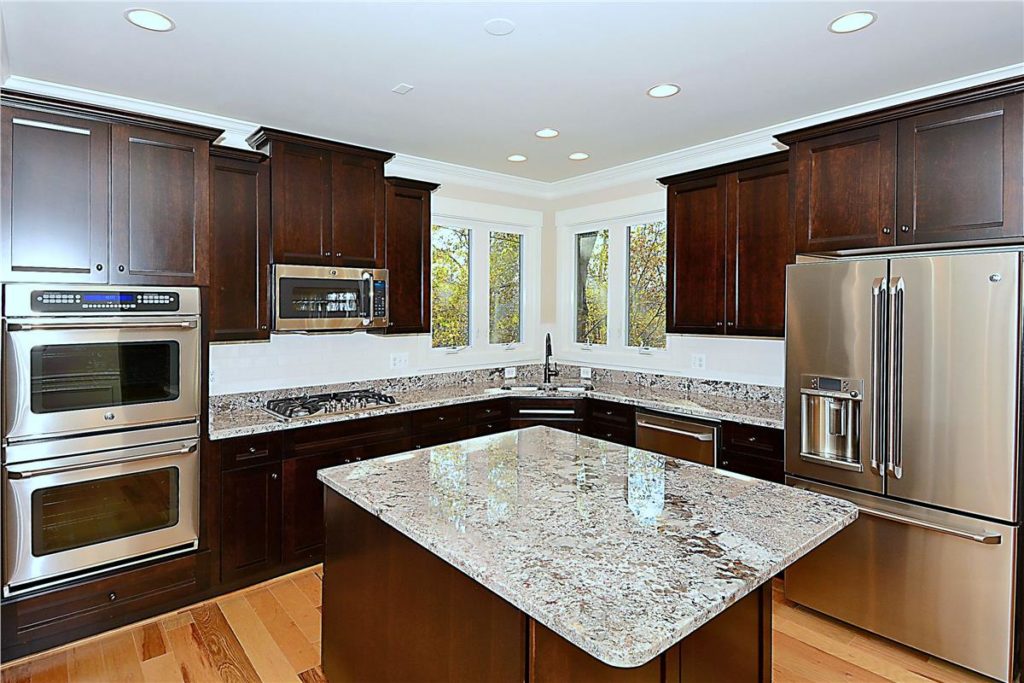 And if you happen to have children with allergies, hardwood is a great choice!
#3 – Let it go – the house is likely going to get destroyed.
OK – this has taken me a while to realize myself and I still have to remind myself that it's OK. Counter tops will always be dirty. The hardwood will be scratched and the carpet will get ruined. We must realize this and let it go (my parenting mantra).
When Paul and I built our home, we didn't have kids, and we weren't planning on it. But we did have a sweet dog named Marley. We got her in 1997 when we were still in Blacksburg.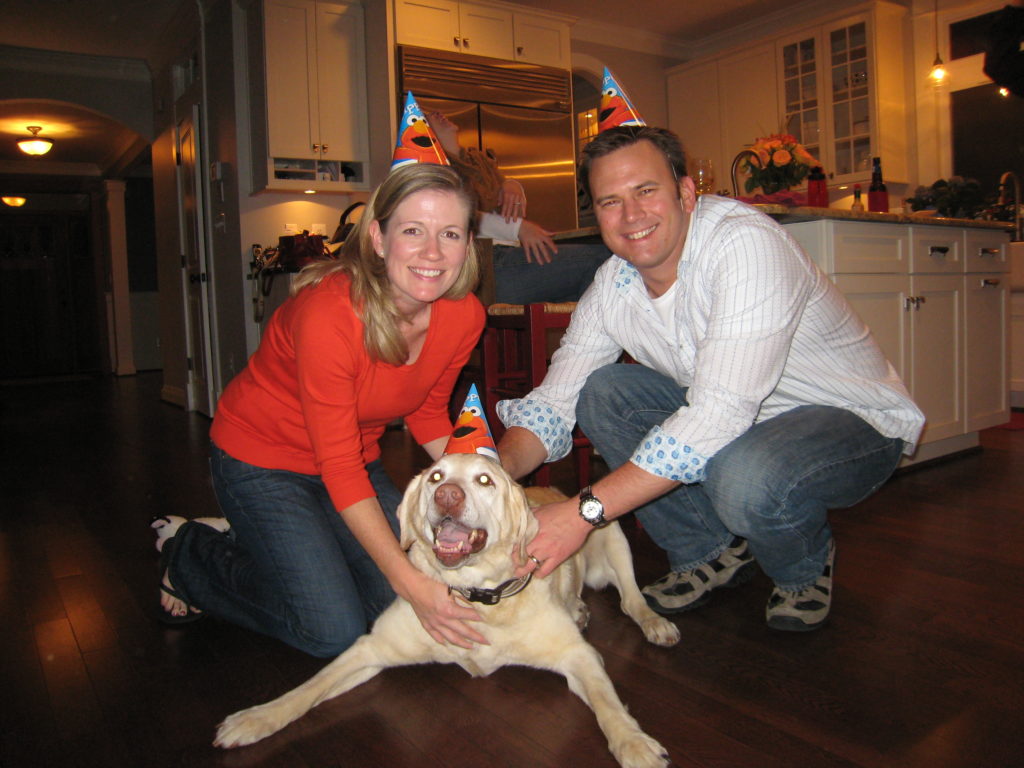 She was consistently over 100 lbs pretty much her entire adult life which meant it didn't take long for her to leave her mark on the hardwood floors. At first the scratches on our (BRAND NEW!) floor bugged me – it was brand new! But then I realized a home is meant to be lived in. It's meant to be comfortable and happy and safe.
We lost Marley in 2011 at the age of 14. Nate was just an infant, and I'm so glad we were able to get a few pictures of them together before she passed away.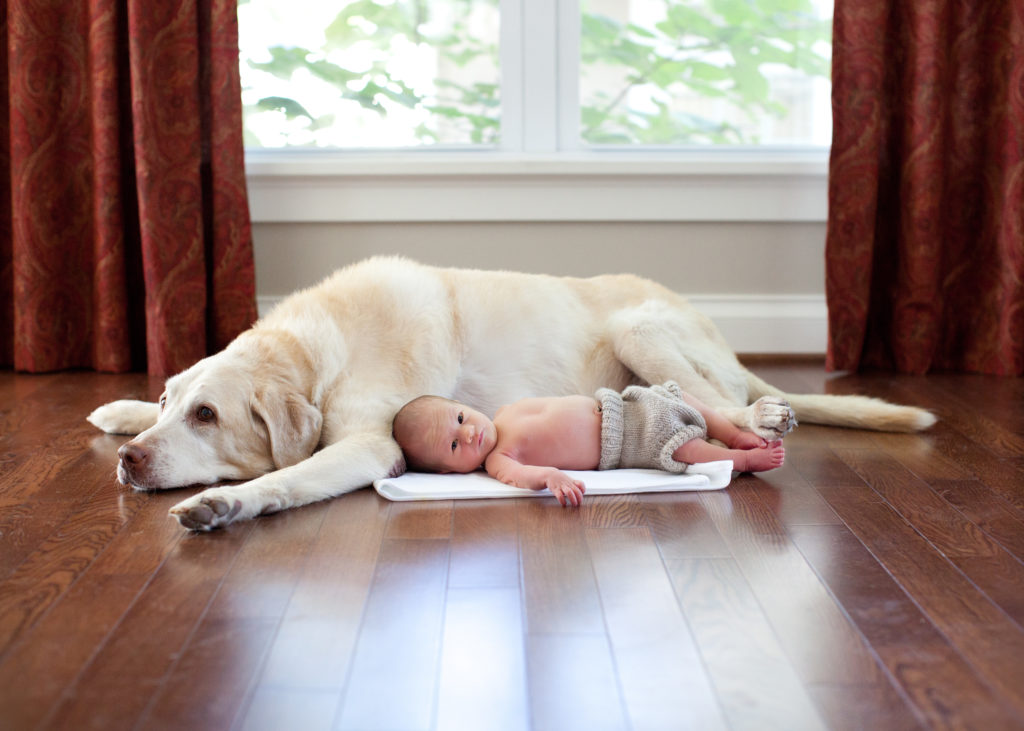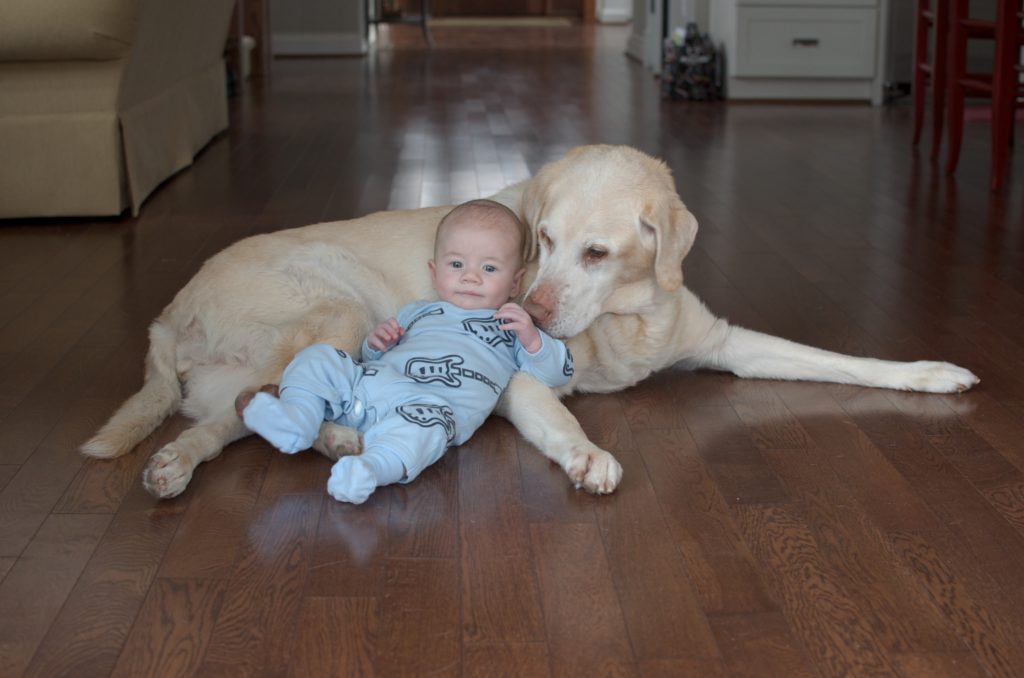 Every time I see Marley's scratches on the floor (and you have to really look to see them!), it makes me smile.
My advice? Make a few good choices up front that will minimize your day to day frustrations. But ultimately, I'm just trying to let it go. Oh, and I also make sure the kids stay outside as much as possible. Better to keep the mess out of the house. About a year ago, the boys were playing in the backyard, and I came out to find this. They had used the hose to make their own "swimming pool."
I was actually pretty surprised they still had pants on, and I was so glad they were OUTSIDE!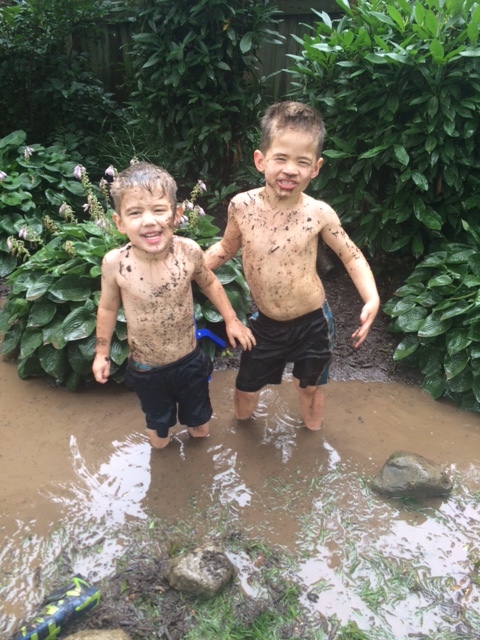 Boys.
Dream Big. Build Smart.