What We're Building: Jen's Week In Review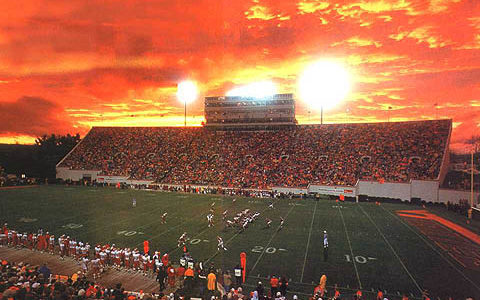 Thank you for stopping by my blog today! Summer is almost over and I'm a little bit sad but also VERY excited for cooler temps & college football (GO HOKIES!). We get a little excited for football around here and tomorrow marks the official start to the Virginia Tech football season!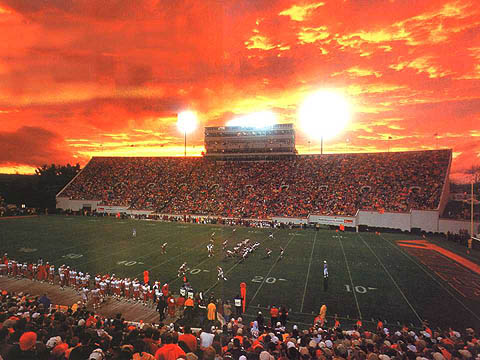 Let's Go!
Hokies!
But for now, back to work. Here's what's been happening around here this week…
This Week's PC Meetings
We are kicking off two new projects this week! One of them is a Chesterbrook Craftsman model. I so love this house! It's really the Hastings' big sister because we took all the things we LOVE about the Hastings (one of our top sellers) and designed the Chesterbrook. We wanted to incorporate an updated kitchen layout and some flex space because those features are so important to our clients. You can choose from two elevations (Traditional or Craftsman) and from there, customize however you like!
The client's Chesterbrook we're about to start decided to go with the Craftsman elevation but they also put their own custom spin by changing the roof line to a "hip" roof instead of a "gable" roof. I think it's really pretty!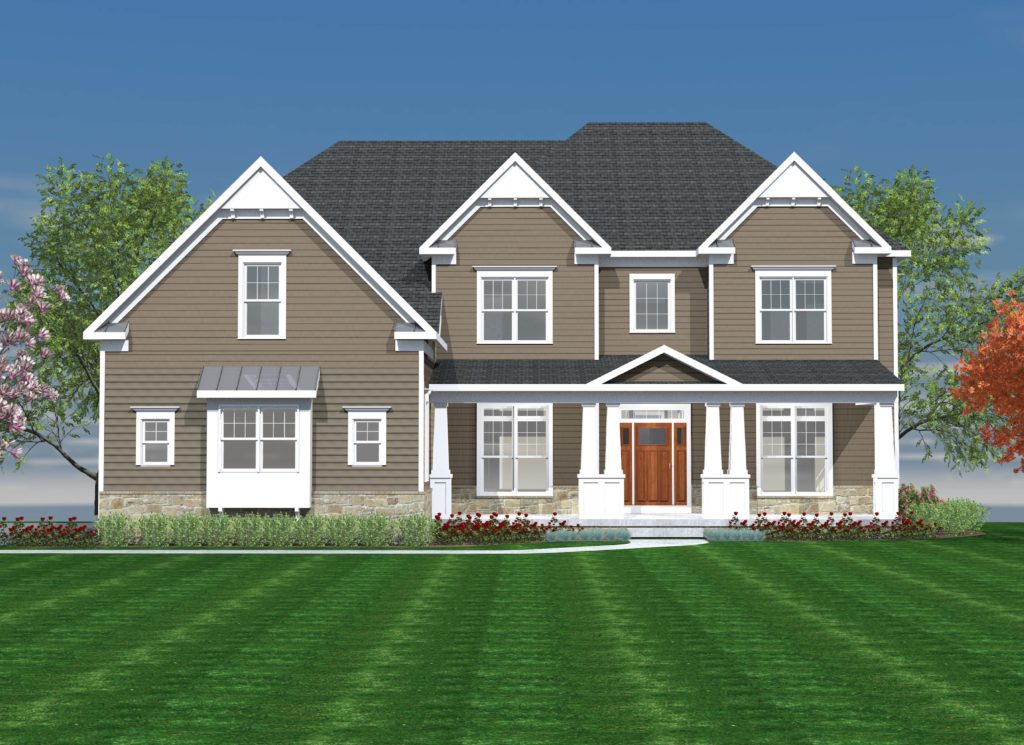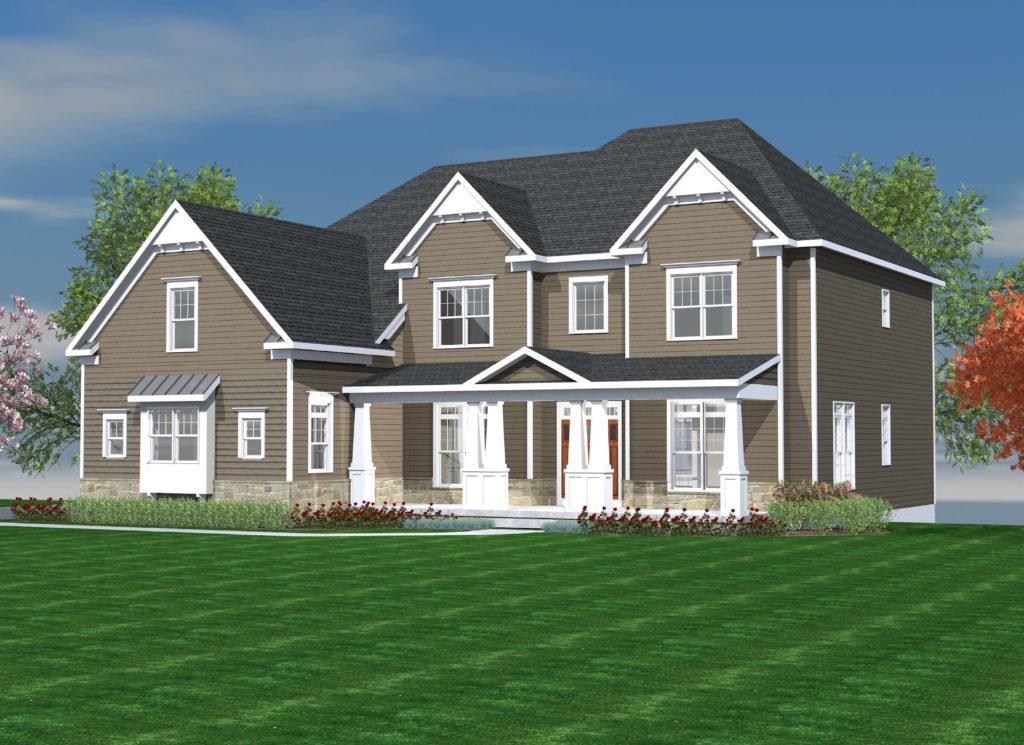 Langley Model Update
Our new Langley model in Falls Church is coming along! The foundation is in and the framing material was delivered on 9/1 and framing will start on 9/2.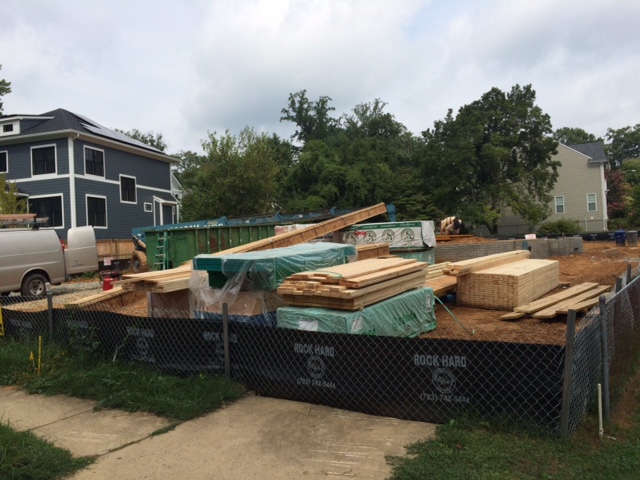 For all of our homes, we work off of a 30 day schedule for the foundation stage. I'm happy to report that we are right on schedule. The dig started on 8/5 and slabs were poured on 8/29 – win! Now that lumber has hit the ground, we will also want to see the frame stage completed in about 30 days. I will keep you posted…ready, set, go!
Save The Date
Speaking of our Langley model – we will be showing a nearly finished Langley model in Falls Church on Saturday, September 10 and Sunday, September 11. This is an awesome opportunity to see this wonderful new design!
Stay tuned for more details!
Vet House Update
Later this year, NDI will be gifting a brand new NDI home to a wounded military veteran and his family. It is just one small way we can show this wonderful family our appreciation for their service to this country.
I'm happy to announce that we have an excavated hole and we're pouring concrete this week!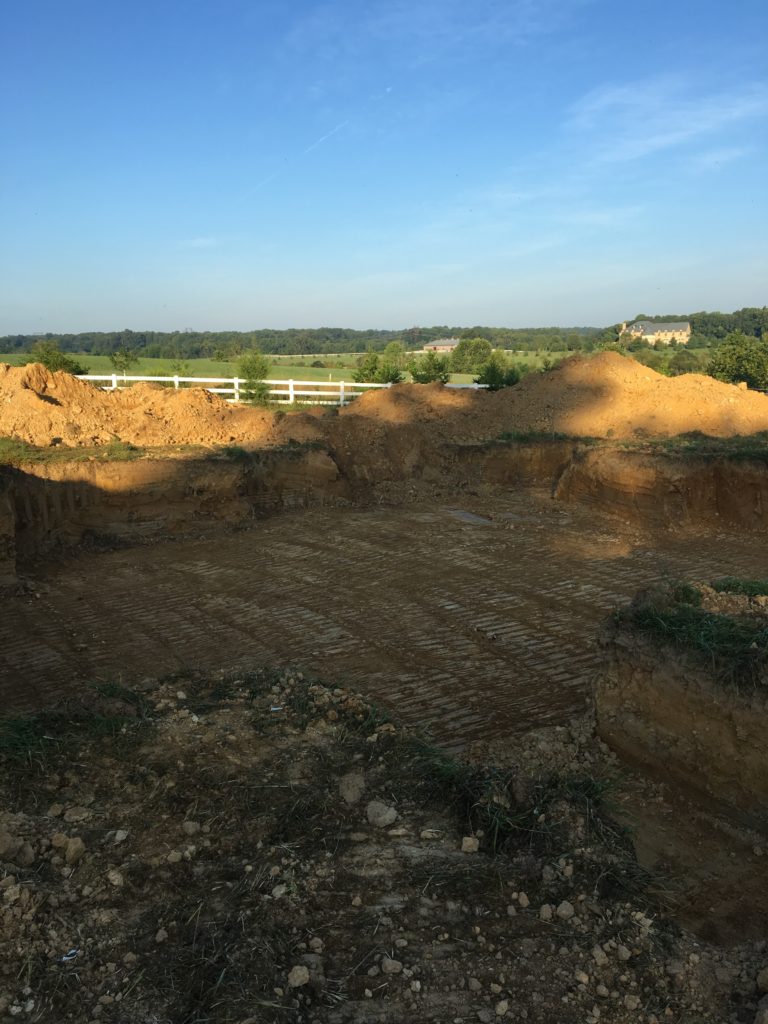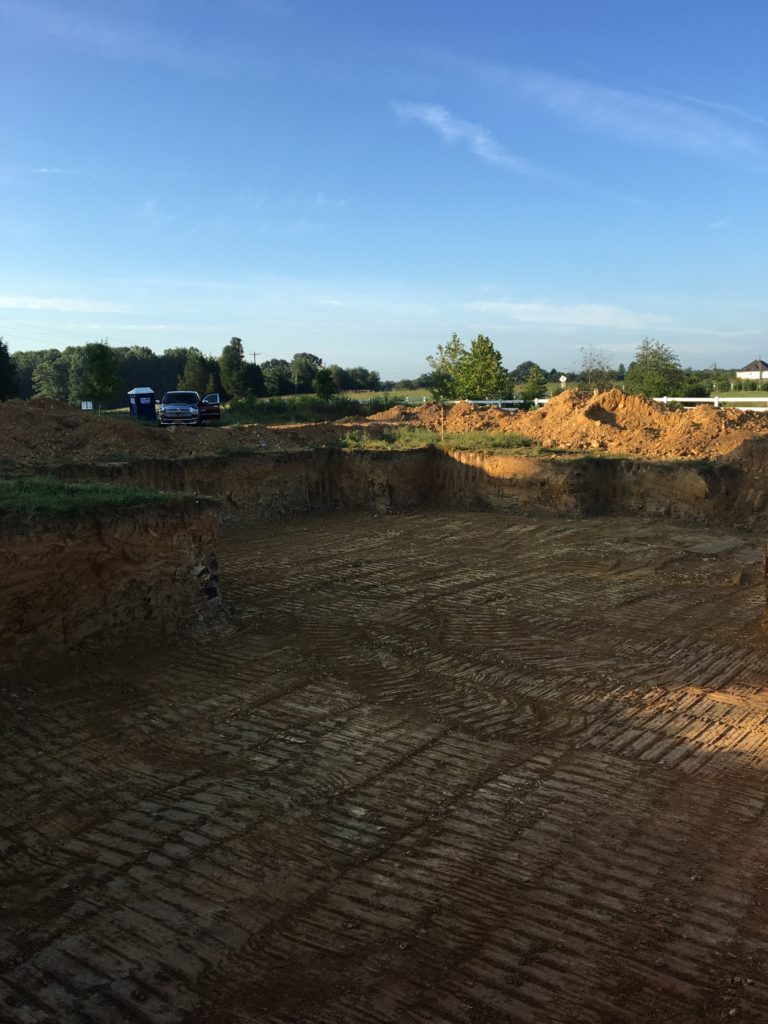 Such a beautiful view and what pretty dirt!
Trip To NC & Williamsburg
The boys and I went down to visit my mom in North Carolina this past weekend. We had planned to leave around 10:30 Saturday morning. At 10:20 AM, Andrew was climbing out of the bathtub when he slipped and cut his chin. The cut was small but it was deep and after getting a 2nd opinion from my neighbor who had worked for a pediatrician for years, we took him to the doctor.
Seriously, this happened 10 minutes before departure time. Best laid plans…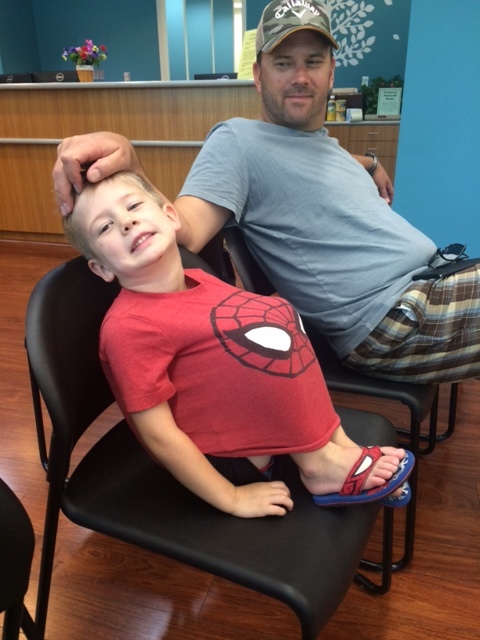 No stitches – our pediatrician said the trauma to Andrew, for one stitch, wouldn't be worth it. She could have glued it but because of the location of the cut, the glue would likely come undone. Her advice, let it heal on its own. Almost a week later, it's doing fine and we had a great time visiting Grandma. Lots of pool time, playing cards (I taught the boys how to play "War") and ice-cream at Calabash Creamery.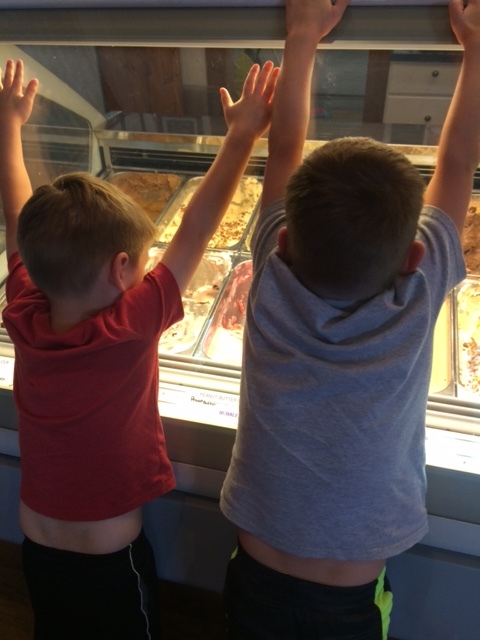 So many flavors…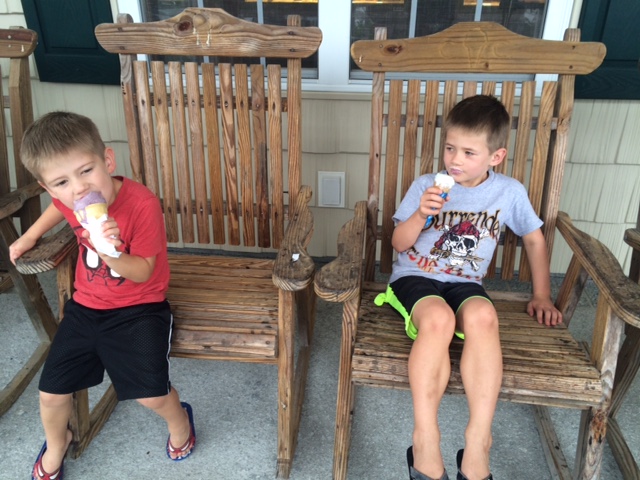 On our way home, we met Paul in Williamsburg and took the boys to Bush Gardens.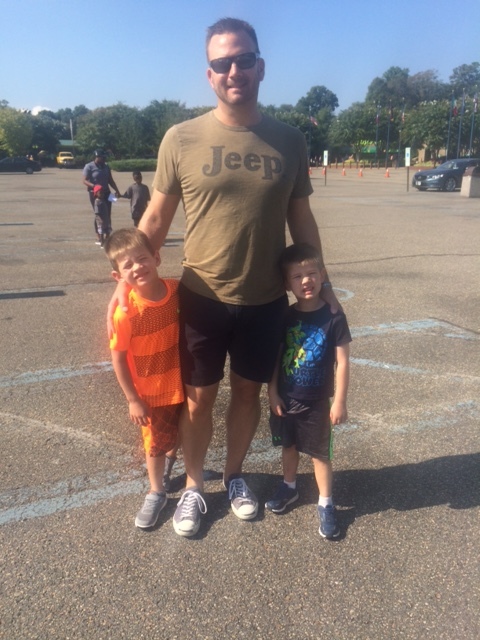 We love Bush Gardens! The park is so clean and fun for everyone. One of the best parts is they have stuff for kids of all ages throughout the park so you're not sequestered to one little corner with all the kiddie rides. The other part we love is that it is owned by Anheuser-Busch which makes it super fun for moms & dads. We had a ball!
Nate after the "teacups".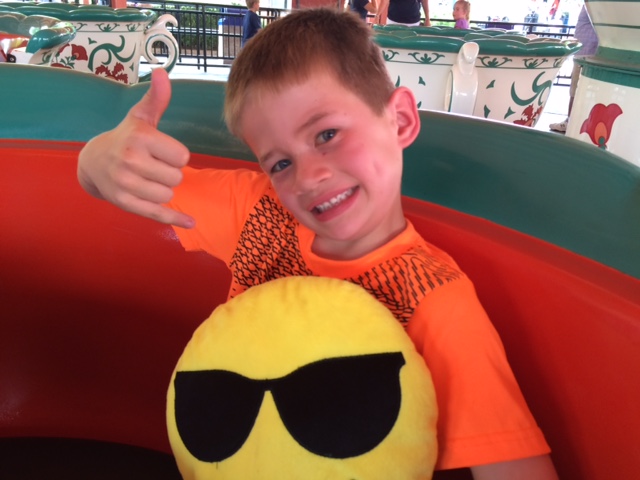 Drew waiting for the train.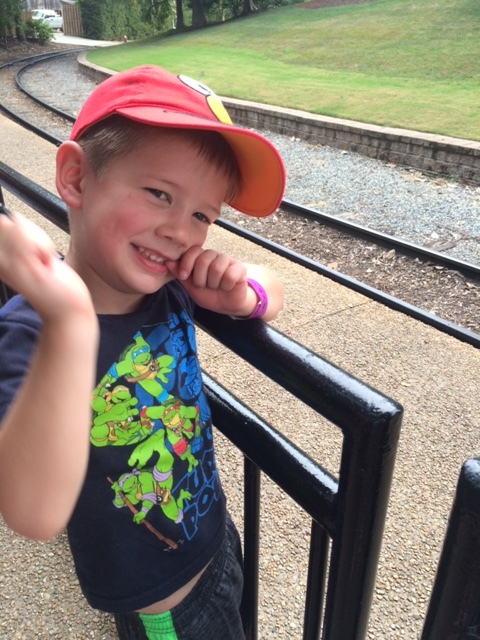 I hope you enjoy a relaxing holiday weekend. We're looking forward to squeezing in as much summer as we can!
And to all of those mamas out there putting their children on the bus for the first time on Tuesday morning, I WILL BE THINKING ABOUT YOU! And I will sobbing with you in solidarity!
Dream Big. Build Smart.