Buy vs. Renovation vs. Build, Part II: Investigating a Renovation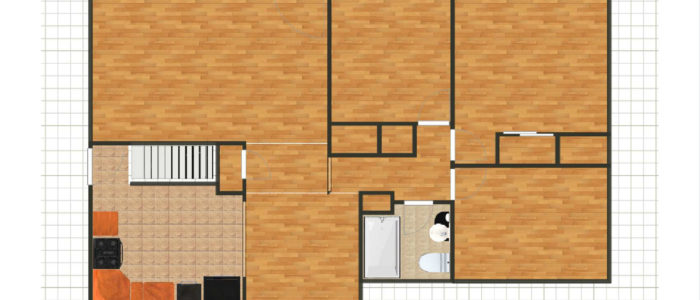 We hear over and over again from clients who are interested in our custom home program because they've looked into renovating their current home and said renovation was too expensive. Looking at our program, they realize they can get more home and more value for LESS MONEY.
Last week, NDI Homeowner, Sarah Bagley, shared her family's story about their growing family and their need for more space. Their family had expanded and they were running out of room! They figured they had 3 options…
Purchase a slightly newer, larger home somewhere in Vienna.
Renovate their existing home.
Tear down and rebuild.
They soon ruled out purchasing resale after realizing what they would get in their price-point. Today, Sarah continues their story about exploring the possibility of renovating their existing home. 
Here's Sarah Bagley, NDI Homeowner since 2014.
-Jen
_________________________________________________________________________________
When I last left you, my husband, Dan, and I decided to look into renovating our rambler. In our neighborhood in Vienna, many homeowners decide to pop the tops on their ramblers or blow out the back or some combination of those options. We figured  it couldn't be more than…say….$150,000.
Dan drew up some plans and called a couple companies over to give us quotes. Here's the plan we were working with: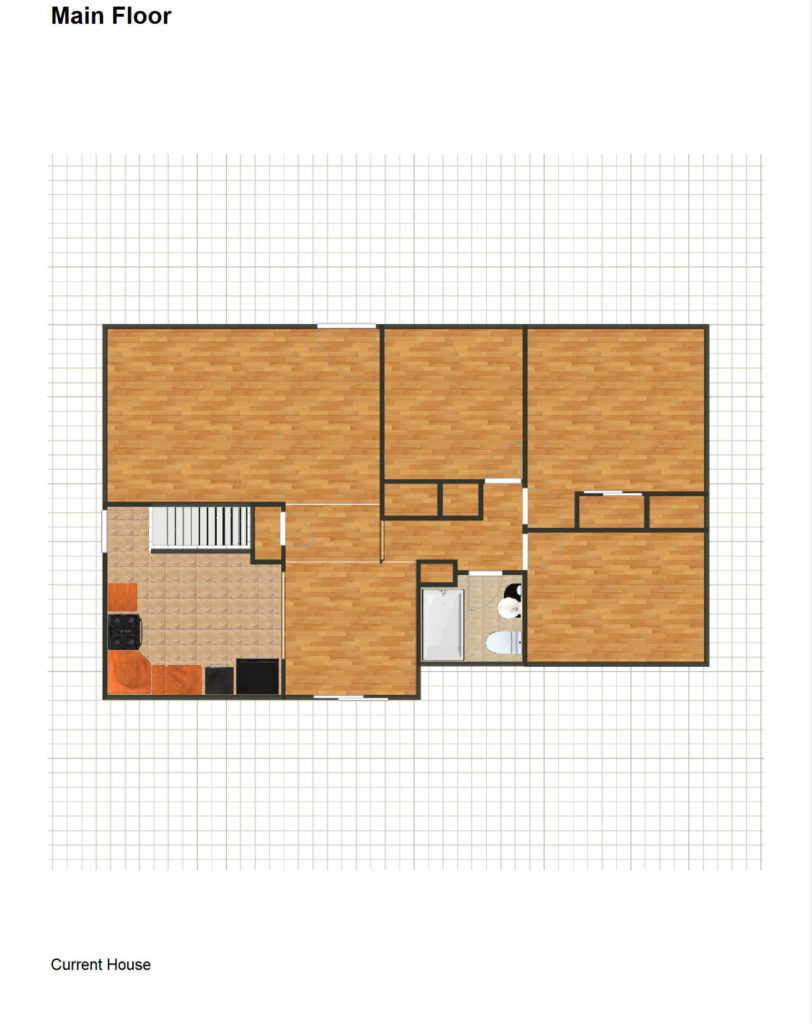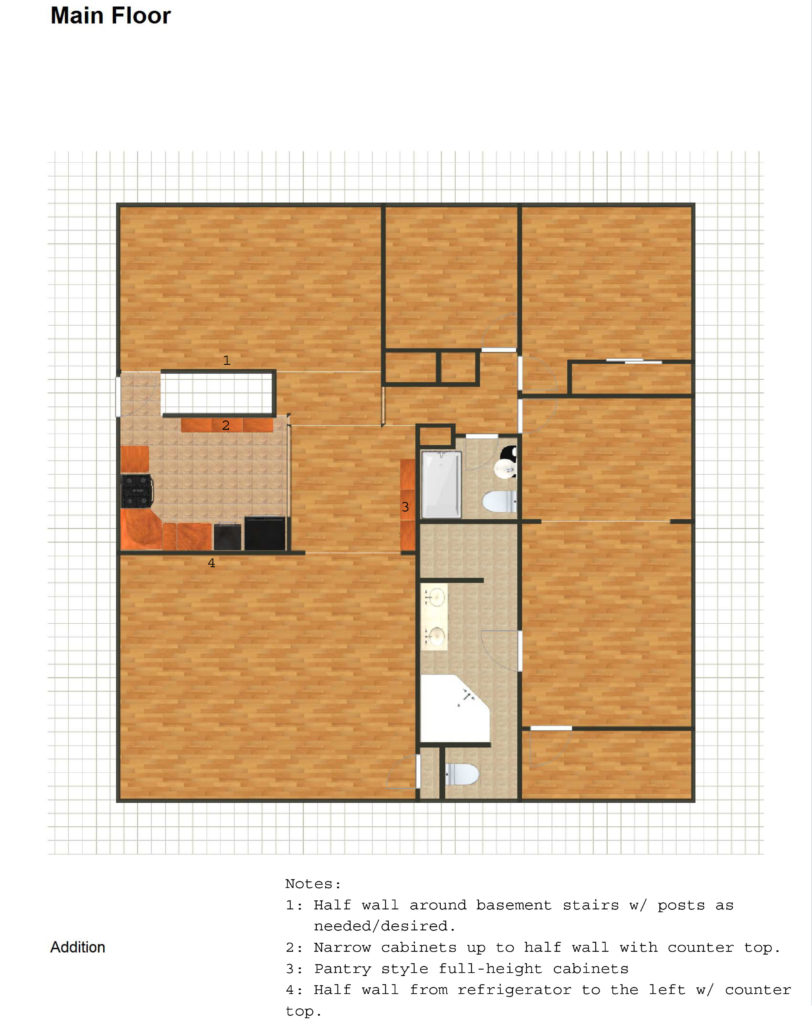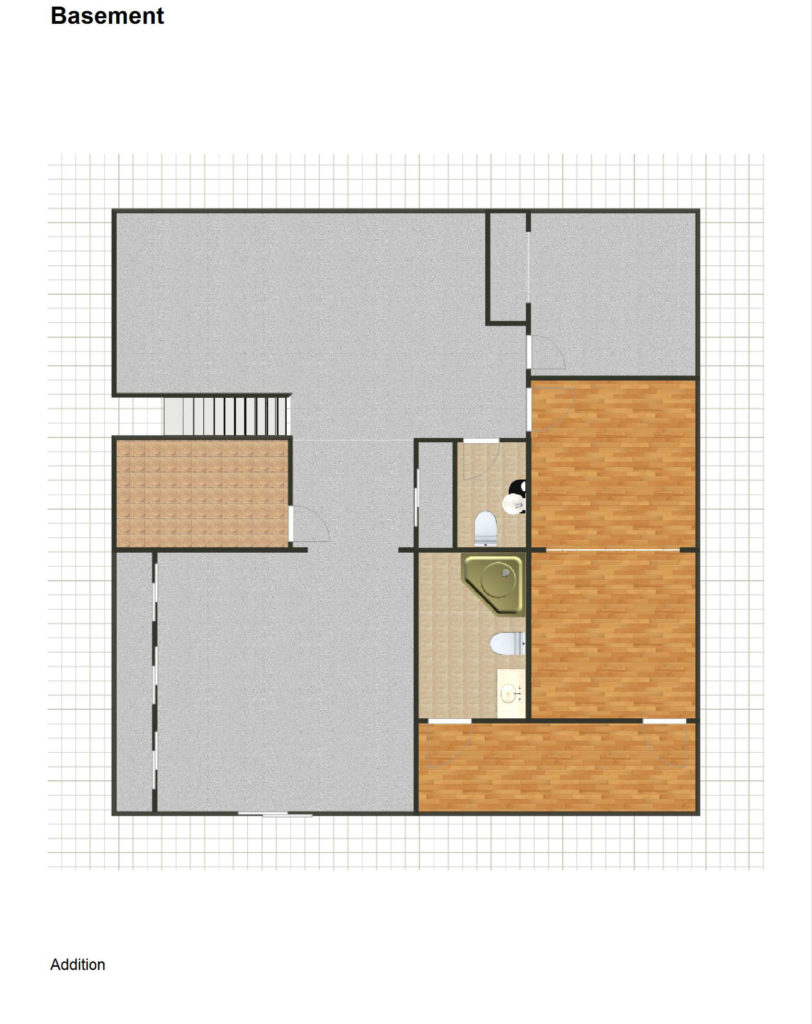 As you can see, we wanted to go out the back. We're fortunate in that our lot slopes away, giving us a complete walk out basement. We wanted to use that to our advantage, so in our plans we had the house going out about 18 feet on both levels.
With this plan, on the first floor I'd get a more open concept layout and a master bedroom with an en suite bathroom. In the basement, we'd get a larger family gathering space and an additional bathroom and bedroom.
This plan would have taken our current house from:
1,000 sqft on the first floor to 1,800 sqft on the first floor
900 sqft in the basement to 1,700 sqft in the basement
Total square footage increasing from 1,900 sqft to 3,500 sqft
We had a couple companies over to our house to give us quotes. And what they came back with shocked us.
We were quoted between $300,000 to $400,000.
That means, for a renovation we would pay about $200/sqft to add 1600 sqft. That felt like A LOT! Especially when we say a sign for NDI that was $79/sqft…
And we knew that the number they quoted us wouldn't be the end of it. Because who knows what else they would find as they started taking part of the old house apart! (Not to mention, we were sweating bullets thinking about how the HVAC system would handle the larger-sized house! HA! See what I did there?!)
The other issue with a renovation was the aesthetic and the issue of the house layout itself. Our house wasn't anything special. A rectangle box. Going out the back made it…a slightly larger rectangle box. A couple of contractors suggested popping the top instead. But popping the top made it…two rectangle boxes…stacked on top of each other. And I still wasn't getting everything I wanted.
So there we were, again, back to the drawing board. Stay turned for my final post where I share why we ultimately decided to build…and how that cost broke down.