First Camping Trip of 2018 + Cooking On The Kudu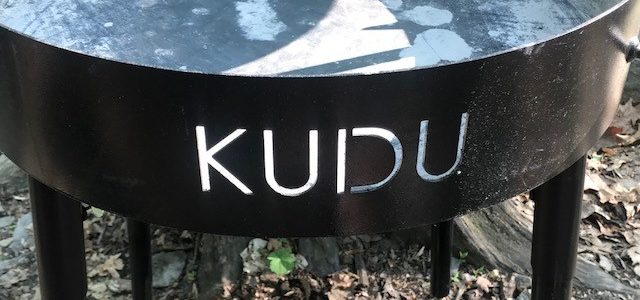 Last weekend marked the beginning of camping season (for our family!). Yes – we went camping on Mother's Day weekend. If you had asked me a year ago, how I would want to spend Mother's Day weekend, no chance on this beautiful green earth would I say, "let's go camping!". But quite a bit has changed for me over the last 12 months and it has renewed my love of camping.
I love being in the woods.
I love the peacefulness.
I love disconnecting (with technology).
I love the boredom.
Yes, some aspects of camping involve being a little bored. But in the midst of our busy lives, doesn't that sound glorious? To have nothing better to do than to sit and be. It is the best.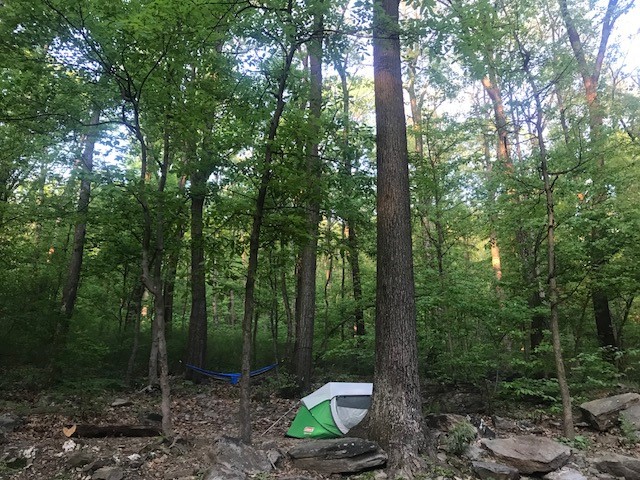 Where We Went
We decided to venture into Maryland for this trip. We were having a hard time finding a spot in VA that was (1) within 1-2 hours of Falls Church and (2) able to accommodate our group of 3 families. A quick search and we found the Treehouse Camp.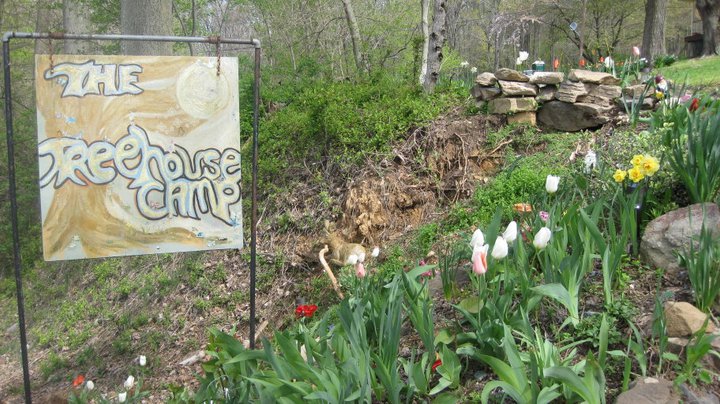 We left Falls Church on Friday at 2:30 PM and it took us just over an hour to get there. I love this spot for so many reasons but a big plus in my book is proximity. I don't want to sit in the car for hours after working all week. I just want to get there! The drive was really pretty too – we went out the Greenway and crossed into MD from Loudoun. I'm a NOVA native and that was a first for me. Not going to MD (HA!) but going through Loudoun to get to MD. Beautiful countryside!
The Treehouse Camp is a combination of tent sites and cabins (treehouses). Some of the cabins are on stilts and some have fireplaces or wood stoves.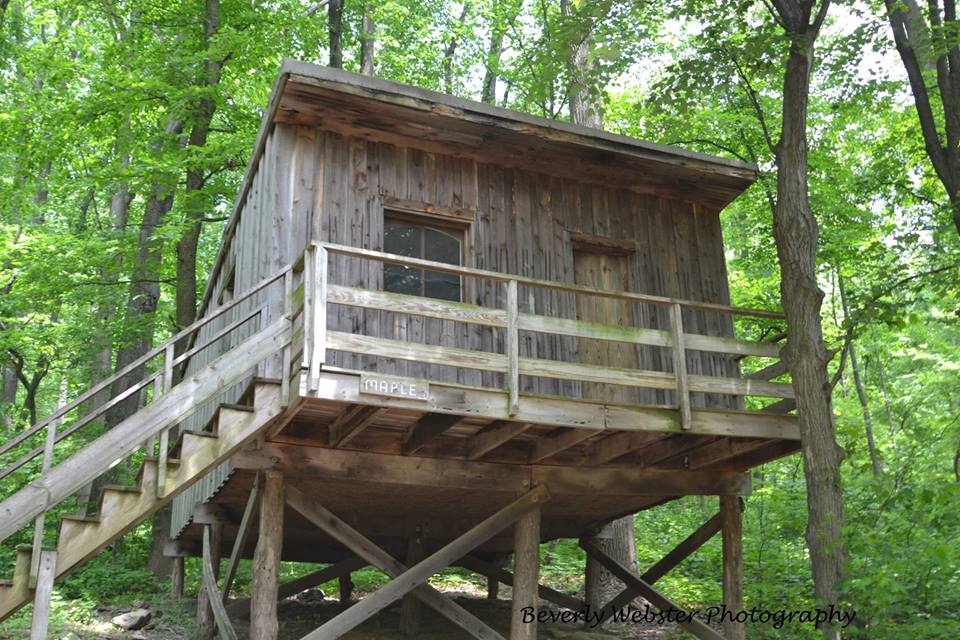 They also have the Hobbit House available to rent which is just the cutest thing you've ever seen.
It is built into the side of the mountain which means the house is naturally insulated. We popped our heads in on Saturday afternoon and it was actually cool inside on a fairly warm day. Interested in booking it? You need to plan. Someone told me they're booked through December!
We reserved a tent site ( because we're purest – HA!). The site we chose was Wildebeest. We chose it mainly because it was able to accommodate our large group of 10 – we easily fit 3 large tents and a 2 person tent. We loved this spot – it was totally private and it backed to woods. Great for the kids to explore without disturbing other campers!
It was only accessible by 4×4 vehicles which was fine for us. It was steep but we didn't have any problems getting in and out.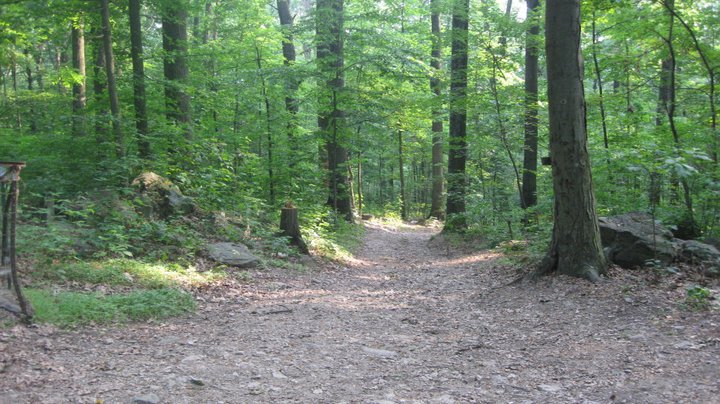 Now let's talk about the facilities – in order for the campground to be "approved" (by me), it must have warm showers and flushing toilets. Call me spoiled, high-maintenance, etc. – I don't care. These are some of the things that make my camping experience enjoyable for me. Especially when it's super hot – I MUST SHOWER.
There is also an office/store that is well-stocked with camp necessities, ice, and fire-wood. The campground is run by a lovely family who do a wonderful job acquainting you with things and making you feel at home. And can I just say – the office/store and the bathrooms smell amazing – like there is a lovely Yankee candle burning at all times. I wish every campground smelled so good!
What We Did
We try to get at least one hike in when we're camping. Lucky for us, The Treehouse Camp is less than a mile away from the Appalachian Trail. So we headed over and did a short hike that incorporated the AT. So cool – have you ever been? Are you aware of the eclectic nature of the AT community of hikers? Like they never use their real names when meeting up with other hikers. It's pretty crazy. We met a few hikers that day who were on their way to hike nearly 50 miles. That day.
God bless them!
Andrew was especially interested in seeing the AT because one of his teachers at school is taking a sabbatical to hike the trail. He started in March and is still at it. Andrew thought it was pretty cool to experience some of it just like Mr. B!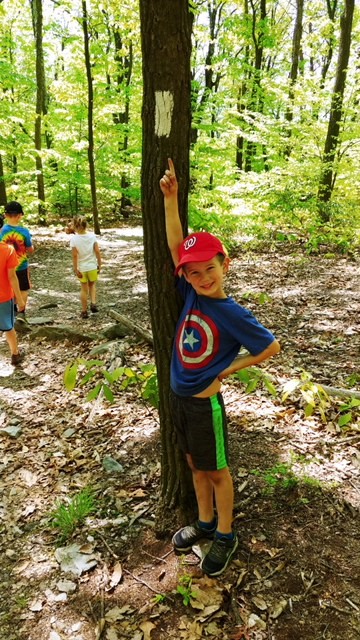 We randomly came across a shelter used by the hikers. Up to 6 hikers can sleep inside the shelter for up to 2 days at a time.
I've been thinking about the hikers out on the AT these last few days. All of this rain. I can't imagine!
What We Ate
So when I say camping, I really mean glamping. Don't get me wrong, we're in tents and spend most of our time outside but we're comfortable and we eat well. Really well. The first night we arrived, we made Peruvian Chicken with Green Sauce. This is the third time I've made this dish in the last few months. It's addicting. Well, the green sauce is addicting. And the pickled onions. And the flavor of the chicken. So delicious.
Even though I've made this 3 times, I still haven't taken the time to snap a picture of the dish BEFORE we eat it. I'm just too darn excited to dig in. So here is a stock photo.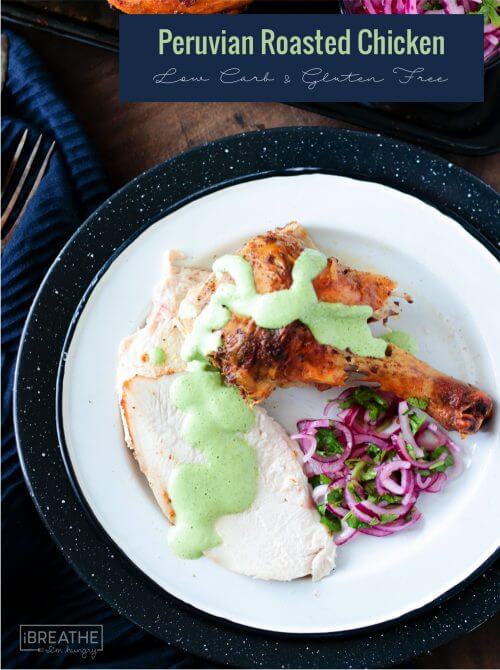 This time, we served it with fire-roasted potatoes and a simple salad. I've also served it with this rice dish (YUM!). Seriously – run, don't walk, and make this for your family STAT. They will love you forever. And if you do make it, I would highly recommend cooking it over an open flame (wood is best but charcoal works great too!).
The KUDU
Speaking of cooking over an open flame – I have to tell you about one of our favorite purchases of the year. We were in Charleston, SC in March and our dear friends took us to the Charleston Food & Wine Festival (highly recommend!). We came across a vendor selling wood grills. I had never seen anything like this thing – it's called a KUDU and we can't get enough of it. We even packed it up and brought it with us camping.
One thing about camping is it can take forever to cook a meal. You're usually cooking over a campfire and can only cook one thing at a time. The cool thing about the KUDU is you can cook multiple things at the same time and at different temperatures.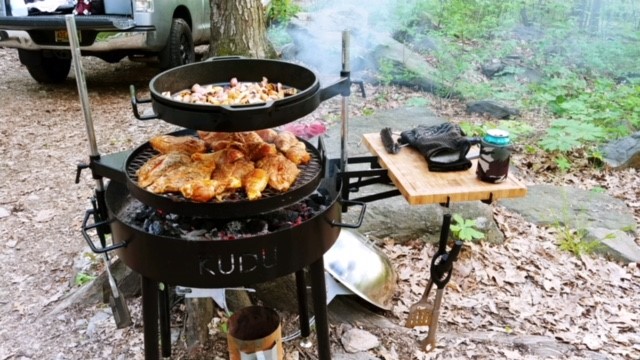 It's brilliant.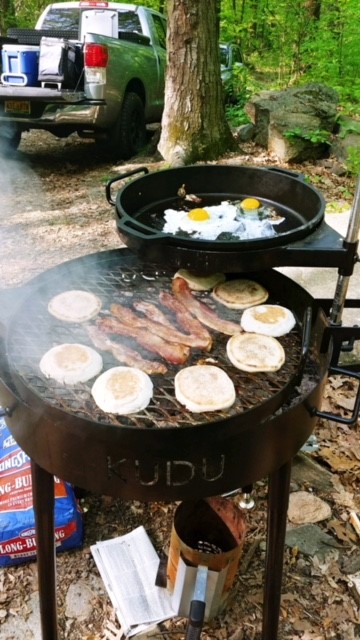 We've cooked so much on this thing – WE LOVE IT!
TRUTH – it isn't cheap (and quite frankly, we purchased it on a whim and after a few wines) but I don't regret the purchase at all. It elevates the flavor of everything you cook on it and is worth every penny. So if you're looking for a gift for Father's Day, look no further than the KUDU.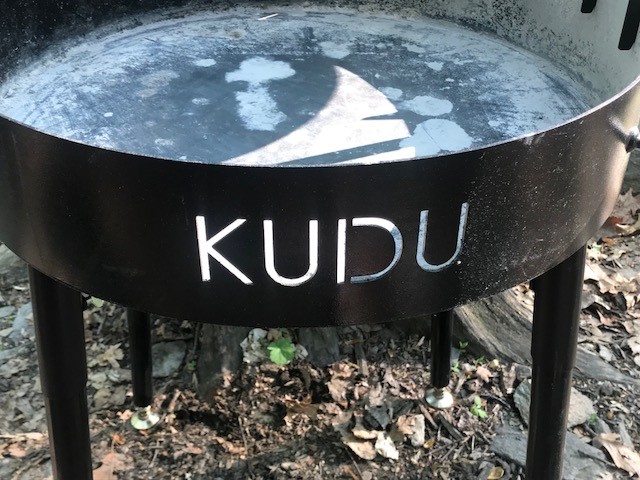 I can't wait for our next family camping trip! We all love being out in the woods and it is something we can do as a family and share with friends – thank God for friends who like to camp!
Next time, we hope to find a new campground to try. If we do, I'll let you know. I also want to review our new tent for you. We haven't bought a new tent since 2001 but the boys got a new 2 person tent for Christmas which meant we didn't need the monster 3 room tent (yes seriously) we had. So far, I love our new tent and I'll give you hint why – it has a darkroom.
Like I said before, we glamp.
Dream Big. Live Life.