Jen In The Kitchen: Easy (and Tasty!) Weeknight Meal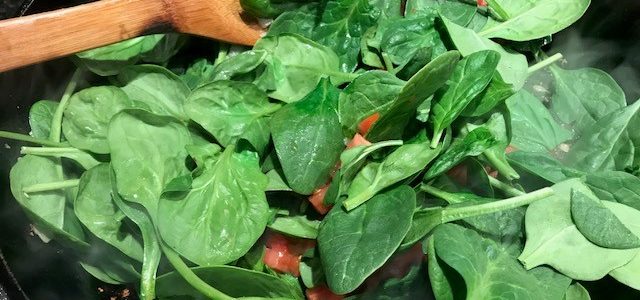 Do you follow Tasty on any of your social media channels? They're constantly posting videos for crazy recipes like the Potato Volcano and the 12-Layer Turkey Pesto Panini Bowl – things I would never cook but I'm addicted to watching someone else cook them! From time to time, I will see something that gives me inspiration to get out of my cooking rut! I was recently scrolling through my news-feed and came across a Tasty video for Creamy Tuscan Chicken. I'm a sucker for anything creamy and it looked easy enough to tackle after working all day.
Let's pause for a minute – why is pulling dinner together during the week feel like I'm climbing Mt. Everest? Sometimes its the thought of running by the grocery store to get what I need (because weekly meal planning feels like climbing Mt. Everest with one arm tied behind my back) and sometimes I feel like I just don't have the time. But whenever I do manage to prepare a hot meal for my family, I'm always so glad that I did. Partly because cooking makes my house feel (and smell) homey but mostly because when I cook, there is often a kid or two hanging out with me at the island, offering to help or just to chat. And if I cook, that means we will sit down as a family and eat and talk and be a family. I simply love to cook because I love to cook for those I love.
OK – back to the business at hand! Creamy Tuscan Chicken uses one of my favorite part of the chicken – the thigh. I love chicken thighs because they're so flavorful and they cook up in a snap – a must for a weeknight meal. For this dish, you simply cook the thighs first and then remove to a holding plate so you can cook up the sauce. This recipe also uses 2 of my favorite veggies – spinach and tomatoes.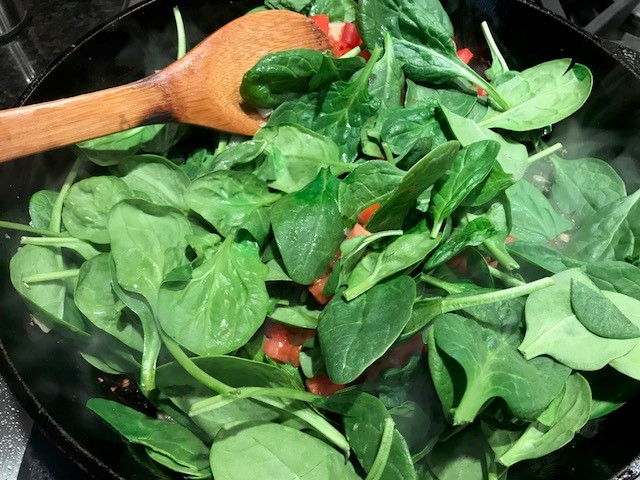 Once the spinach is fully wilted, you add the heavy cream. The recipe calls for two cups but I only used one (because that is all I had) and it was plenty.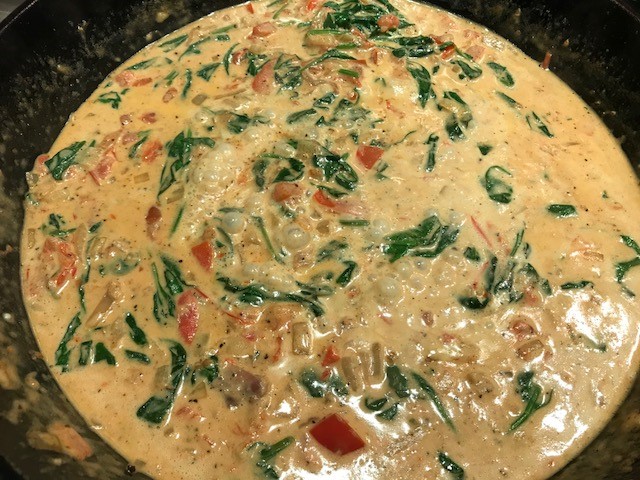 Once it simmers for a few minutes, you add the chicken back in the pan to smother with sauce. Sooooo good. I served this with a side of pearled couscous (family favorite) and a quick spinach salad (and by quick I mean take the spinach not used in the main dish, throw it into a bowl, add some Parmesan cheese, and your favorite salad dressing). It was the perfect meal!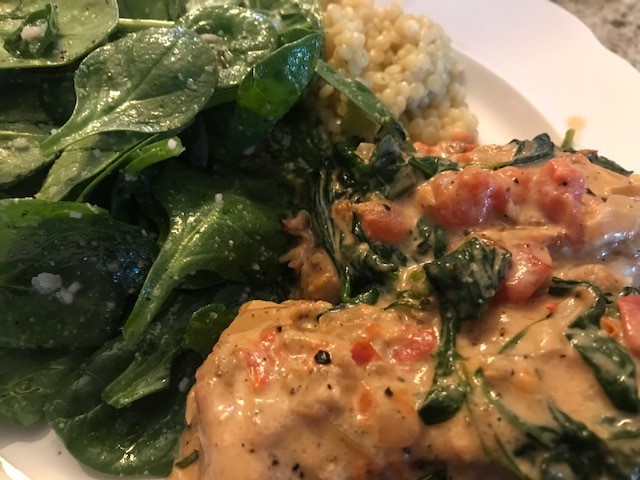 Get the full recipe for Creamy Tuscan Chicken HERE.
Notes/Suggestions:
Watching your calories? You can easily slim this recipe down by not adding the heavy cream. The saute before I added it looked just as delicious and I even hesitated adding the cream. I decided to go ahead and add it because it was my first time making this dish (and because sometimes you just need a little cream). Next time (when I'm feeling healthy), I'll leave it out.
Cooking for young kids? I'm a firm believer that our kids eat what we eat. If I can barely work up the energy to cook a meal, I'm certainly not going to cook an adult meal and a "kid friendly" meal. Sometimes this means they don't eat a square meal because they don't care for what we're having and sometimes I can find easy ways to alter a recipe that might appeal to younger palates. For this dish, I kept two chicken thighs out of the sauce for my littles and gave them the option to add the sauce (neither took my up on it and that is OK too!).
My favorite salad dressing? It is currently this one (for the last 2 years) and it is SO GOOD (and good for you – no sugar or sodium). It can be hard to find (currently only finding it at Whole Foods) but it is worth going out of your way to purchase. I get 4 bottles at a time and those will last weeks (I keep one here at the office at all times for lunches).
Do you have a go-to weeknight meal? I'd love to swap recipes with you! Email me at landersj@newdimensionsionsinc.com!
Dream Big. Eat. Well.