Jen in the Kitchen: Her Go-To Weeknight Dinner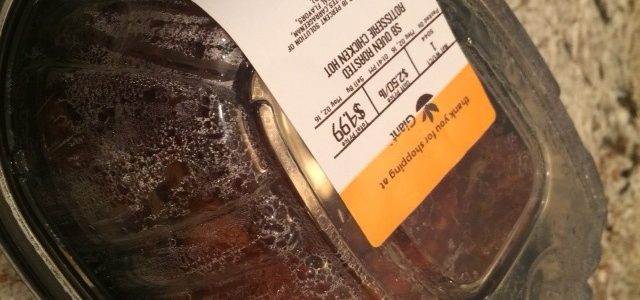 Cooking is definitely one of my passions! While I try to cook as often as I can, my busy work/life schedule doesn't always leave a lot of free to time to create a gourmet meal. So what do I when I feel too busy or too tired to cook and I'm sick of takeout?
I turn to grocery store prepared foods. I'm currently addicted to store bought rotisserie chicken.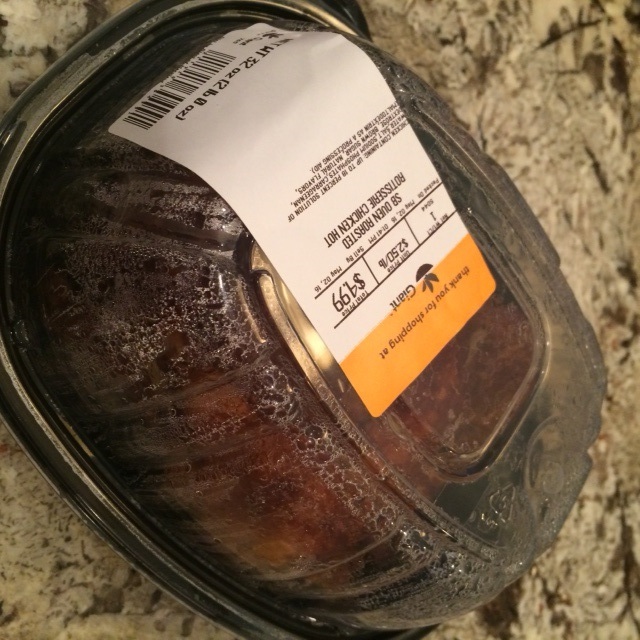 Do you know how many awesome different recipes you can make from a rotisserie chicken? Tacos, sandwiches, sandwich wraps, chicken chili, salads, oh my!
One of my favorite things to do with it is make a BIG salad. I can whip up a salad and have chicken leftover for the boys to eat with a veggie or pasta. It's SO EASY and SO YUM!
First, grab whatever greens you have in the fridge – last night, I had two heads of Romaine lettuce, so I used that. Arugula works well, too, but anything will do. I also had some green onions leftover from a previous meal, so I grabbed those along with an avocado.
I decided to pick up some cherry tomatoes and a cucumber (our house loves tomatoes and cukes!) when I picked up the chicken on my way home. I also realized I was fresh out of blue cheese so I picked that up as well (oh how I love stinky cheese). This is all you need…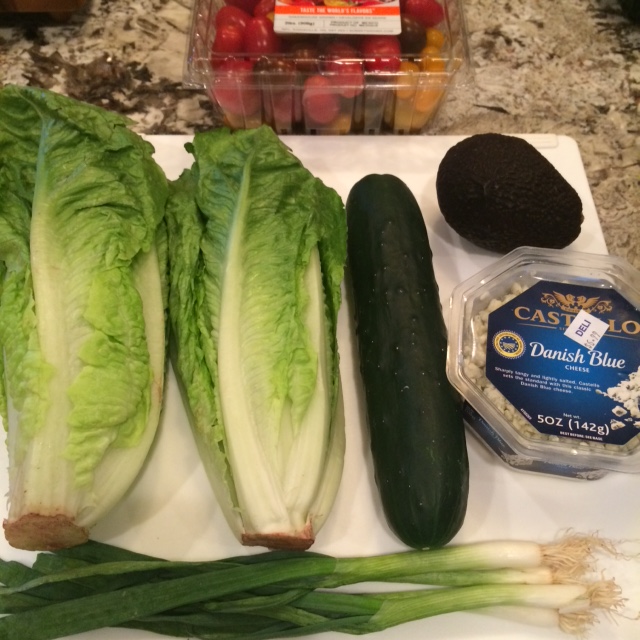 I usually throw the lettuce in a bowl along with the veggies first. I hold off adding the avocado and the cheese because I like those on top of the salad vs. tossed in. And I usually have to chop more veggies than I'll actually need because I know one of these guys will be looking for scraps.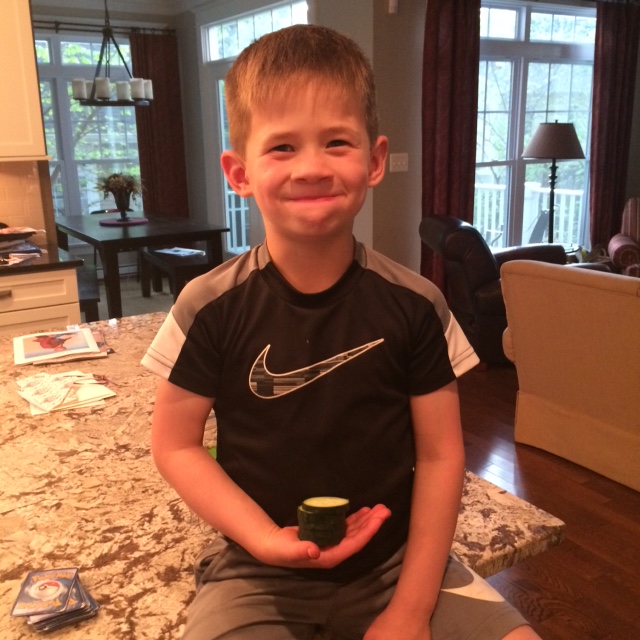 Isn't he getting big?!
Once I get the salad in the bowl, I toss in the salad dressing.
Let's talk about salad dressing. I love homemade salad dressing more than anything. It's easy to make and the taste blows away anything you can find in a bottle. But on a weeknight after a long day at work, the last thing I want to do is worry about having to make one more thing.
My sweet friend Layton introduced me to the next best thing. Seriously, this salad dressing is SO GOOD and it's GOOD for you. I can only find it at Whole Foods.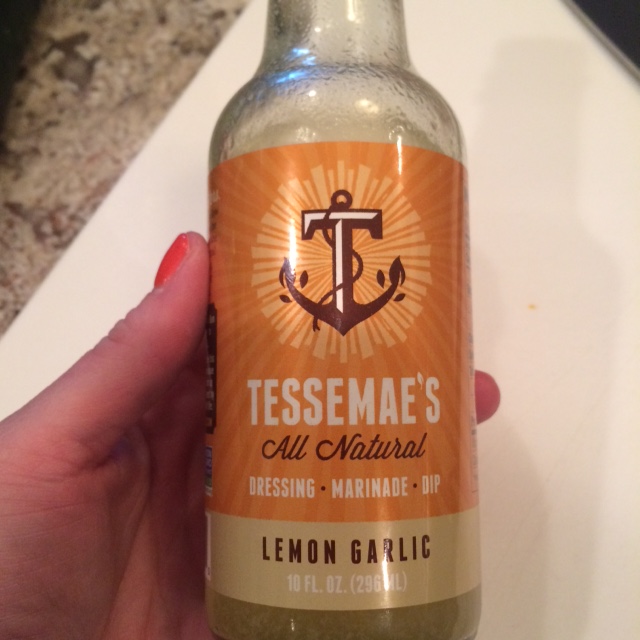 Run.
Don't walk.
Get yourself a bottle. Or two.
Add a little dressing to the salad bowl, give it a quick toss and then put it in your serving bowl. Isn't it pretty?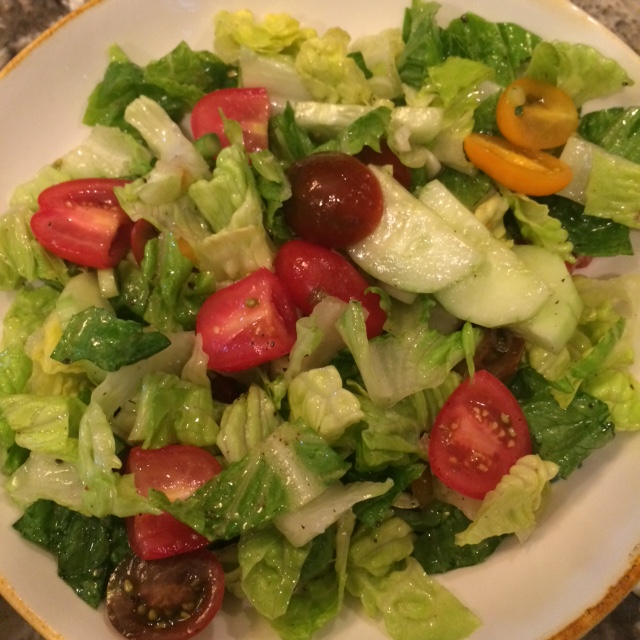 Just wait!
I'm usually throwing the salad in the bowl just as Paul is finished with cutting up the bird. We try hard not to pick at the chicken while he cuts, but it's really hard to resist. Yum.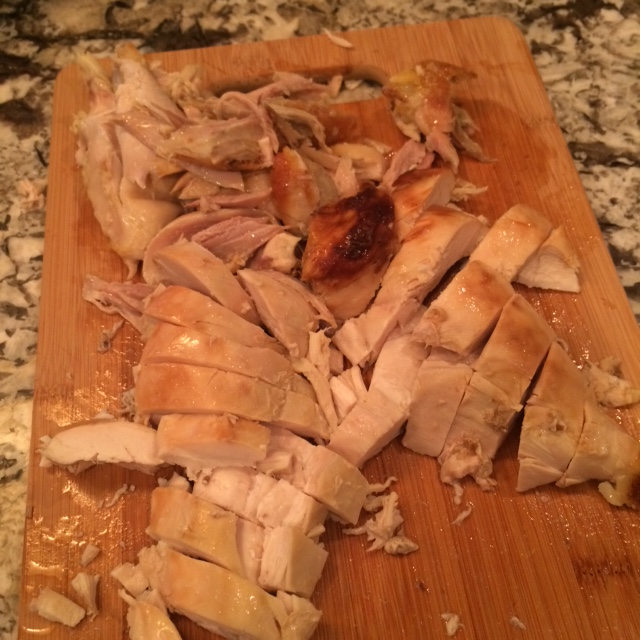 Throw the chicken on, slice up the avocado, and sprinkle on the cheese.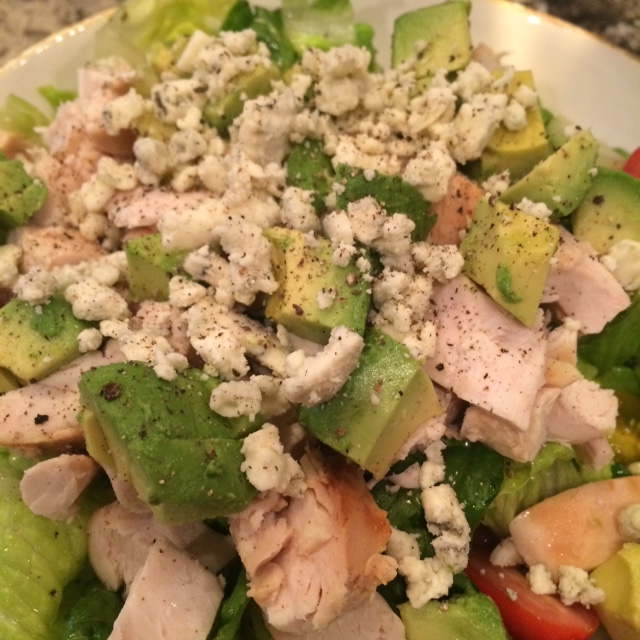 A little fresh ground pepper and a glass of wine. Perfection.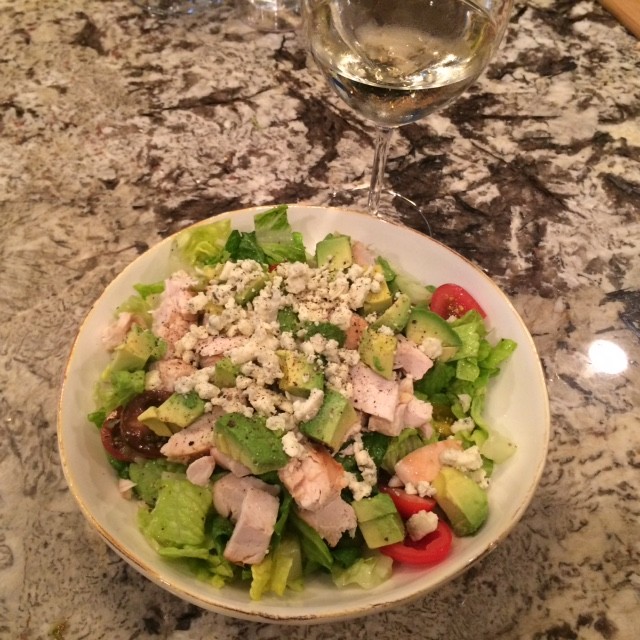 And don't forget the kids! We always have plenty of chicken leftover for them. Last night, we tried hiding the veggies in the pasta which didn't work very well but it was a valiant effort.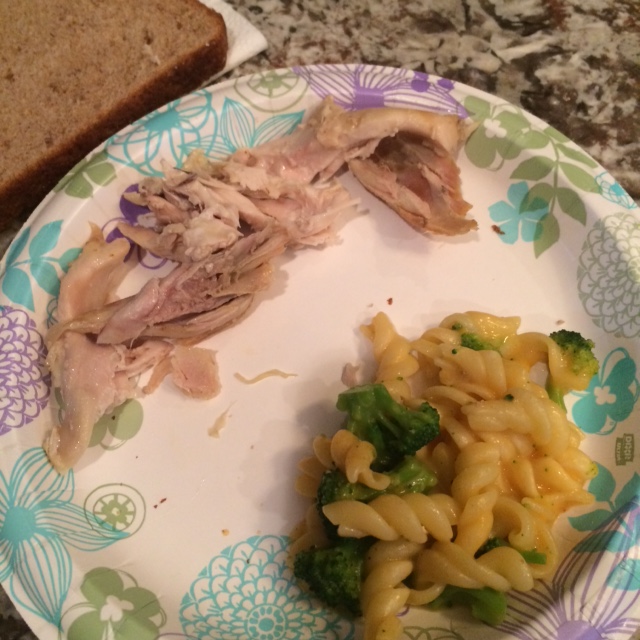 It isn't fancy but it's balanced and they eat (most of) it (win win). So the next time you're in a pinch about what to make after a busy day, I hope you'll give this recipe a try.
Jen's BIG Salad
Serves 2
2 Heads of Romaine Lettuce, torn or cut into bite sized pieces
1/2 Sliced Cucumber
Handful of Cherry Tomatoes (cut in bite sized pieces)
3 Green Onions (white & light green parts only)
1 Avocado, chopped
Blue Cheese, crumbled
Store Bought Rotisserie Chicken, sliced
Salad Dressing
In a large bowl, toss the lettuce, cucumbers, tomatoes and green onion with a little of the salad dressing (start light, you can always add if you need more). Place the salad in a bowl. Top with the chicken, avocado and cheese. 
You can also switch up the ingredients for a completely different dish.
Some ideas…
Greek Salad – switch out the blue cheese for feta and the avocado for olives, add chickpeas
Mexican Salad – add corn and black beans and use cheddar instead blue.
Summer Salad – omit the avocado & blue cheese, add watermelon, feta cheese and use balsamic vinaigrette instead of the garlic lemon dressing.
I hope you enjoy!
Dream Big. Build Smart.