Jen In The Kitchen: I Found My Mojo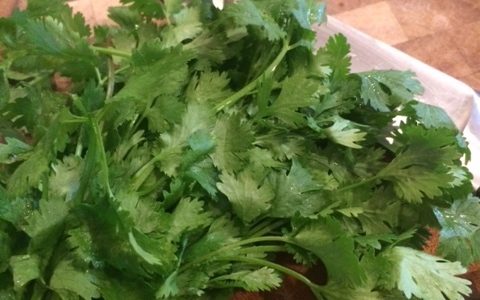 I'm starting a mid-year resolution which is GREAT because I didn't make one in January. I must (I must!) eat better. As I'm well into my forties, I'm finally coming to grips with the fact that I can't exercise my way out of poor food choices. I must (I must!) eat better.
I found this recipe last week and I really can't believe how much I love it. Not because it's healthy but because it's a recipe for coleslaw.
Coleslaw.
I'm a new fan of coleslaw. I know it sounds strange. After all, coleslaw is an American summer staple. But I don't really care for mayo or cabbage. I also don't care for vinegar. So the vinegar based slaws (the natural alternative to creamy), don't appeal to me either. But I was perusing Pinterest last week and I came across a recipe for coleslaw made with cilantro and lime (recipe listed below).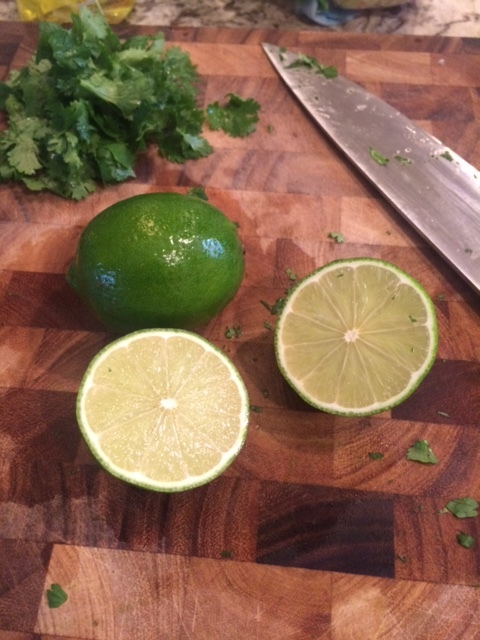 Such a delicious pairing. And healthy!
In the last week, I've made this TWICE. It's light and crisp and delicious!
And it's so easy. And so yummo.
First, you'll need to throw the slaw ingredients (coleslaw mix, purple cabbage, cilantro & green onion) into a bowl. I used bagged slaw mix and shredded purple cabbage (who has the time to cut all that up on a weeknight?). I also deviated from the recipe and added a finely chopped jalapeno for a a little heat, next time I'll add 2!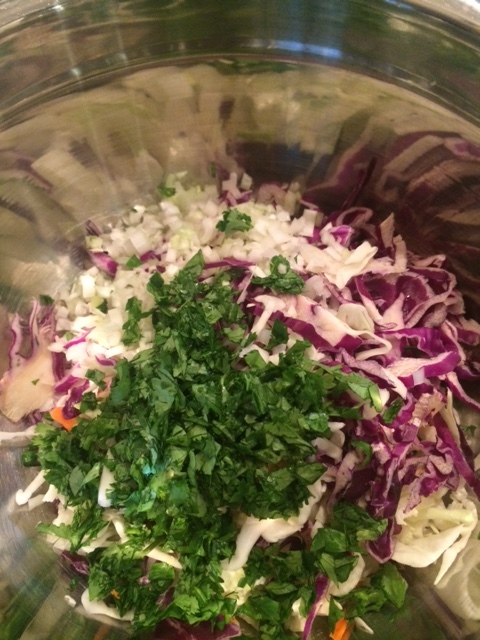 Next, mix up the dressing. It's literally four ingredients – lime juice, olive oil, sugar (or Splenda) and salt and pepper (OK – maybe five ingredients).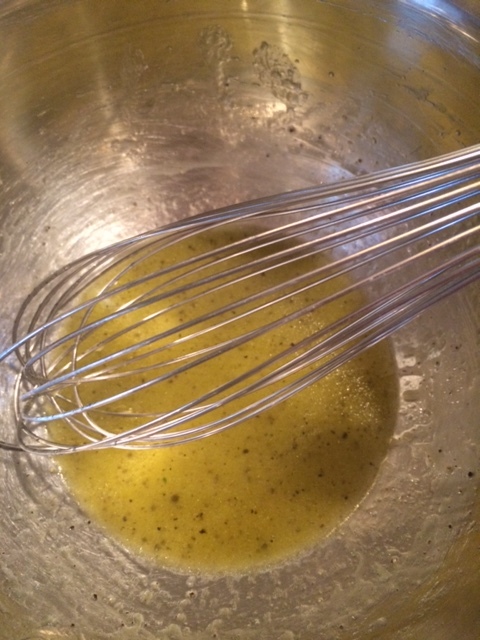 Add the dressing to the slaw ingredients and combine. Give it taste for seasoning (and because it is so good you'll want to eat it directly out of the bowl). This makes a great side dish for a summer BBQ or you can add it to a BBQ sandwich or your favorite tacos.
Last night, we made these Mexican Street Tacos. Very simple – grab a corn tortilla, add some pulled chicken (I used a rotisserie chicken from Giant mixed with some Mojo marinade – see below) and then top with the slaw, fresh cilantro and sliced avocado. It's a super light meal and so very easy to pull together on a weeknight.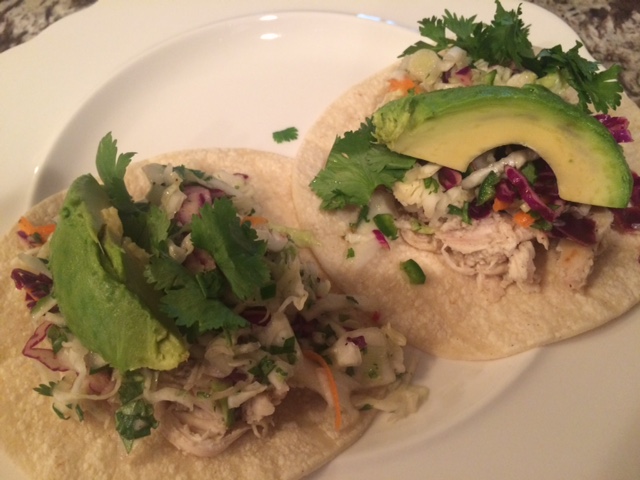 Now when I made the slaw last week, we put it on pulled chicken sandwiches marinaded in Mojo. Have you tried this stuff? My dear friend Sara recently told me about this magical marinade.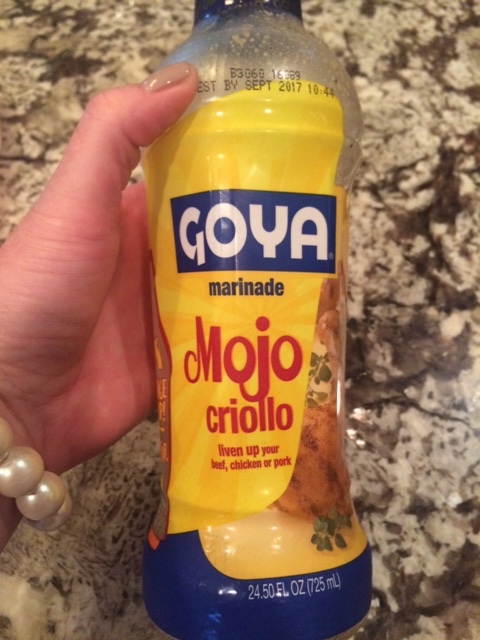 It's tangy with a hint of lime – so good. To use, place 2 chicken breasts in a sauce pan, add a 1/4 cup of Mojo (along with some chicken stock, enough to cover the chicken). And that's it! After the chicken is cooked through and shredded, you can add a little more of the Mojo and seasoned with salt and pepper. You can also add the Mojo to cooked chicken like I did for the tacos. Haven't tried it on beef or pork but I plan on it.
Cilantro Lime Coleslaw (Recipe by Michelle @ Blackberry Babe, Serves 6)
3 tbsp fresh lime juice
2 tbsp extra virgin olive oil
2 teaspoons sugar or splenda
dash of salt and pepper
1⁄3 cup chopped green onion
1⁄3 cup chopped fresh cilantro
8 ounces coleslaw mix (green cabbage and carrots)
4 ounces shredded purple cabbage
1-2 Jalapenos, chopped (if you like a little heat)
Add coleslaw mix purple cabbage, cilantro, green onions and jalapeno into medium mixing bowl. In a small bowl, add lime juice, olive oil, sugar/splenda, salt and pepper. Mix. Pour dressing onto slaw mix, stir and serve.
Dream Big. Build Smart.