Jen In The Kitchen: Lemony Shrimp & Orzo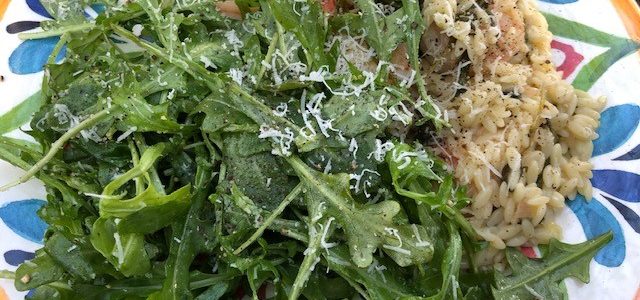 How are you holding up during the stay at home order? I'm trying to cook as much as I can these days (how much takeout can one gal handle?), so I'm also trying some new recipes! I came across this yummy dish while perusing online and I will definitely be making it again soon!
Shrimp + Lemon + Pasta = YUM!
I followed the recipe almost exactly as it reads, but it is also easy to change it based on what you have in on hand…
Use spinach instead of arugula
Sliced chicken instead of shrimp
Any kind of pasta would work well instead of orzo
Do you like it spicy? Add red pepper flakes when you cook the protein and finish with some at the end!
I love recipes I can alter while keeping it delicious! And this one is super easy, great for a quick weeknight meal and it makes a ton if you like leftovers. I would also make this for company, post-COVID of course – HA!
Step 1 – while your pasta water is boiling, make a quick vinaigrette and cook the shrimp.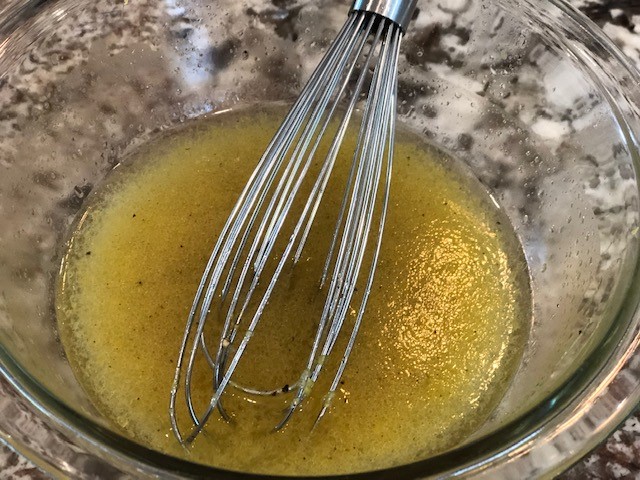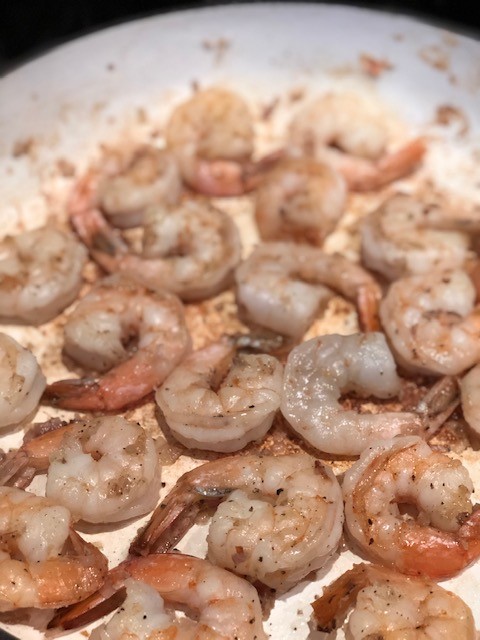 Step 2 – once the pasta is cooked, add it to the shrimp, toss with the arugula and vinaigrette, and VOILA!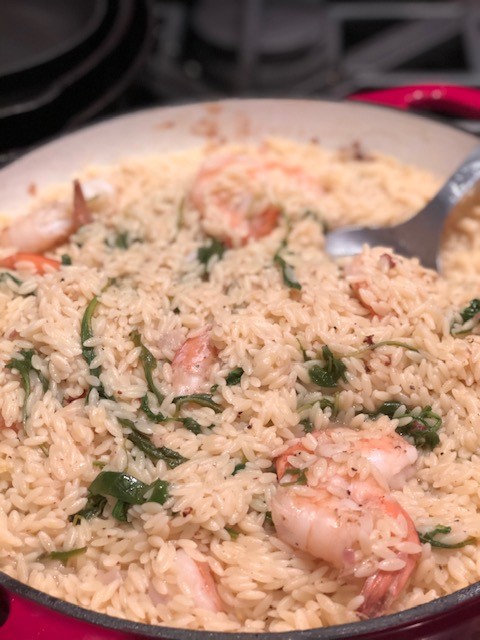 We had some arugula leftover so we served it as a salad on the side. Crusty bread would be delicious with this too!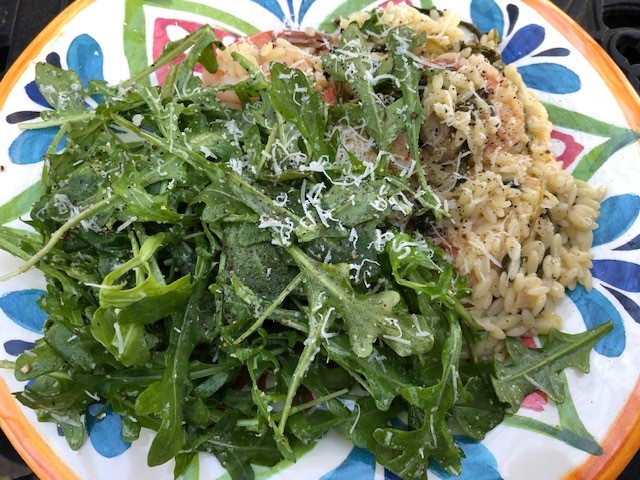 My boys absolutely devoured this! Here is the full recipe…
Lemony Shrimp with Orzo
1/3 cup extra-virgin olive oil
Zest of 2 large lemons
1/2 cup fresh lemon juice (from 2 large lemons)
1/2 teaspoon kosher salt
1/2 teaspoon freshly ground black pepper
2 tablespoons extra-virgin olive oil
1 large shallot, chopped
1 pound large shrimp, peeled and deveined (I will double the shrimp next time!)
1 teaspoon kosher salt
1/2 cup dry white wine, such as pinot grigio (pour a glass for yourself too!)
5 cups (6 ounces) baby arugula
Bring a large pot of salted water to a boil over high heat. Add the pasta and cook until tender but still firm to the bite, stirring occasionally, 6 to 8 minutes. Drain and reserve about 1 cup of the pasta water.
For the vinaigrette: In a small bowl, whisk together the olive oil, lemon zest, lemon juice, salt and pepper until smooth. Set aside.
In a large skillet, heat the oil over medium-high heat. Add the shallots and cook until soft, 2 to 3 minutes. Add the shrimp, salt and pepper. Cook until the shrimp turn pink and are cooked through, 2 to 3 minutes. Remove the shrimp from the skillet. Increase the heat to high. Add the wine and arugula. Using a wooden spoon, scrape up the brown bits that cling to the bottom of the pan. Cook for 1 minute until most of the liquid has evaporated and the arugula has wilted. Add the cooked pasta, cooked shrimp and vinaigrette to the skillet. Toss until all the ingredients are coated, adding the reserve pasta water, if needed, to loosen the pasta.
Transfer to a large bowl and serve.
Dream. Build. Live.