Jen In The Kitchen: What To Do With Your Thanksgiving Leftovers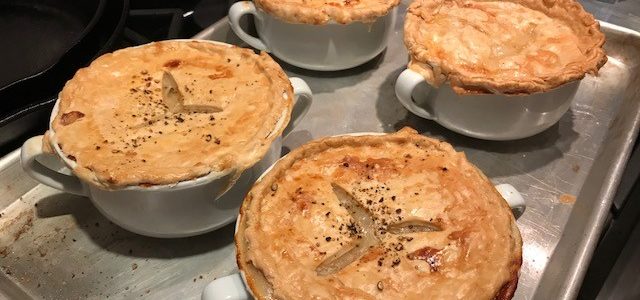 I LOVE Thanksgiving – family, friends, the Macy's Day Parade. But if you know me well, you know I'm not a huge fan of Thanksgiving food. And I'm not the only one – Adam feels the same way! In fact, several years ago, we had tacos instead of turkey. Our mother still hasn't forgiven us for that one – HA!
But in the spirit of Thanksgiving, I wanted to share two quick recipes. First, the easiest roasted turkey recipe on the planet. No brine. No rub. Just delicious! This simple recipe is full proof and so simple!
And if you are looking for something to do with the leftover turkey, consider making individual turkey pot pies. It sounds fancy but it is easy and your whole family will love it – my boys say this is one of the best things I've ever made. If you are feeling fancy, feel free to make your own pie crust and use all fresh veggies. But after cooking for Thanksgiving, the last thing I want to do is spend a whole lot of time in the kitchen so I use frozen pie crust and cooked frozen veggies for this dish.
Divide the filling into bowls, top with the pie crust, and bake!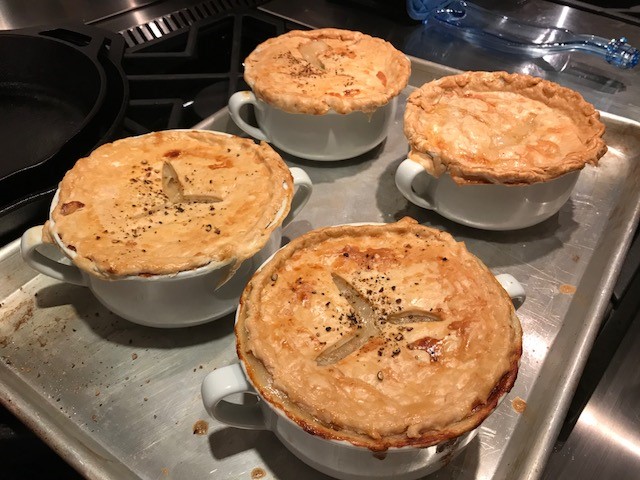 Everyone gets their own little "pie", and we always have enough filling leftover that we froze for another meal – bonus! I served it with a spinach salad dressed with a squeeze of lemon and a little olive oil. Sprinkle some Parmesan cheese and you've got a great side salad. This meal is so YUM!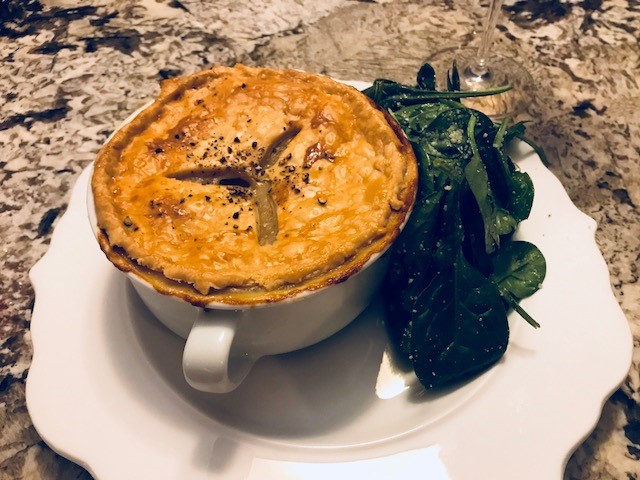 Leftover Turkey Pot Pie
bag of frozen mixed veggies
Frozen pie crust
Preheat the oven to 375 degrees F.
In a small saucepan, heat the chicken stock and dissolve the bouillon cubes in the stock. In a large pot or Dutch oven, melt the butter and saute the onions over medium-low heat for 10 to 15 minutes, until translucent. Add the flour and cook over low heat, stirring constantly, for 2 minutes. Add the hot chicken stock to the sauce. Simmer over low heat for 1 more minute, stirring, until thick. Add 2 teaspoons salt, 1/2 teaspoon pepper, and heavy cream. Add the cubed turkey and veggies. Mix well. Taste for seasoning, add S&P as needed.
Divide the filling equally among 4 ovenproof bowls. Divide the dough into quarters and roll each piece into an 8-inch circle. Brush the outside edges of each bowl with the egg wash, then place the dough on top. Trim the circle to 1/2-inch larger than the top of the bowl. Crimp the dough to fold over the side, pressing it to make it stick. Brush the dough with egg wash and make 3 slits in the top. Sprinkle with sea salt and cracked pepper. Place on a baking sheet and bake for 1 hour, or until the top is golden brown and the filling is bubbling hot. Serve hot.
I hope you have a wonderful holiday with your family and friends!
Dream. Build. Live.