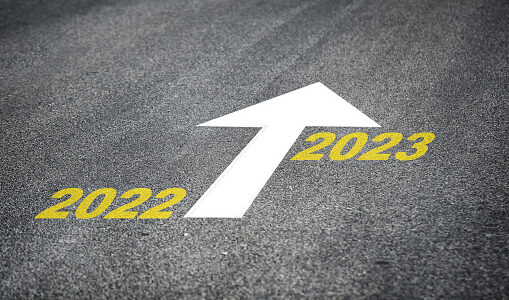 Happy New Year! I hope this finds you and yours well and enjoying 2023 so far! After saying "See ya later 2022!", we were all very happy to ring in the new year. What will it bring? No one knows for sure, but before I get into my forecast, let's recap how we got to where we are today…
Starting in late 2020, the housing market started going crazy. The impacts of the COVID shutdowns were being felt in every facet of life, including our living spaces. Families were working from home, learning from home, and staying home in between. Many needed new or renovated spaces, which spurred the new home and renovation industries. Leading into 2021, builders across the nation were dealing with a sudden volatility in material pricing (especially lumber) & availability, labor shortages, and an increase in overall volume. It was the perfect storm that lasted throughout 2021, and the first part of 2022.
I've never seen anything like it. Material pricing had reached levels no one could have predicted, and at a rate no one could forecast. Getting materials seemed impossible. Every week we would learn of a new lead time for a product, or that a particular product had been discontinued. Along with the fact that labor shortages were widespread (not just in construction, but every industry), it felt like nothing was getting done. I think March of 2022 through August of 2022, was the most difficult time I've ever experienced professionally, and I've been with NDI since 2001! It made 2008 look like a week at the beach. We as an industry could not stay on the same trajectory. It just wasn't sustainable. And in many ways, it wasn't healthy.
It needed to correct.
Now it's hard for me, as someone who runs a custom home building company, to hope for a downturn in the market. No one truly wants that, but after what we went through as an industry last year, I think it is the only way for us to make our way back to normal. Back to being able to ride the ebbs and flows of material pricing, actually being able to get materials, and finding qualified labor.
If 2008 was the "Great Recession", I'm calling this current downturn in the housing industry, the "Great Correction" because there is no way we could continue down the path we were on. So what can we expect this year? Here is my forecast for 2023!
From the beginning of November until early Spring, the housing market is typically slow. Not many people are selling their homes during the holidays, and activity really doesn't pick up until the Spring market. That's all normal. I think the first quarter of this year will be slow, maybe even a little slower than usual. But I'm still seeing properties selling quickly, and at or close to asking. We had a spec home in Annandale that we listed on November 15. I wasn't very confident about it selling right away because it was so close to the holidays, but within 10 days of hitting the market, we had 2 competing offers! Houses are selling, but inventory remains low (which has afflicted our area for years), and most importantly, HOME VALUES ARE HOLDING STRONG!
After a slow start and once the Fed pulls back on rate increases (expected in the 1st quarter), I think we're going to see things loosen up. The northern VA area is highly insulated from long periods of housing downturns (the Great Recession being the exception, which is why it was "Great"), due to transient nature of this market, and the thriving business community. Companies and large corporations want and need to be in the northern VA area, which supports a very healthy housing market. But what about mortgage rates? Well, everyone knows they are higher than this time last year. But did you know you can still get a construction to perm loan with a locked rate in the low 5's, while conventional financing is still above 6% (stay tuned for a blog post more about this coming later this week!).
Material pricing volatility and availability is also easing, which is great news for the construction industry. While we have seen just about every line item in our budget increase over the last 2 years, being able to forecast what pricing will do, is improving. This is very important for builder confidence as we rely on our ability to be able to build our homes for what we say we can!
And I can say for the first time since the Fall of 2020, that my overall confidence in the direction of the market is high. As long as economic factors don't worsen, I think we are on a good path to normalization, and correcting the craziness of the last 2 years.
Are you considering a new home build in 2023? The KEY to a successful build in this market is planning and working within your budget. Call us today and we can show you how!
Dream. Build. Live.