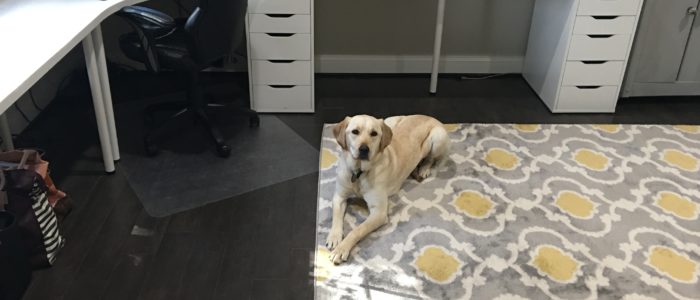 I love my job because everyday is different. I do some of this, I do some of that. Some of my work I do "in the field" (meaning out and about looking at our homes under construction), some I do at the Design Center, some I do in our corporate office. And some I do at home.
In our old house, I had a teeny tiny home office that doubled as my closet. There wasn't enough room in our Master Bedroom for my clothes and Dan's clothes, so we moved all my stuff into my dressing room/home office. I've always had a job that required some sort of work-at-home, so when we were building our house, I wanted a home office.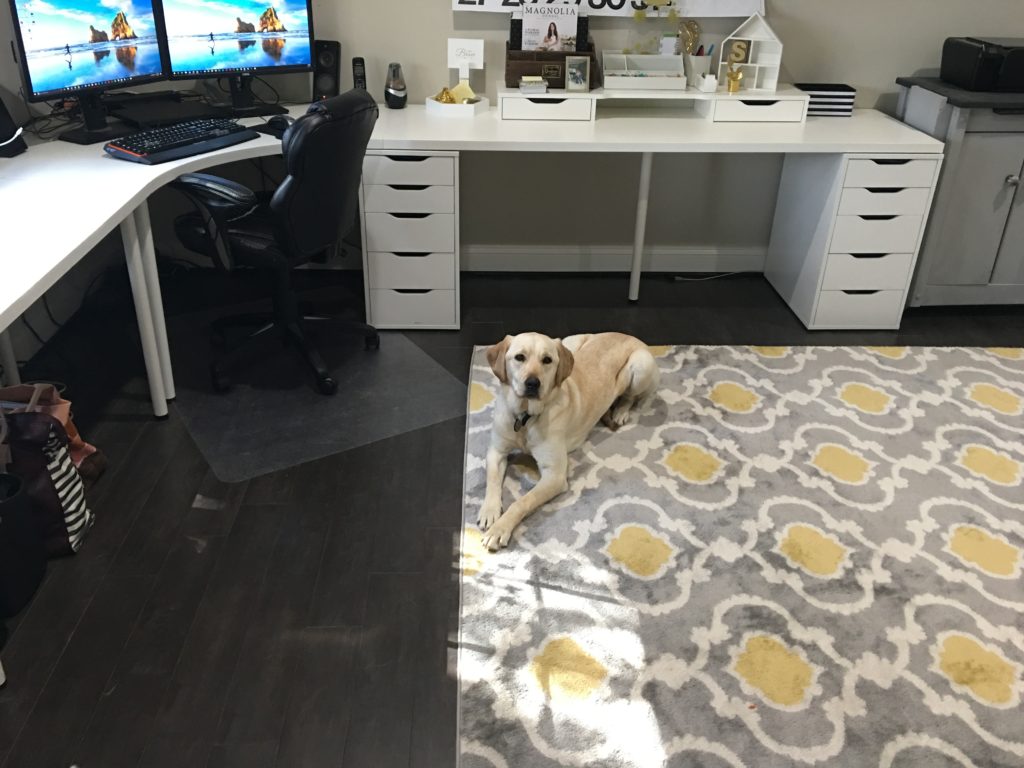 We are fortunate to have the extra space, so the extra room in our basement serves as JUST my office. I love that, and everyday when I walk in here, I'm so grateful. It's a HUGE room with HUGE windows. We added those. Our original plan only had one set of windows, but since we have a walk out, we wanted to take full advantage and let in all the light. Everyday I'm glad we added those windows.
We carpeted our basement, including this office. Since we have three kids and a dog, we knew they would trash the carpet at some point (which is why we opted for the standard carpet). And trash it they did – in my office. My sweet middle child somehow got into RIT dye. You know, the very, very staining dye used for clothes? I don't even know why I had it or where he found it. But he got into it and sprinkled it all over my office carpet. Did I mention it was BLUE dye?!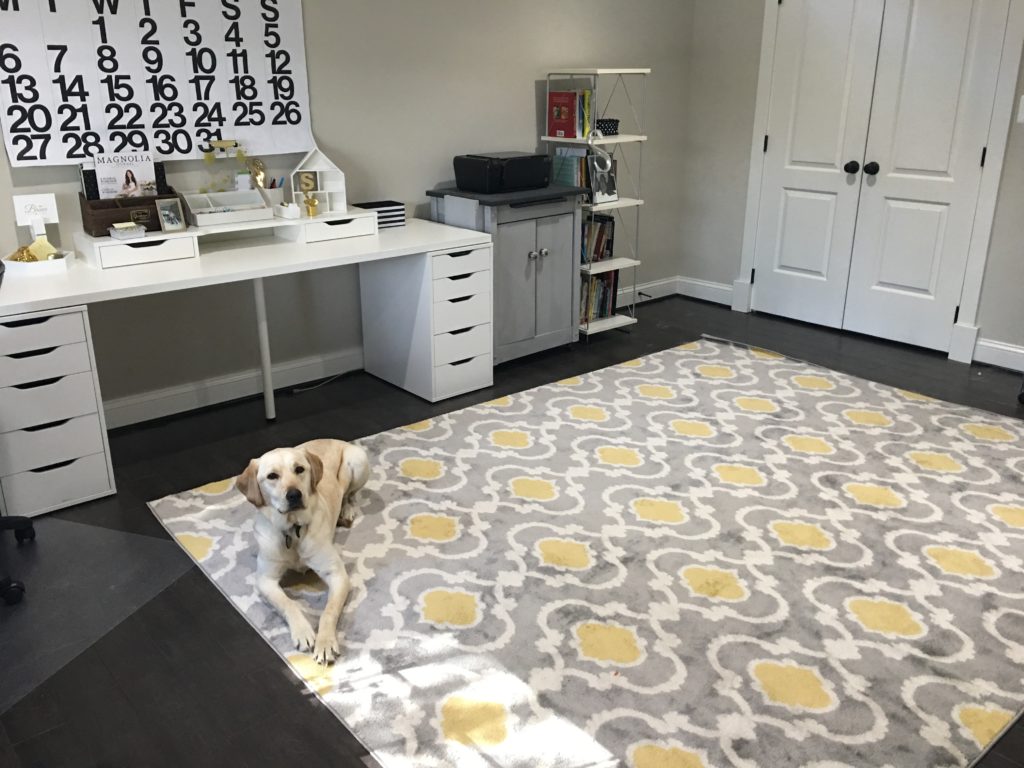 So sad. So ugly.
I lived with it for over a year. And then various other "accidents" occurred on this carpet. I'll spare you the details. But let's just say it smelled and looked awful.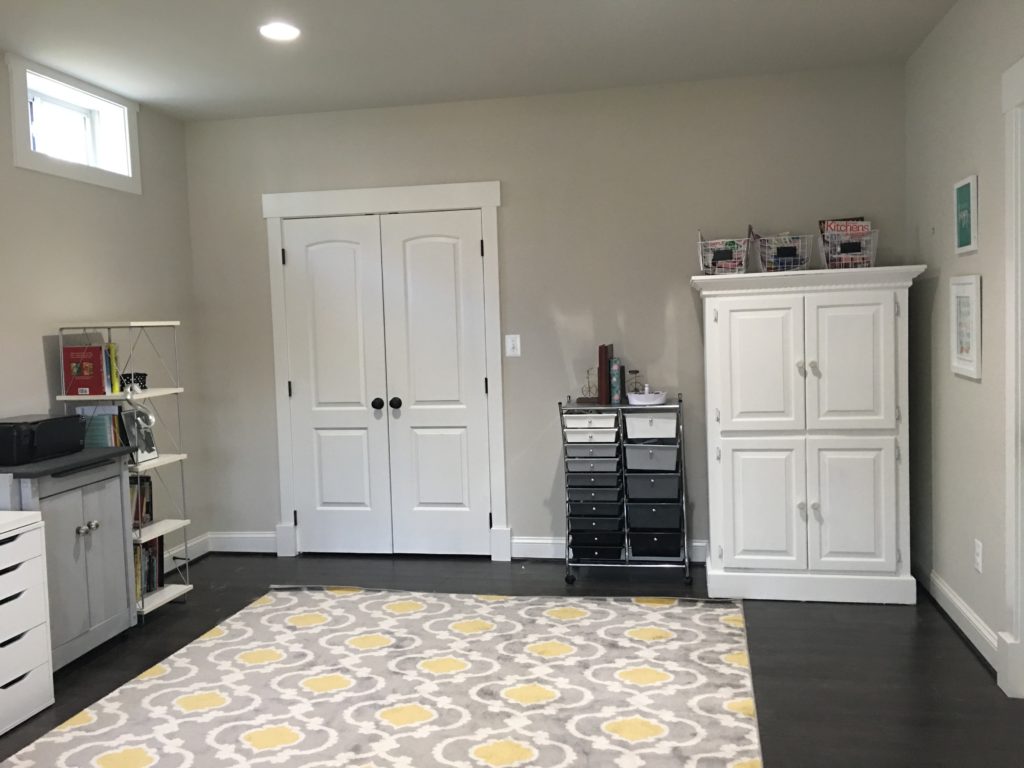 A few months ago, Dan and I decided it was high time to replace the carpet. We thought about going with the same floor we have upstairs, and I also considered a luxury vinyl plank. I decided against using the same floor we have upstairs because I felt like doing something different down in my office. I strongly considered that luxury vinyl plank. I love the color and look – it's beautiful. And the durability can't be beat. But in the end, I went with engineered wood in a dark stain.
Why? A few reasons. This room would make an excellent guest room, in-law suite, or au pair suite. If we decided to sell the house, another family might not love that the upstairs is wood and the basement bedroom is a different material, especially vinyl. I like vinyl. But other people don't. So I wanted it to be appealing to lots of people.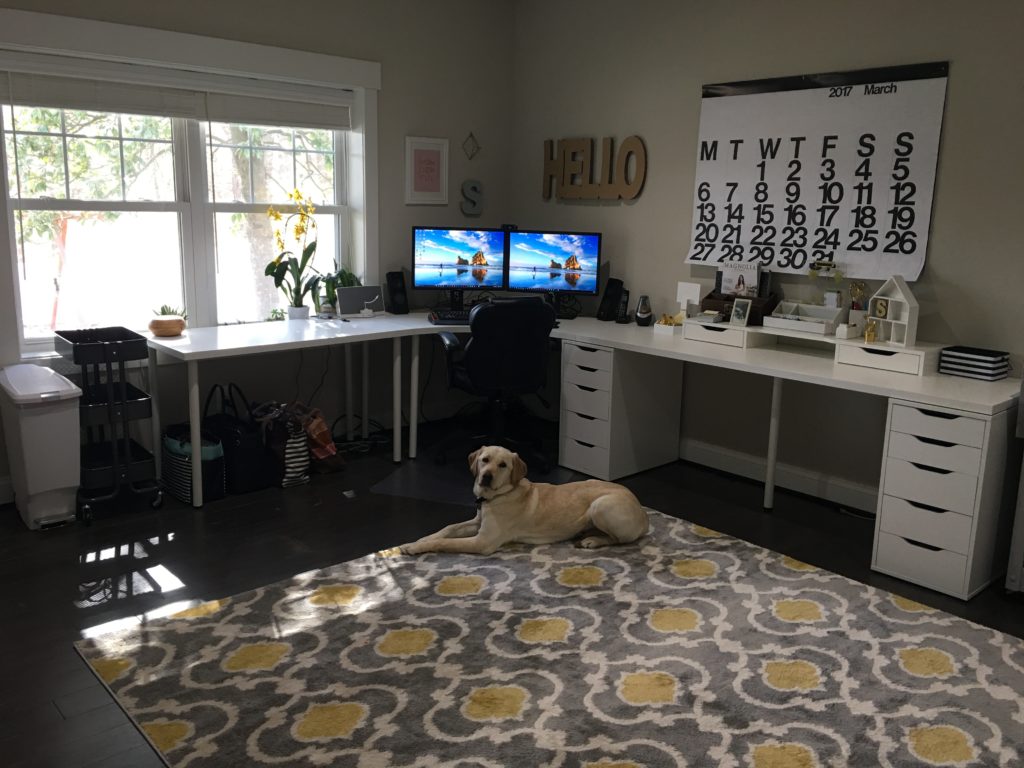 I ended up with an engineered wood in the color smoke. This floor is a STANDARD NDI option for you! If you're not a fan of the stain, no worries. It comes in other colors. We have it installed in a couple other shades at our Design Center.
So, how do I like it?
I LOVE it!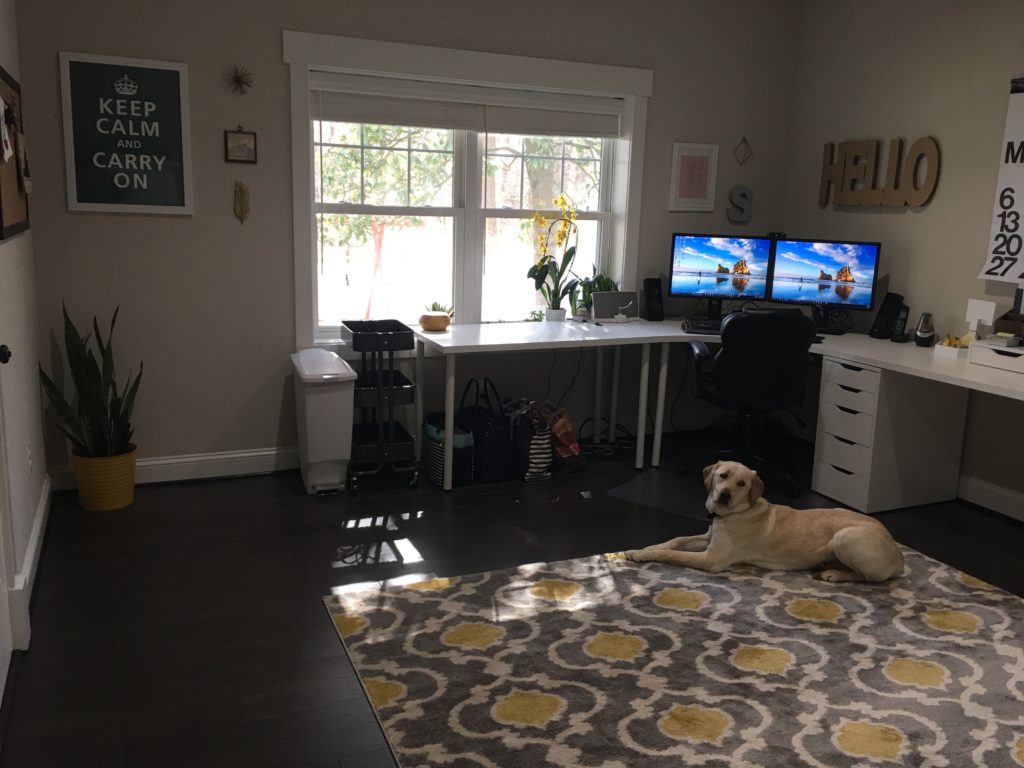 I was a little worried that the dark was a bold choice. And if this room didn't get as much light, it probably wouldn't have been great. But this room is so big and so drenched in light, it works. I love how it grounds the room, and I love how my white desk pops against the floor.
Since it's dark, does my Labrador's hair show up all over the floor? Yep, it does. But I'm okay with that. I just vacuum up.
If you're building a home, and you'd really love to have hardwoods everywhere but it's not in your budget right now, just go for the carpet. It's something you can change out later after someone spills wine or a kid tracks in muddy shoes.
I'm glad we waited and did the floors later. I love my office! Now, if only my kids couldn't find me down here! Ha!