What We're Building: Jen's Week In Review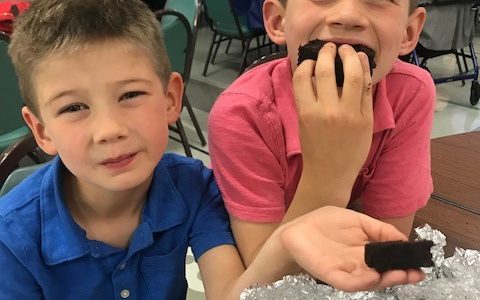 Hello there! It's Friday and time for my latest Week In Review! I love these posts because it causes me to pause and reflect on the week. Do you have much time for reflection? I would if I actually made time for it but it is hard to do in the middle of my day to day. That is why I love these posts!
Only 2 Weeks Left To See The Clarendon
Have you seen our Clarendon Model? If your answer is no, PLEASE PLEASE try and swing by our open house this weekend. This home is GORGEOUS! We sold it in just 4 days with multiple offers because, well because it is so awesome. I promise you will not be disappointed!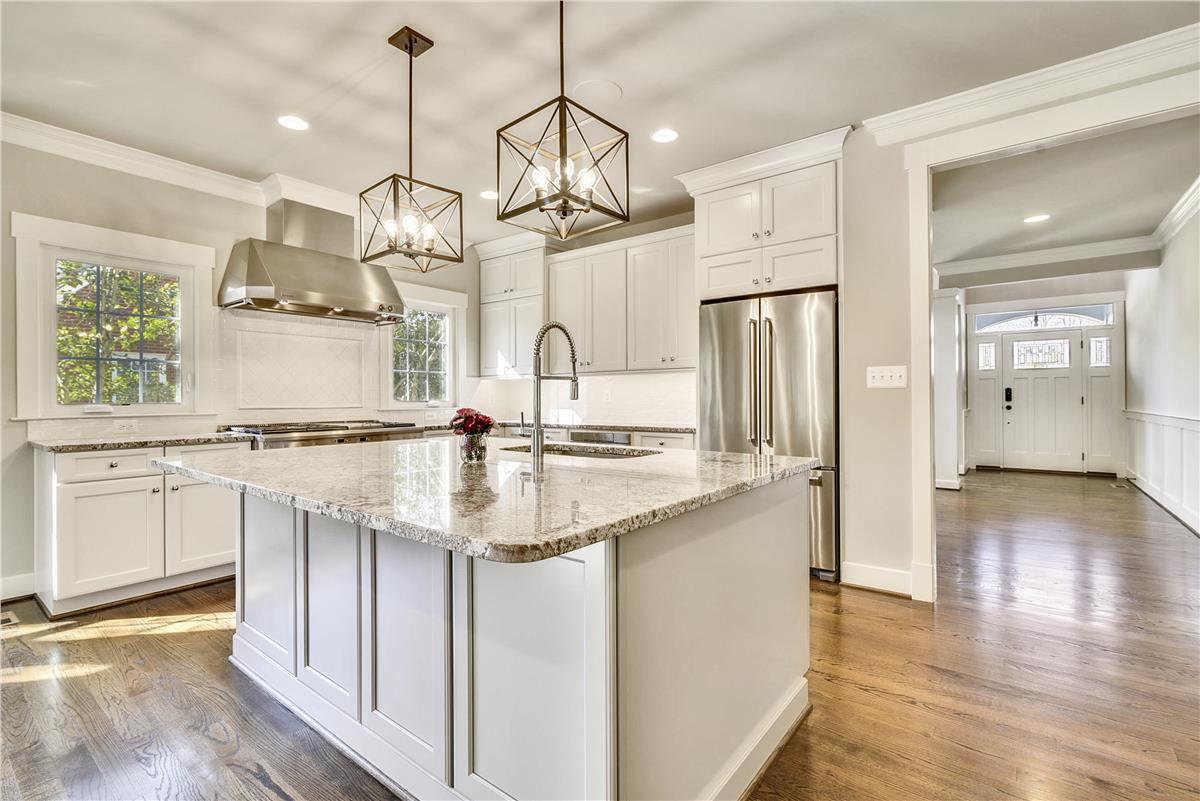 Click HERE for the latest open house information!
The NEW Winslow Model
We have our first 2 Winslow Models under construction and I am so excited! One is a little further along than the other but they're both moving along great. Here is the Winslow Model elevation…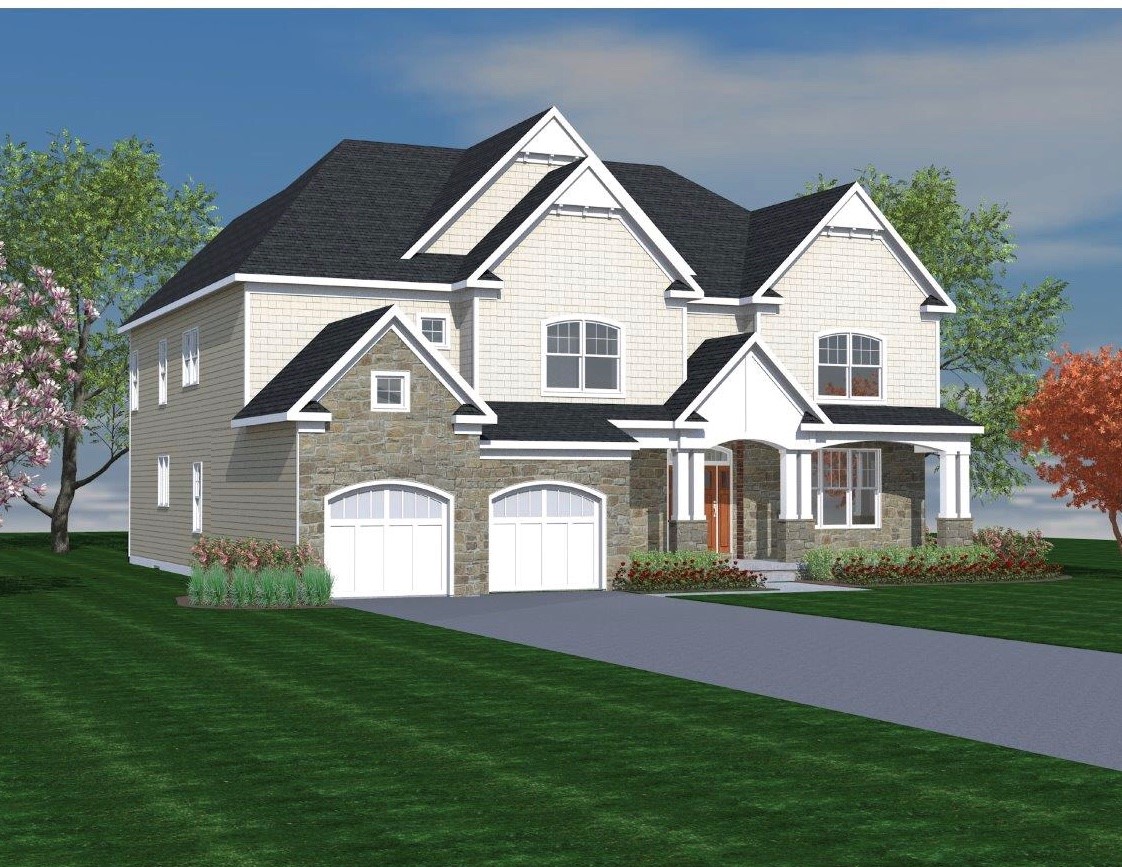 Here is a picture from the Winslow we're building for our client in Great Falls. They customized the elevation ever so slightly and it is hard to see in the picture but they added board and batten to the projections on the main house. I LOVE IT!
And the siding color they chose is Deep Ocean. So pretty!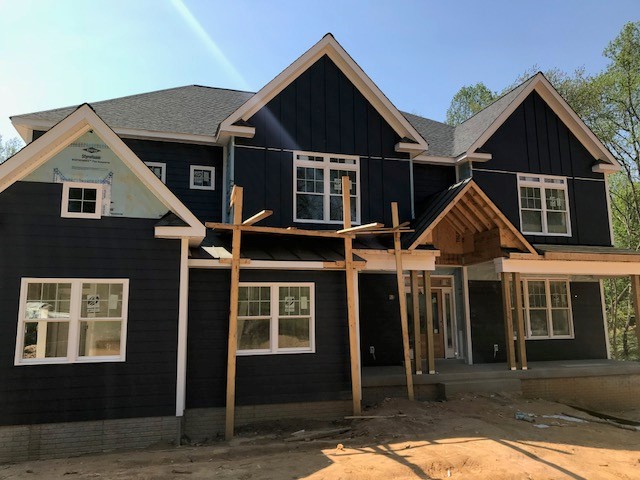 Stay tuned for more updates!
On The Blog This Week
It has been a while since we've done a Home Building FAQ. These posts are great because we answer a frequently asked question in 300 words or less – perfect if you want to sit down and learn a little something about home building but you don't have time to read a dissertation.
This week's question – Does rain ruin building lumber?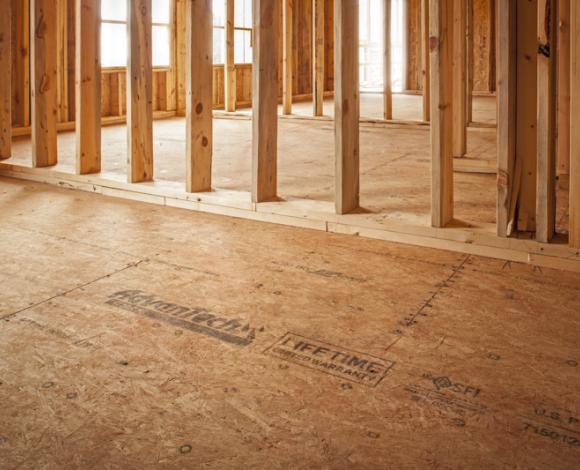 Check it out. The answer may surprise you!
New Recipe!
Aside from the BLTs I made on Saturday, I have not cooked one meal for my family in the last week. NOT ONE.
But I did manage to bake something. Now if you know me, you know I don't bake. Ever. It's too precise. You have to actually read (and follow) the recipe (who has the time?). I prefer savory cooking over baking any day of the week – if I mess up the recipe, I can usually "fix" it with a little seasoning. But I came across this recipe and was intrigued – Double Chocolate Zucchini Bread? Well I like chocolate. And I like zucchini so combining them sounded like a good experiment! And bonus – I had most of the ingredients in my pantry!
First, here is the full recipe…
INGREDIENTS:
1 cup all-purpose flour
1/2 cup Dutch process cocoa
1 teaspoon baking soda
1/2 teaspoon sea salt
2 large eggs, at room temperature
1/4 cup unsalted butter, melted and slightly cooled
1/4 cup canola, vegetable oil, or melted coconut oil
3/4 cup packed light brown sugar
1 teaspoon pure vanilla extract
1 1/2 cups packed shredded zucchini
1 cup semisweet chocolate chips, divided
DIRECTIONS:
Preheat your oven to 350°F. Grease a 9-by-5-inch loaf pan with nonstick cooking spray and set aside.
In a medium bowl, whisk together the flour, cocoa powder, baking soda, and sea salt. Set aside.
In a large bowl, add the eggs, melted butter, oil, vanilla extract, and brown sugar. Stir until smooth. You might have a few small brown sugar clumps and that is fine.
Stir the dry ingredients into the wet ingredients, don't overmix. Stir in the shredded zucchini until just combined. Stir in 3/4 cup of the chocolate chips.
Pour batter into prepared pan. Sprinkle the remaining 1/4 cup of chocolate chips over the top of the bread. Bake for 50-60 minutes, or until a toothpick inserted into the center of the bread comes out mostly clean, you might have some melted chocolate chips on the toothpick and that is fine. You just don't want a lot of gooey batter.
Remove the pan from the oven and set on a wire cooling rack. Let the bread cool in the pan for 15 minutes. Run a knife around the edges of the bread and carefully remove from the pan. Let the bread cool on the wire cooling rack until slightly warm. Cut into slices and serve.
Note-if you use coconut oil, make sure it is melted and slightly cooled. The bread will keep on the counter, wrapped in plastic wrap, for up to 4 days. This bread also freezes well. To freeze, cool the bread completely and wrap in plastic wrap and aluminum foil. Freeze for up to 1 month. Defrost before slicing.
I used one medium sized zucchini and it was plenty. You can't taste the zucchini in the bread but it does change the texture a bit.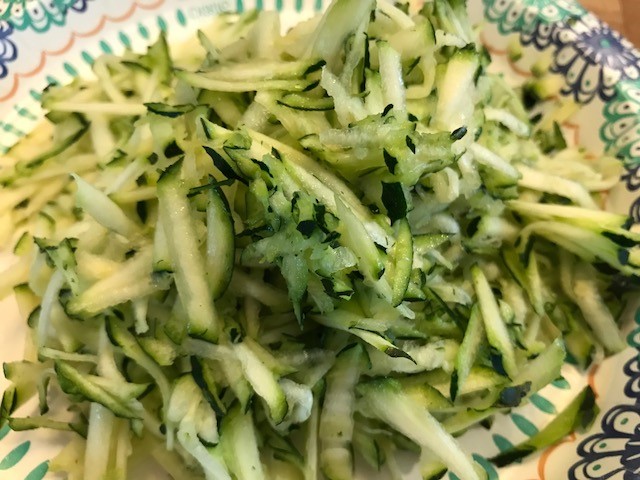 I'll probably try the smaller grate on my box grater next time I make it (and I will make it again!). This recipe is super easy (even for baking dummies like me) and it takes no time to prepare.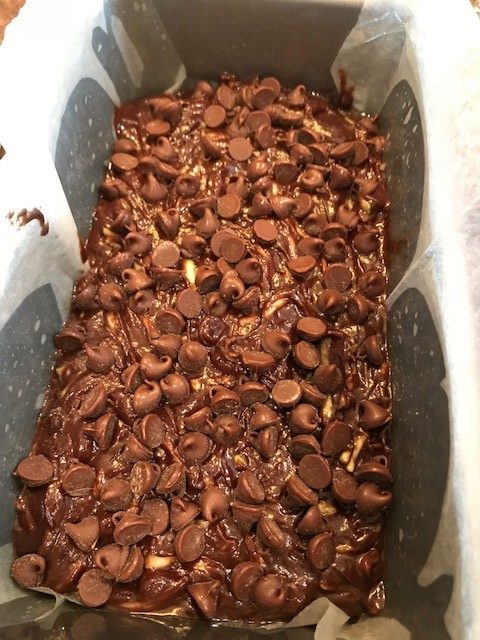 The recipe calls for 50-60 minutes in the oven. Mine was ready after 38 minutes so keep an eye on it. I forgot to snap a picture of it when it came out of the oven but here's proof it was enjoyed by all…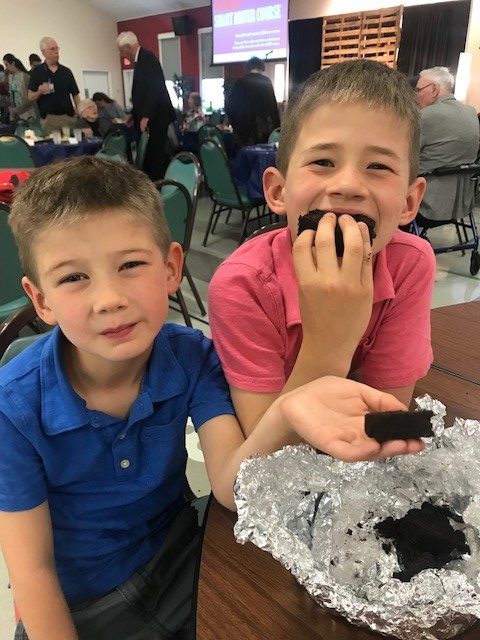 We took some to church with us on Sunday and what wasn't eaten by our Sunday school class, was devoured by the boys. I think they each had at least 3 slices. Hard for this mama to limit their consumption when I know they're eating their veggies. HA!
Speaking of mama's, Happy Mother's Day to all you moms out there. I hope you have a day to do what you want. And for all of those who have lost their mothers or long to be a mother, I am thinking of you and how hard this day must be. Hugs –
Dream Big. Build Smart.