Jen In the Kitchen: My Top 5 Favorite Kitchen Tools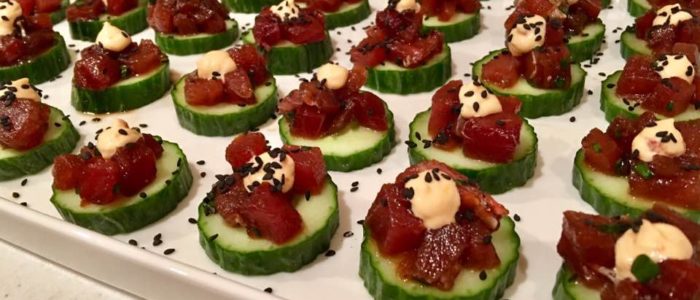 I love to cook but I hate to wash dishes so when I reach for a kitchen tool, it has to save me time and be easy to clean. Here are the tools I use ALL THE TIME that make cooking fun (and so much easier!).
A Good Cutting Board & Quality Knives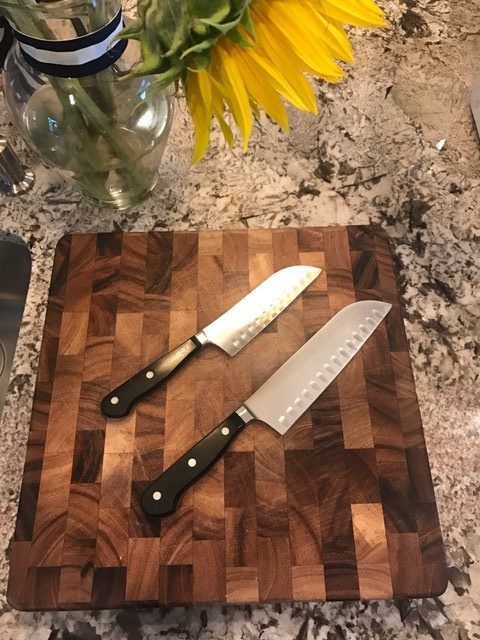 I keep my Boos cutting board right on my counter and I use it every day. It's pretty so I don't mind having it out all the time and I love the convenience of not having to pull it out of the cabinet for each use. Do you have good knives? Every home chef needs at least one good quality knife. I love my Wusthof knives. I have several different styles but I routinely reach for the Santoku. They're a good weight and easy to handle!
Stoneware Bar Pan 
My sister-in-law started selling Pampered Chef in the late 90's. One of the first things I ever purchased was the medium bar pan.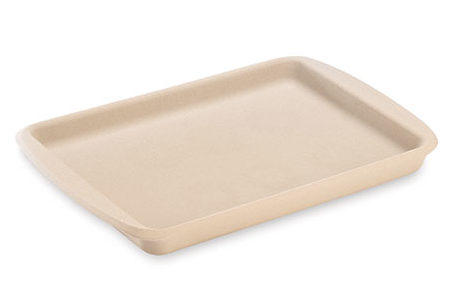 Over the last 20 years, I've only had to replace it once (my first one broke) and I use it all the time. I keep it in the oven and it's great for roasting or heating up food for the boys. It's the perfect size (it fits in my small oven) and once it is seasoned (it turns all nice and dark), you never need to worry about food sticking to it.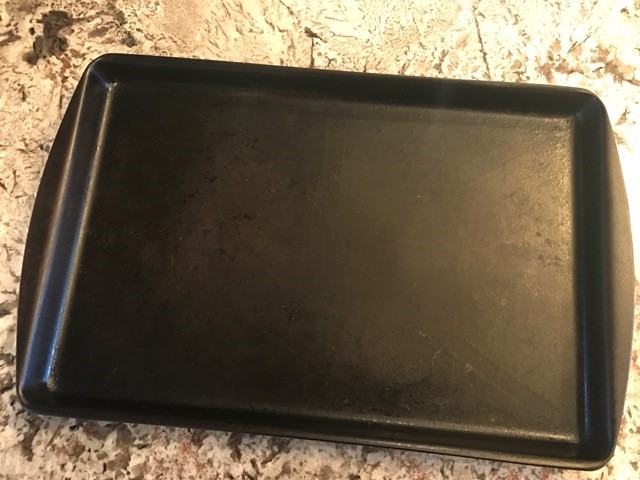 It doesn't look very pretty but I'm telling you, this is my favorite roasting pan!
Garlic Press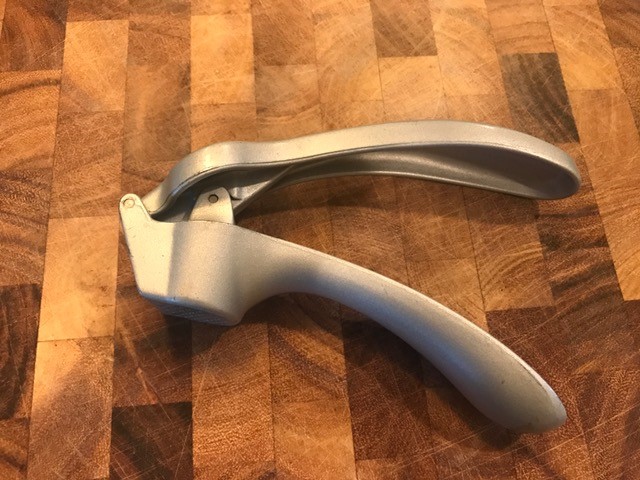 I purchased my garlic press from Pampered Chef a bazillion years ago and I use it every time a recipe calls for minced garlic. And let me tell you, once you start using fresh garlic in your cooking, you will never go back to the jar (you will also begin to wonder why garlic from a jar is yellow???). This tool is easy to use, easy to clean and indestructible (you should see the massive pieces of garlic I'm able to mince with this baby).
Olive Oil Dispenser, Pepper Grinder & Salt Cellar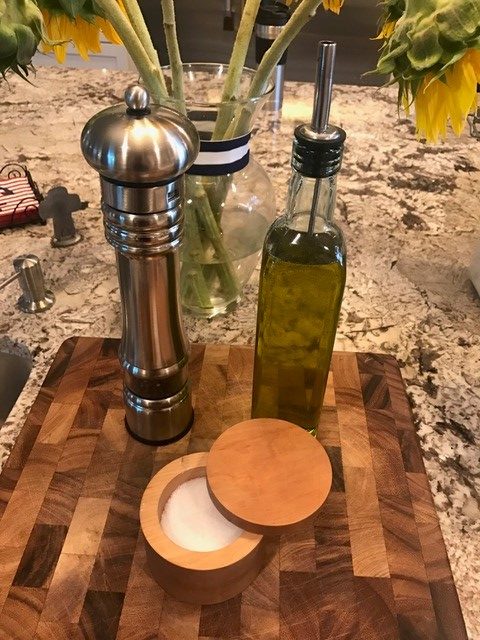 I always have my extra virgin olive oil and fresh salt & pepper on hand when I'm cooking. I keep them near the stove so they are always easy to reach for when I need them.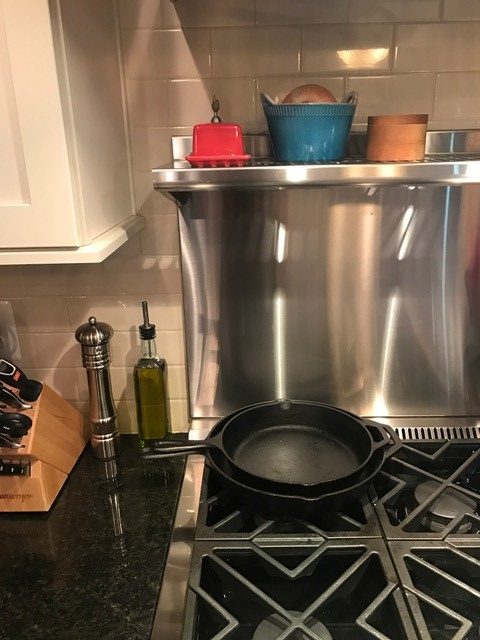 Don't use freshly cracked black pepper and sea salt? You are missing out! They flavor dishes so much better! I've had this pepper grinder and salt cellar (similar) for years.
Mandolin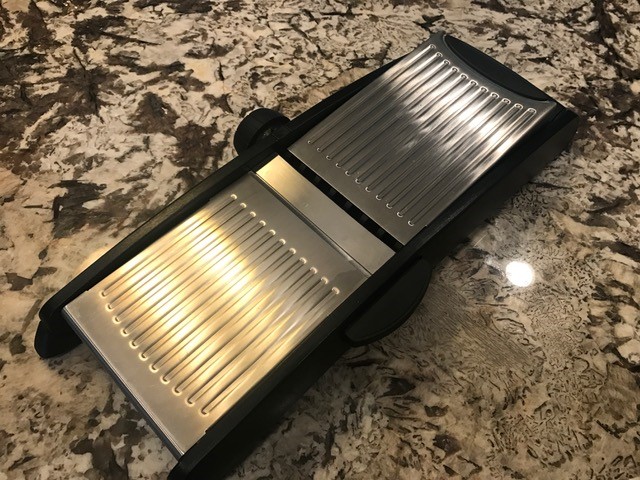 OK – this may seem a little indulgent but you'd be surprised how often you might reach for this handy tool. I purchased my OXO Mandoline about 12 years ago and I love it for slicing things when you need thin and consistent pieces (think baked fries, scalloped potatoes, veggies for salads). You can set the thickness for simple slices or use it to cut Julienne strips.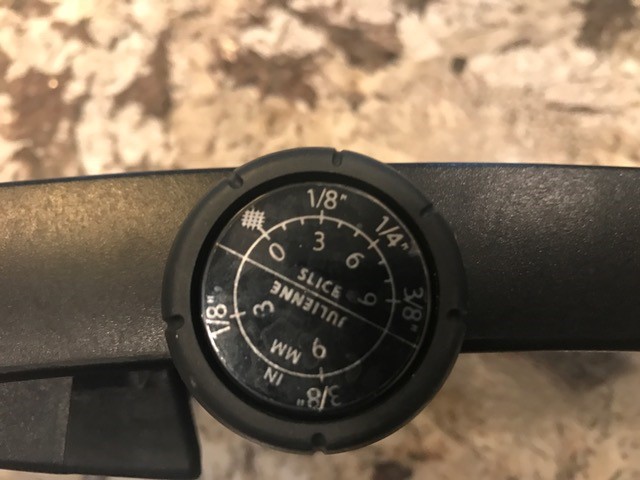 My favorite appetizer recipe, Spicy Tuna Tartar, is served on sliced cucumber so the mandoline comes in handy!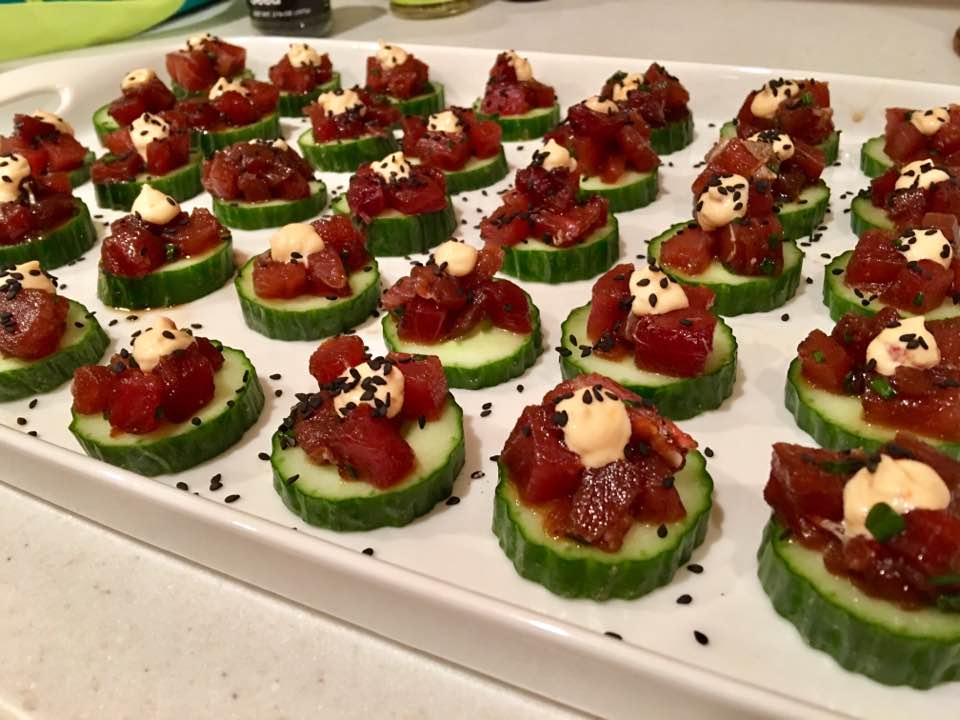 I love this recipe so much – it is such a crowd-pleaser & easy to make. Here it is if you'd like to try it!
Spicy Tuna Tartar
1 lb Sushi Grade Tuna, diced into small pieces
3 T fresh, chopped chives
¼ C. low sodium soy sauce
2 T dark sesame oil
2 T. rice wine vinegar
½ t. kosher salt
¼ t. fresh ground black pepper
¼ C. mayo
1 t chili paste
2 Seedless Cucumbers
Black Sesame Seeds for garnish
Combine tuna, chives, soy sauce, vinegar, salt & pepper in bowl. Cover and chill.
Slice cucumbers into ¼" thick rounds. Place rounds on serving platter. Top each round with a spoonful of the tuna mixture.
Combine mayo & chili paste. Put mixture into zip lock bag. Snip off the corner of the bag and pipe a dollop of mixture on top of tuna.  Sprinkle black sesame seeds over each piece.
I always get the sushi grade tuna from H Mart in Merrifield. Not a cucumber fan? You can also serve this with black pepper water crackers (adds a little heat), skipping steps 2 & 3.
What tools do you reach for when you're in the kitchen?
Dream Big. Build Smart.