Solid vs. Engineered Hardwood Flooring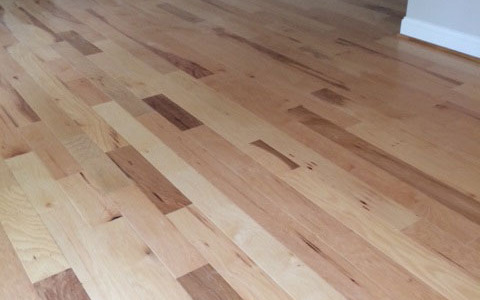 Do you love the pictures of the beautiful hardwood floors you see on Pinterest and Houzz?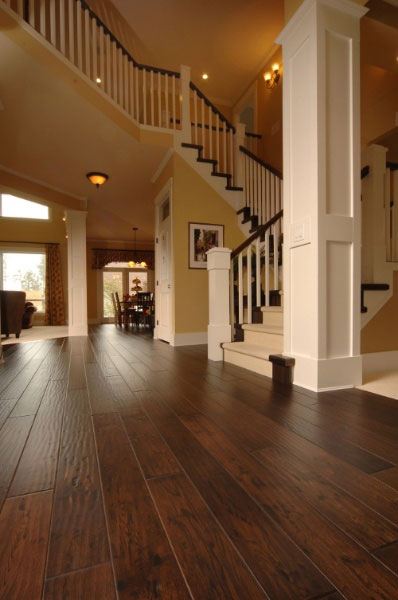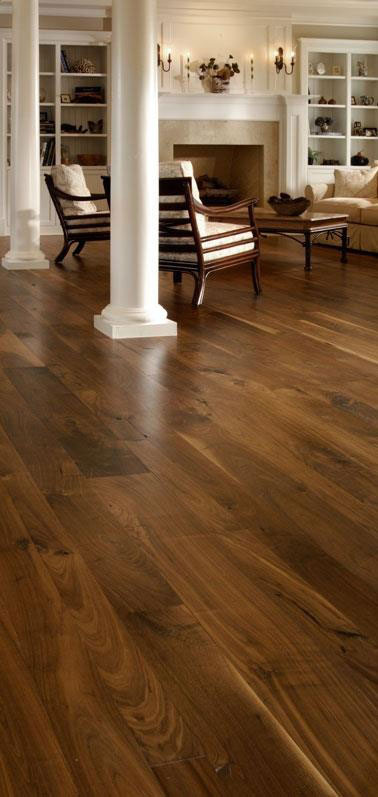 Or how about the beautiful hardwood floors those adorable twin brothers from HGTV always use? Well come to find out, most of what they are using is either engineered hardwood or (gasp) laminate. What? But I thought that 5" wide plank was solid hardwood? Not so much.
Several years ago, the big trend in hardwood was the wider the better. We had clients buying the 4-5" distressed hickory like never before. It looked gorgeous. But it didn't take long for manufacturers to stop making it and installers to stop selling it. Why? Because solid hardwood flooring is very sensitive to environmental factors. Keep the house too warm, the humidity levels rise and the hardwood cups (edges curl up). Keep the house too dry and boards split. In order for solid wood to "stay put", the conditions of a house must be kept perfect at all times otherwise there is a chance for the wood to react.
It's a big reason most builders went from using wood 2×10's and 2×12's for framing and plywood on the subfloors to engineered wood materials (Trust Joists, OSB & Advantech subflooring). Solid wood expands and contracts when the environment changes (change of seasons). So when the weather would get really cold the wood would contract. In the summer, the humidity would cause the wood to expand. Not good when you're trying to control floor squeaks.
When we changed over to engineered framing and sheathing, our service calls for floor squeaks stopped. Instantly. And it's because the engineered material isn't bothered by environmental factors.
So why are we talking about engineered hardwood all of the sudden? Because of Pinterest and Houzz and the adorable twins on HGTV. Everywhere you look you see the wider plank hardwood flooring. But you can't easily get it in solid hardwood. And if you can, the affordability factor goes out the door.
I've learned quite a bit about hardwood flooring recently. Specifically, engineered hardwood compared to solid hardwood flooring. Both are made from real wood but the difference is the way they are constructed. Solid hardwood is made from a single piece of wood and then covered with a layer of protective coating. Engineered hardwood is made from an engineered core (usually plywood), multiple layers of wood (under extreme heat & pressure) and then a protective coating.
I've always been a solid wood girl. I grew up with it. I installed it when I built my own house. But I have to tell you, over the last two months, I've been converted.
If I had a choice of this…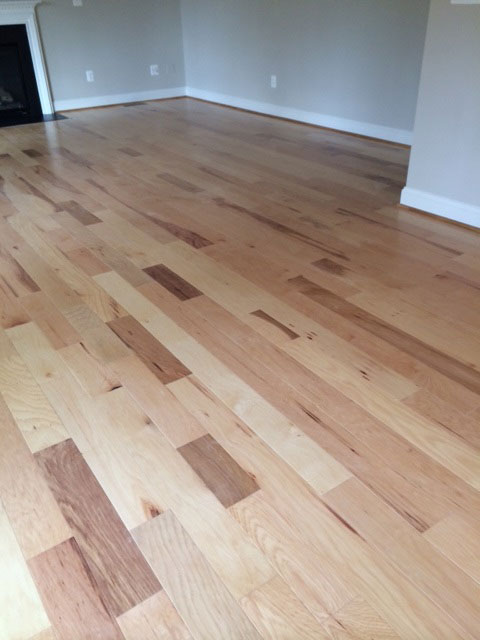 …or this?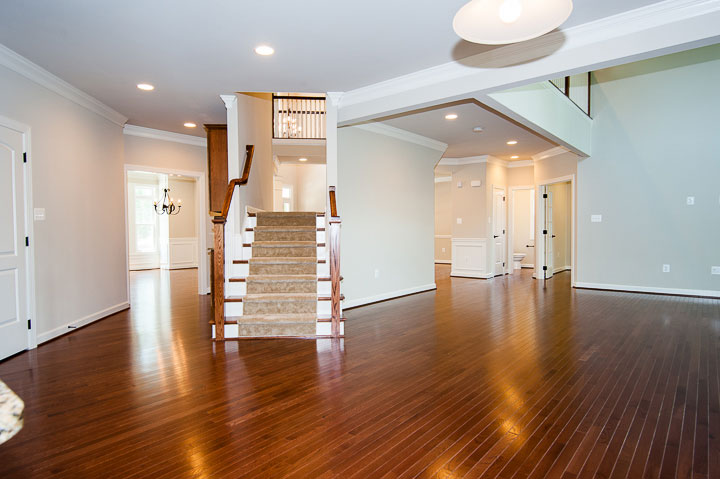 I don't know about you but I prefer the look in the first picture. I LOVE the wider planks.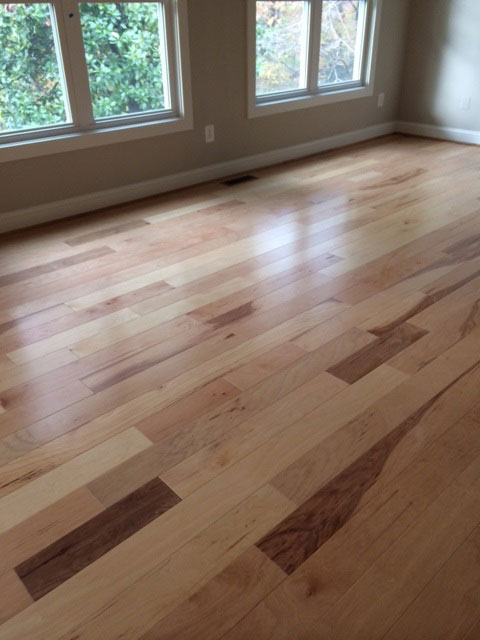 So why does engineered hardwood have such a marbled reputation? One word. Pergo. And Pergo isn't even real wood! It's laminate!
But when you say engineered, people immediately think fake even though the top layers of each plank are made from real wood and engineered in a way that makes it better in so many ways.
Here are the reasons why I (now) love engineered hardwood…
Choices
If you come out to our Design Center and look at our solid hardwood display (which is still very nice) and then look at the selection of engineered hardwood, you'll know what I mean.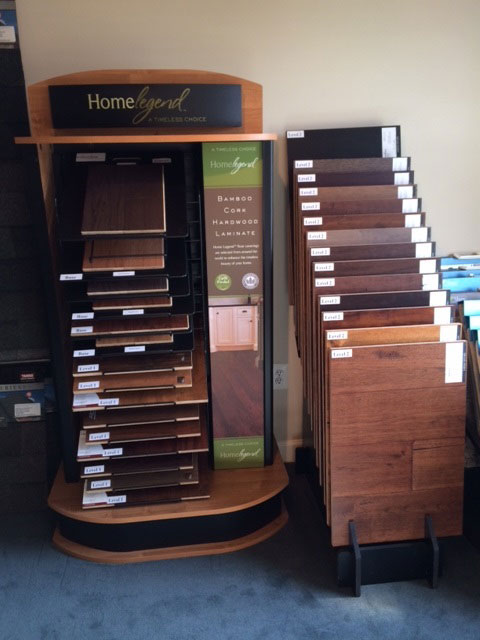 The widest solid plank most installers offer is 3 5/8". With the introduction of our engineered wood program, we're able to offer 4" oak plank as a standard! It's really beautiful and the colors you can choose from are gorgeous!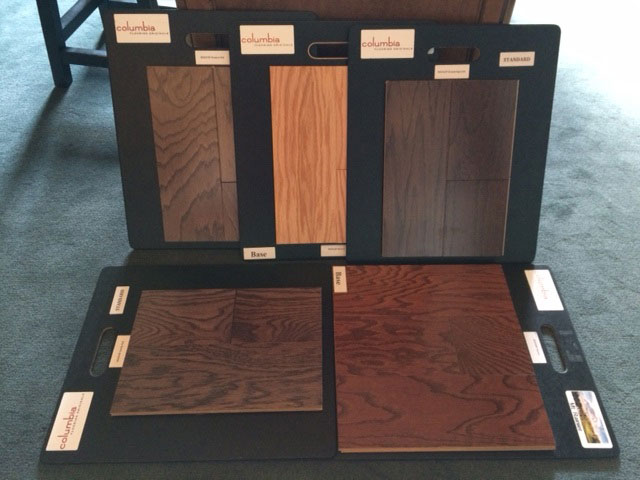 Those are 4" wide oak planks now available as a standard selection! We offer a range of colors. I love the darker colors.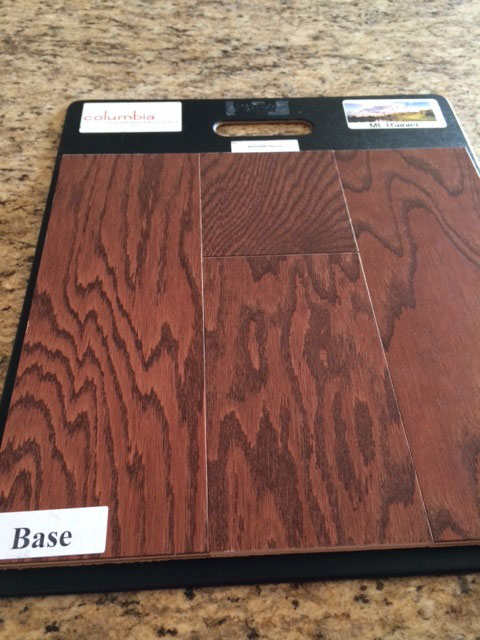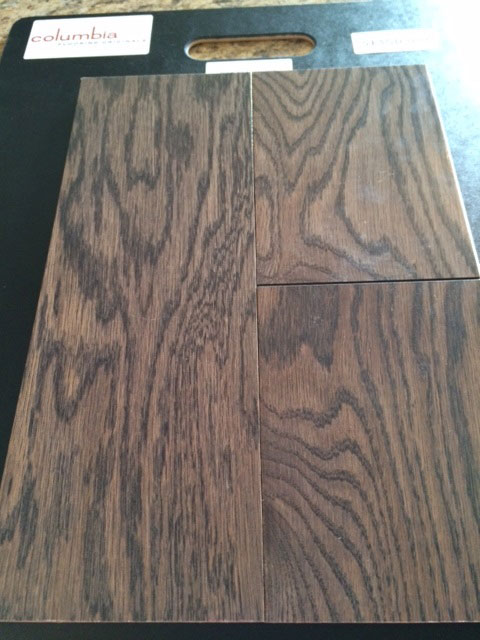 Compared to the standard solid wood selection which is a 2 ¼" solid oak strip.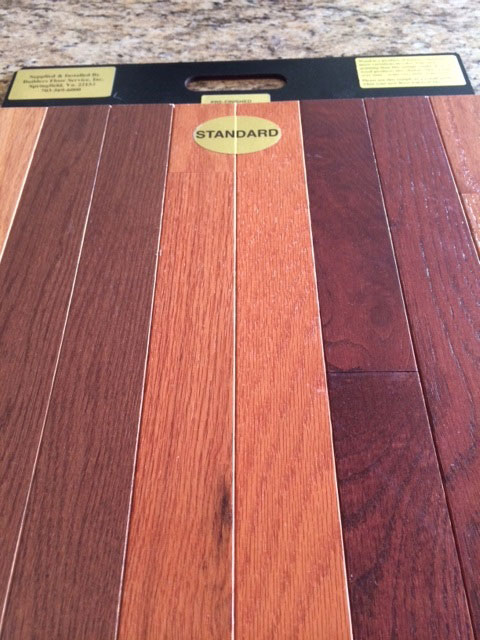 And look at the different species of wood, widths and colors available as an Upgrade 1 in the engineered wood program.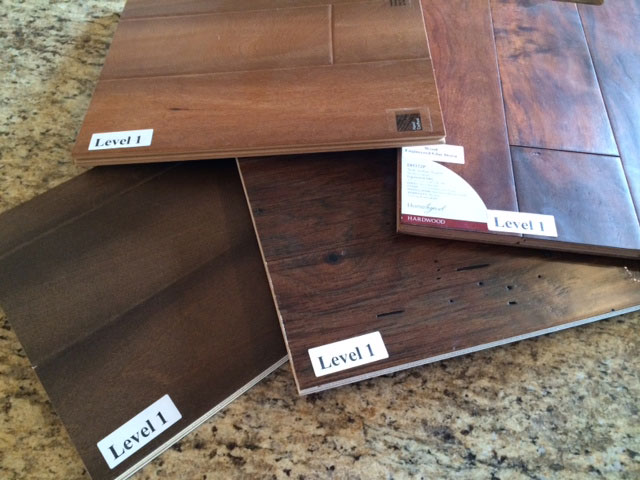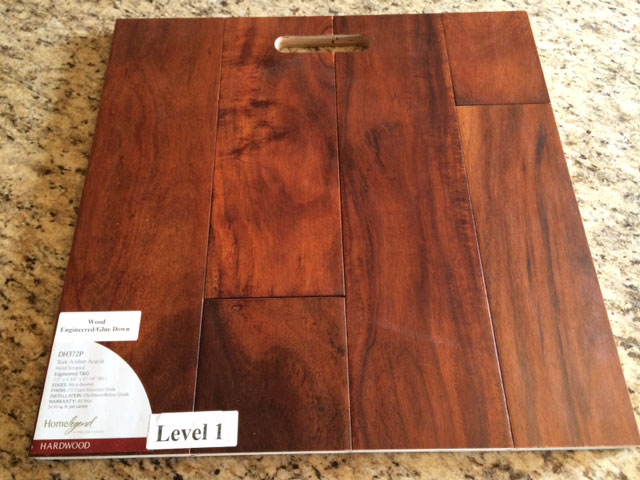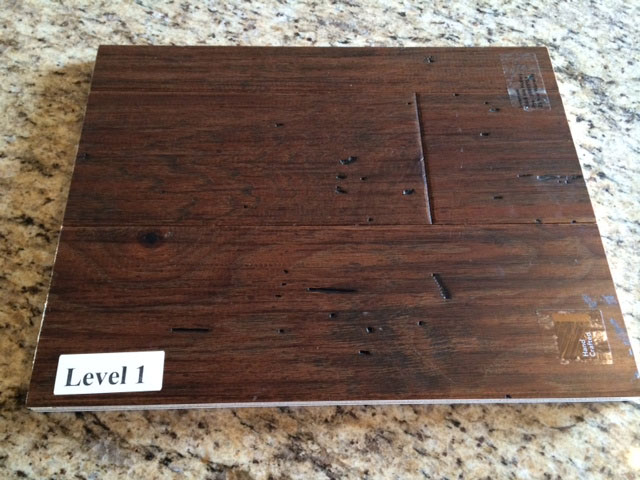 Compared to the Upgrade 1 options available in our solid program.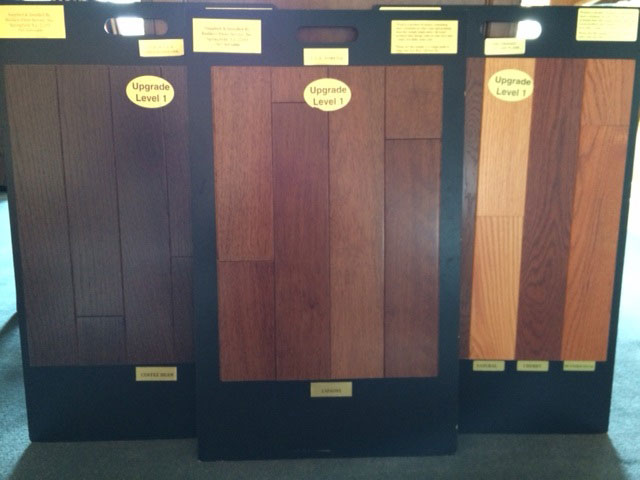 And don't even get me started talking about what you can get in an Upgrade 2 in the engineered wood program.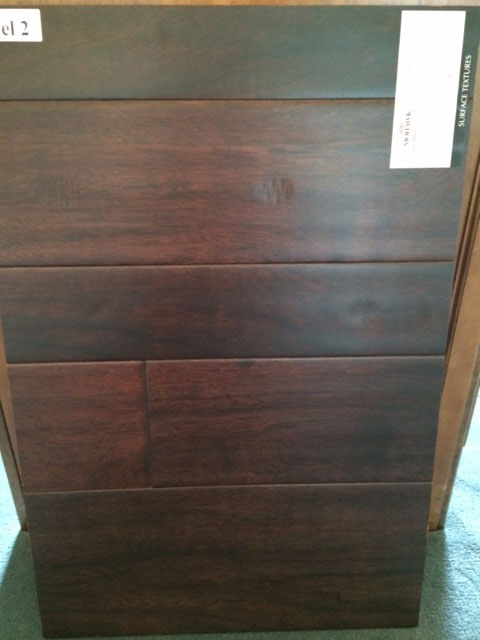 Do you see the varied widths available in this sample? The planks vary from 4 – 7". Gorgeous!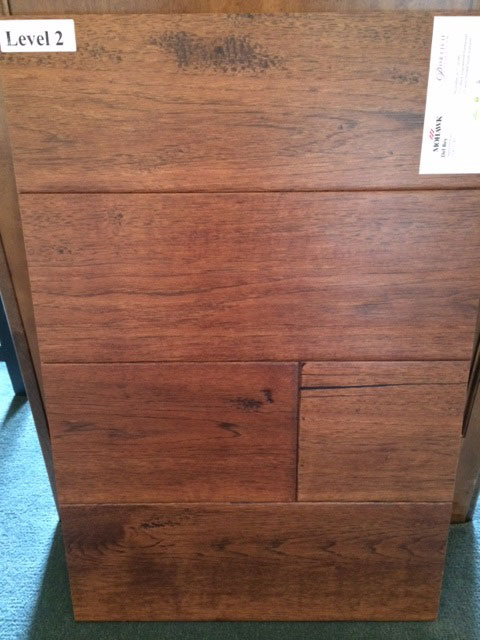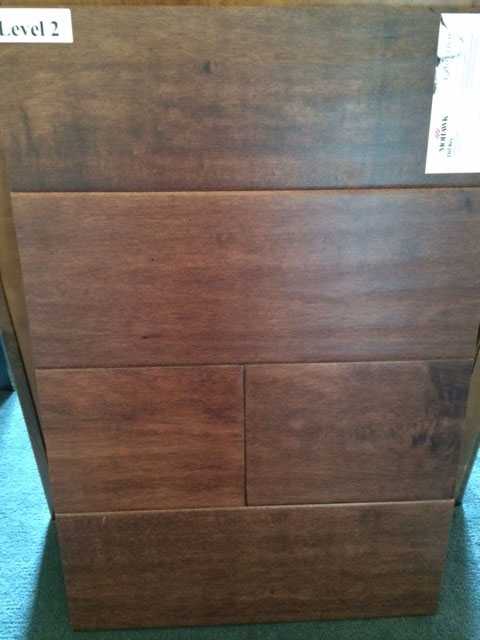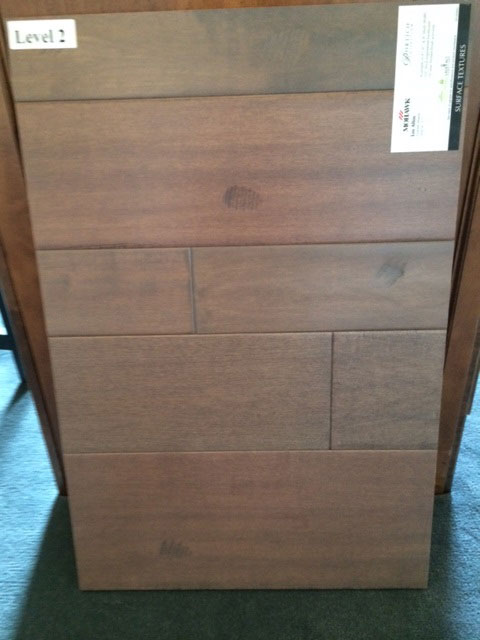 And yes, those are 7" planks. 7" planks!
Compared to the Upgrade 2 options available in our solid program.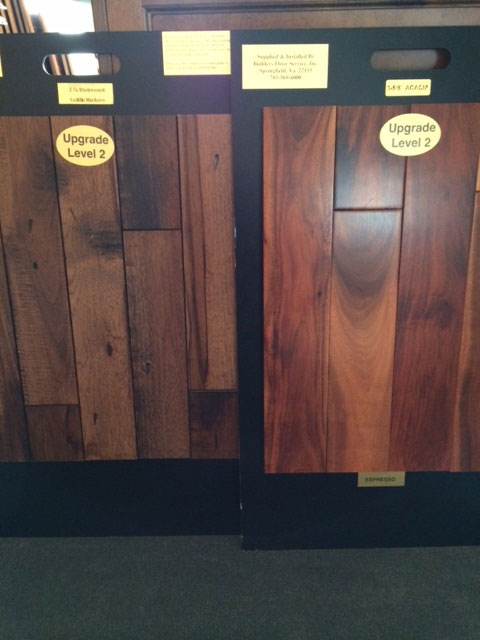 Don't get me wrong. Our solid wood program has some beautiful offerings. But once you start paying attention to the trends out there, you'll realize how much engineered hardwood is being used.
And it's just beautiful!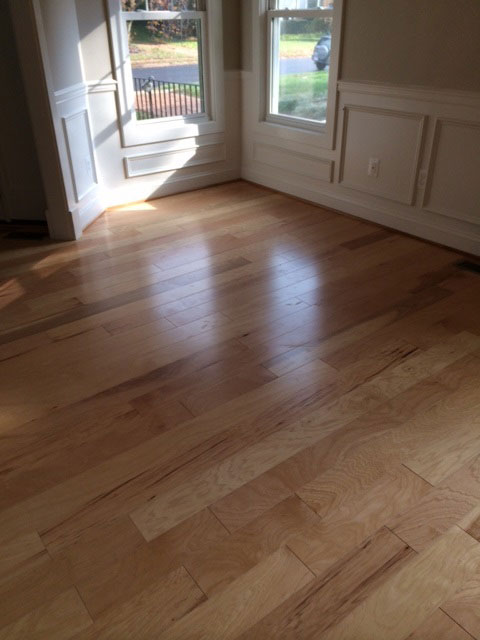 I can't wait to show you the engineered floors we're installing at the homes being built on Gordon Avenue in Falls Church. For the Clarendon model, I selected wide plank Birch in the Flatiron stain and in the Vienna model I selected the hand scraped Birch. They're installed but still covered, so I'll reveal them to you as soon as I can!
Durability
As a builder, durability and performance is very important to me. I only want to install something once, and I certainly don't want to go back to fuss with something after it's installed. But as a homeowner, it's even more important. Solid hardwood can be installed under the most perfect conditions but more often than not, it's what happens well after the install that causes the problems with solid hardwood flooring. You see, there are inherent qualities in solid hardwood flooring that make it very sensitive to its environment. Because it's made from a single piece of wood, it is susceptible to moisture, humidity and temperature. In the summer it will swell. In the winter it will contract. It doesn't like humidity at all. And dryness can be a problem as well. No matter how good the install, if the conditions in the house aren't "perfect," there could be cupping, excessive joint separation or "face checking" (industry term for the boards actually splitting).
Engineered hardwood isn't solid wood, so the engineered core protects the layers of wood on top. The performance of an engineered hardwood floor is far superior to solid hardwood. Seasonal movement is minimal while stability through seasonal humidity and temperature fluctuations is superb. Our flooring supplier told me recently their callbacks for defective hardwood is three times on the solid wood what it is on the engineered. As a builder and a homeowner, that makes choosing an engineered hardwood floor a no brainer.
Environmentally Friendly
Because engineered hardwood flooring uses less wood than solid wood, it is a popular choice for environmentally preferred flooring. Engineered wood flooring only utilizes the wood needed to make a beautiful hardwood floor. Why use perfectly good solid wood for a core that is never seen? In a world with limited resources, I'm all for making better use of what we have. Who can argue with that?
As the pricing of solid hardwood flooring continues to rise and the availability of certain species of wood declines, engineered hardwood is becoming more and more popular. In fact, 70% of what our installer is putting down is engineered hardwood. And areas like Florida, Texas and the upper Northwest have shifted almost entirely to engineered hardwood flooring.
I was definitely a skeptic when our installer approached me with the engineered wood program. But after learning about the design choices, performance and why it is a better use of our resources, I was convinced. So maybe give engineered hardwood a second look. While I will continue to sell solid hardwood to those who want it, I'm also interested in presenting the latest trends and best product information I can to my clients.
The rest is up to them!
Dream Big. Build Smart.
PS: You don't have to take my word for it. Come see these floors for yourself at our open house this weekend! We're showing our Penrose Model at 1209 Ware Street SW, Vienna, VA Saturday, November 8 and Sunday, November 9 from Noon to 4 p.m. both days!