What We're Building: Jen's Week In Review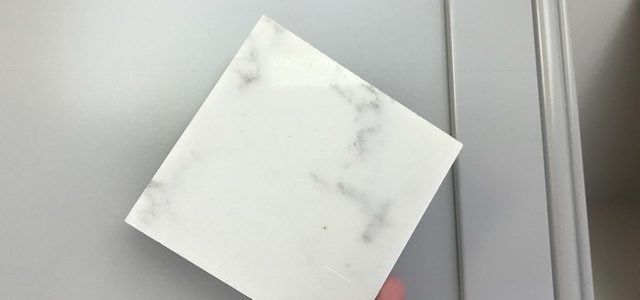 Where did this week go? Seriously – with the excitement of the Super Bowl (such a great game and I'm not even an NFL fan – GO HOKIES!) and everything going on with the Design Center, it has flown by. Here's what's happening…
Design Center Update
We have new cabinets in the kitchen and I think they look amazing! This is one of the new paint colors – Pebble Grey on the Lyndale Maple door style.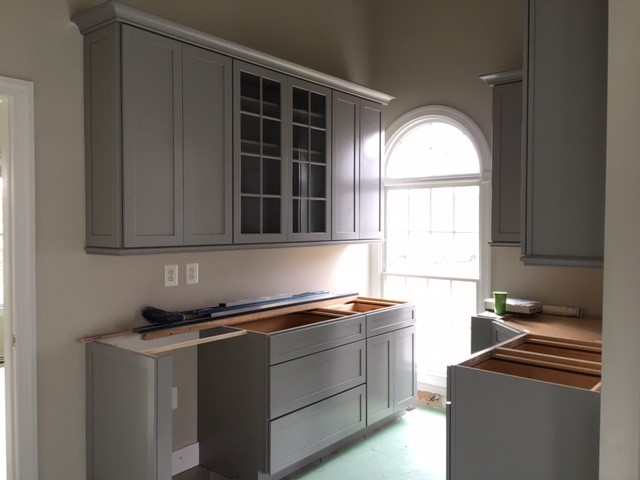 This small kitchen will serve as storage for marketing supplies. It will also have a small beverage frig and a sink!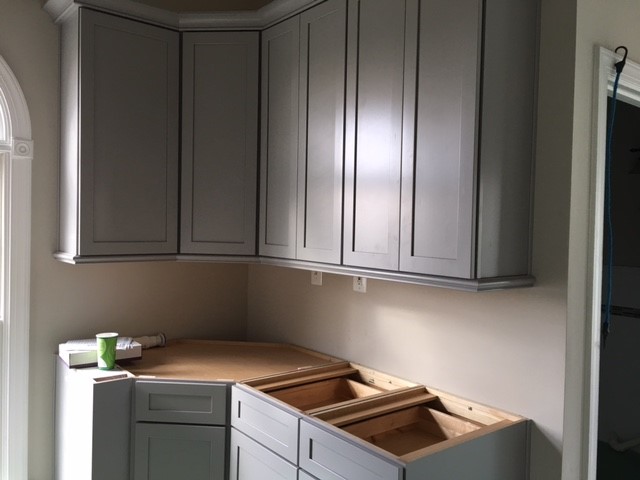 I was going back and forth on what top to use. Definitely quartz. Definitely white. I thought at first Carrara Grigio because it looks and sounds like White Carrara marble (I just realized my nails match the cabinet – winning).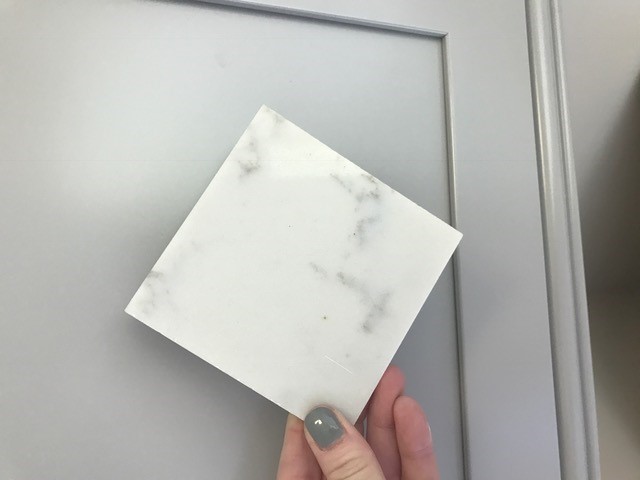 But after looking at this sample and a sample of Calacutta Vincenza quartz…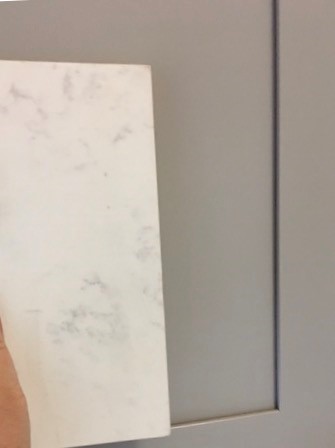 …I think I'm going with Calacutta Vincenza. It's a bit hard to tell in the picture but it's "whiter" and brighter than the Carrara Grigio. I can't wait to see it installed!
We also got the front door painted! We chose Williamsburg – love the way the blue looks with the brick.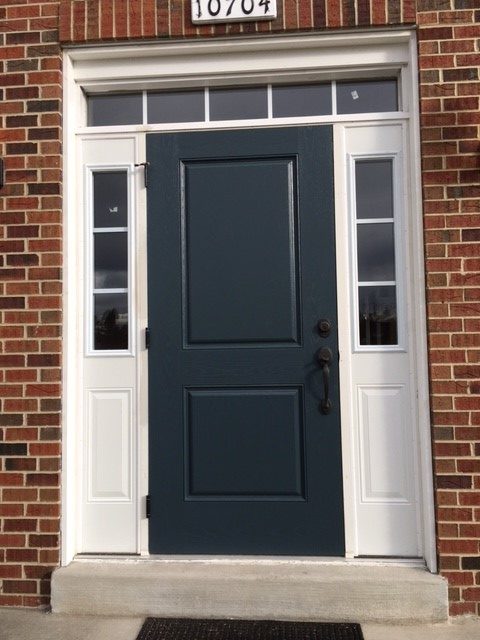 And the new rails and pickets were installed. Starting in 2017, turned rails & iron pickets are standard* in our Traditional homes and the square rails & pickets are standard* in our Craftsman homes (*for contracts signed with new specs only).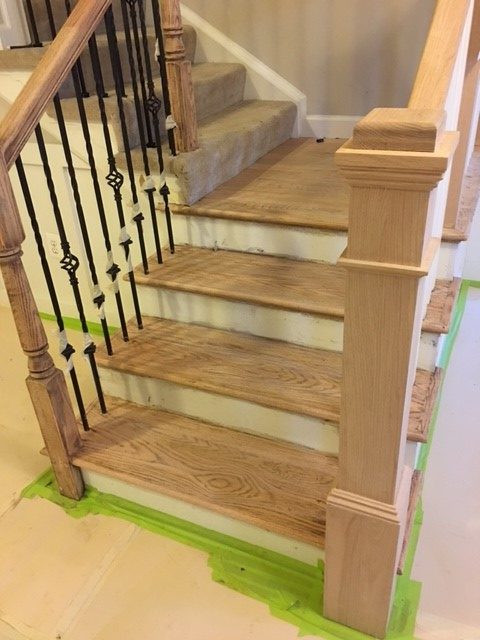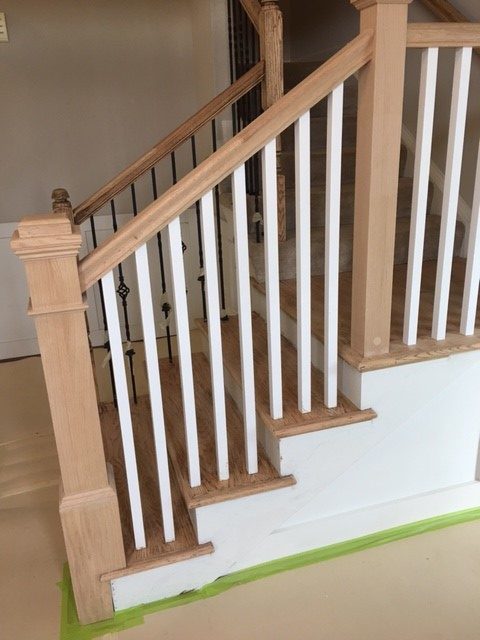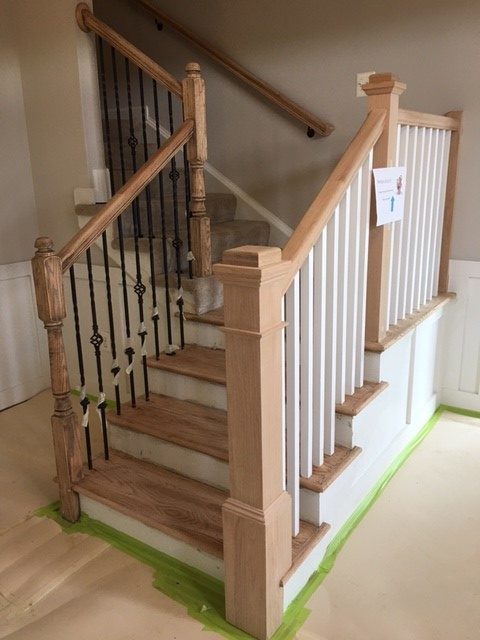 I think both are GREAT additions to our standard features!
Washington Gas Delays
Utility companies are a necessary evil for us all. And this week, we're experiencing something I've never seen before with a utility company. The contractor WG uses for trenching the gas lines, NPL, is on some sort of hiatus. We haven't been able to figure out exactly what is going on but we've been informed that no trenching will occur before February 20. None. At all.
What?????
So that means anyone expecting gas lines this month will likely not get them until next month. IF, they actually get back to work on 2/20. We will continue to monitor the situation and I'll keep you updated as we get more information.
On The Blog This Week
On Tuesday, I answered the question – Should You Pick The Same Finishes For All Your Bathrooms – while I don't have a strong opinion on this (other than PICK WHAT YOU LOVE!), I do offer some advice on making selections for your home. Check it out!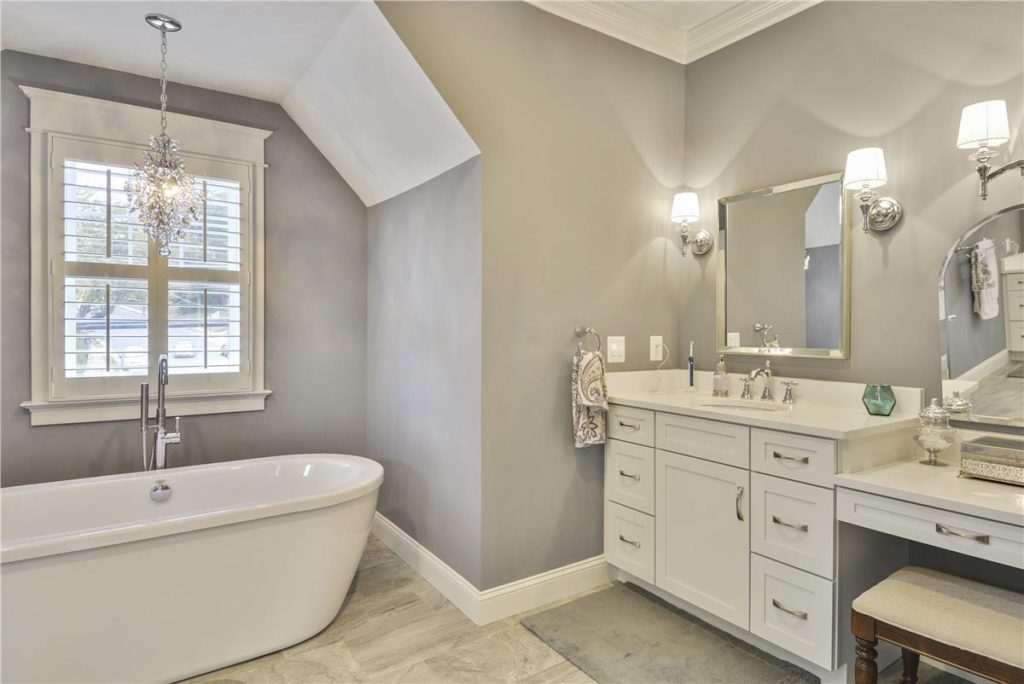 On Thursday, we posted a new Team Q& A! Have you met Brenda Landes? She's our VP of Finance & Administration (responsible for our money and our people!) and she's awesome! "B" (as we fondly call her), has worked with us since 1992 – I hope you'll take a few minutes to get to know her!
My First Field Trip
OK – not ever but in a LONG time. The boys have been going on these fun field trips since they started preschool. This week I chaperoned for the first time. We took the kids on a walking field trip to an assisted living home. The kids sang songs to some of the residents.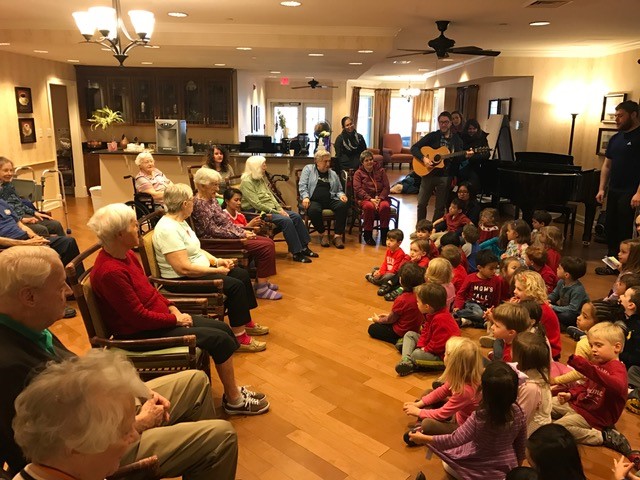 We sang "My God Is So Big" and "Jesus Loves Me". The kids then passed out Valentines – how cute!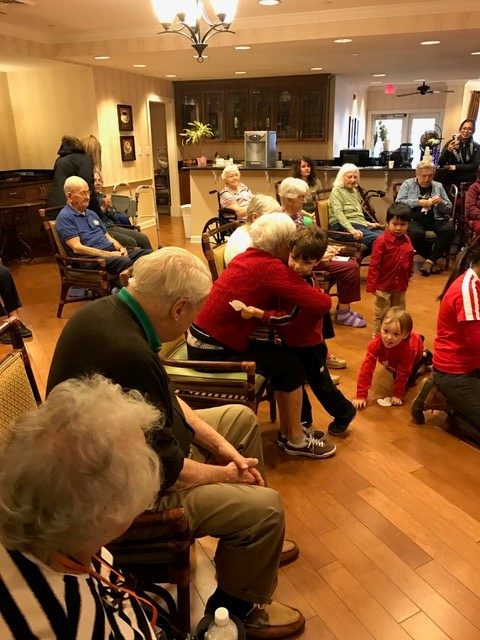 And then the residents sang "He's Got The Whole World" back to the kids. I was in tears by now. Serious tears! So touched by the kindness of these kids and the pure joy they brought to these seniors. We all enjoyed it.
Especially this guy…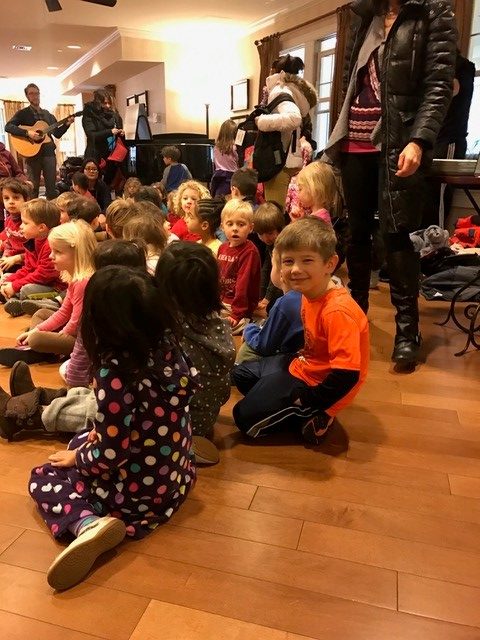 Thank you for stopping by my blog today! Did you hear it is going to be in the 60's again over the weekend? I think that calls for a cookout. A cookout in February? Yes please!
Dream Big. Build Smart.