What We're Building: Jen's Week In Review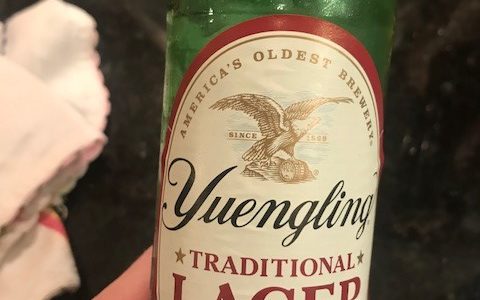 It's beginning to look a lot like FALL! I'm so happy the air is a bit a cooler, the days are a bit shorter (don't ask me why), and you can find just about anything with pumpkin flavor. My personal favorite – Krispy Kreme Glazed Pumpkin Donut Holes! YUMMMMM!
And we're super busy right now…
POP-UP Open House 10/21 & 10/22
We are showing a Custom Clarendon Model in Falls Church this weekend only. I walked this home earlier this week and I love the custom changes the client made.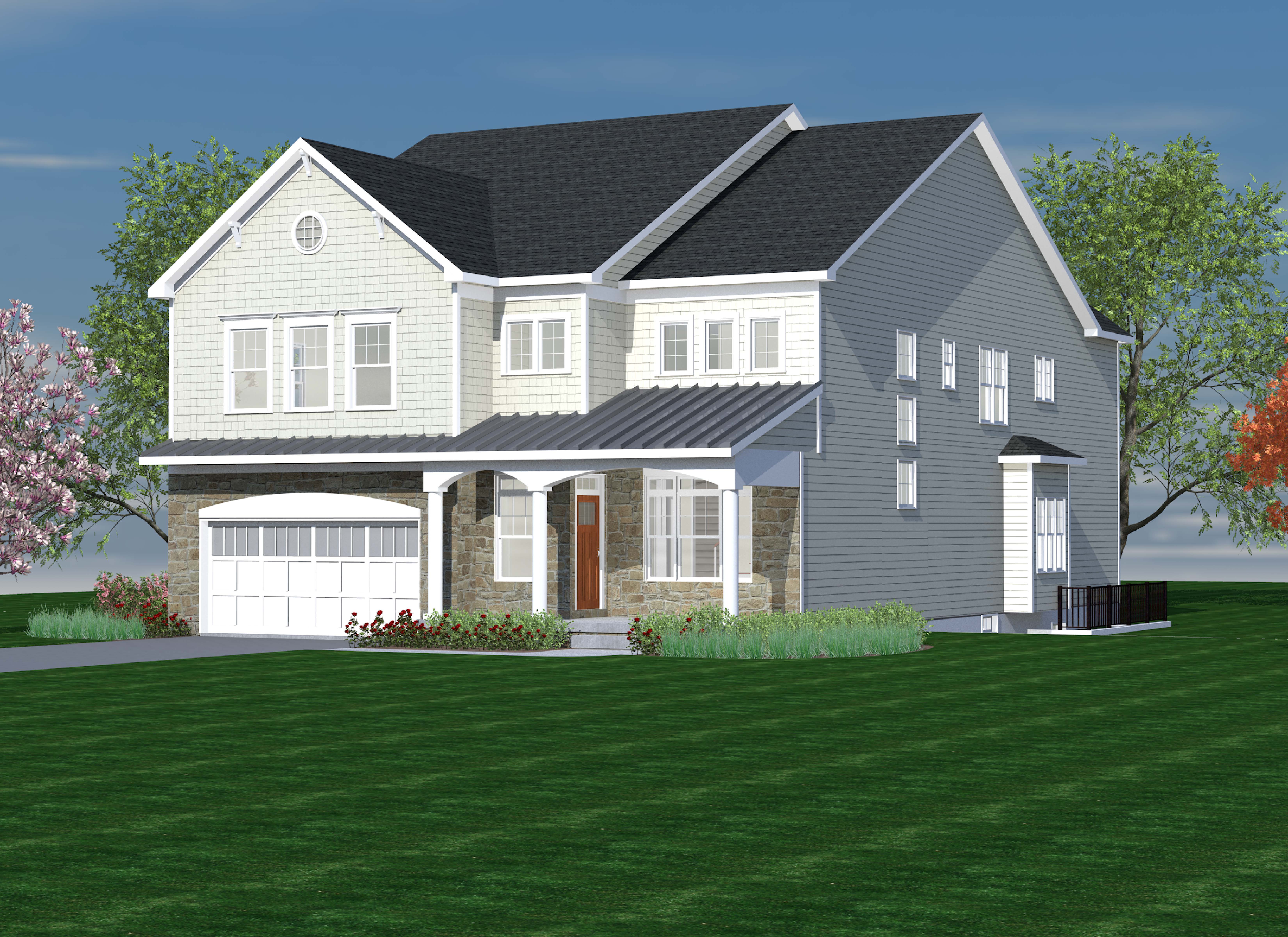 Come and see this beautiful home!
The Clarendon Model Open House
Saturday, 10/21 & Sunday, 10/22, 12 PM – 4 PM Both Days
7528 Lisle Avenue, Falls Church, VA
This home is still under construction so wear your boots! And check out our current open house schedule HERE!
On The Blog This Week
Worried about runaway costs when building a new home? This week, I covered the topic and included my tips for controlling costs when building a custom home.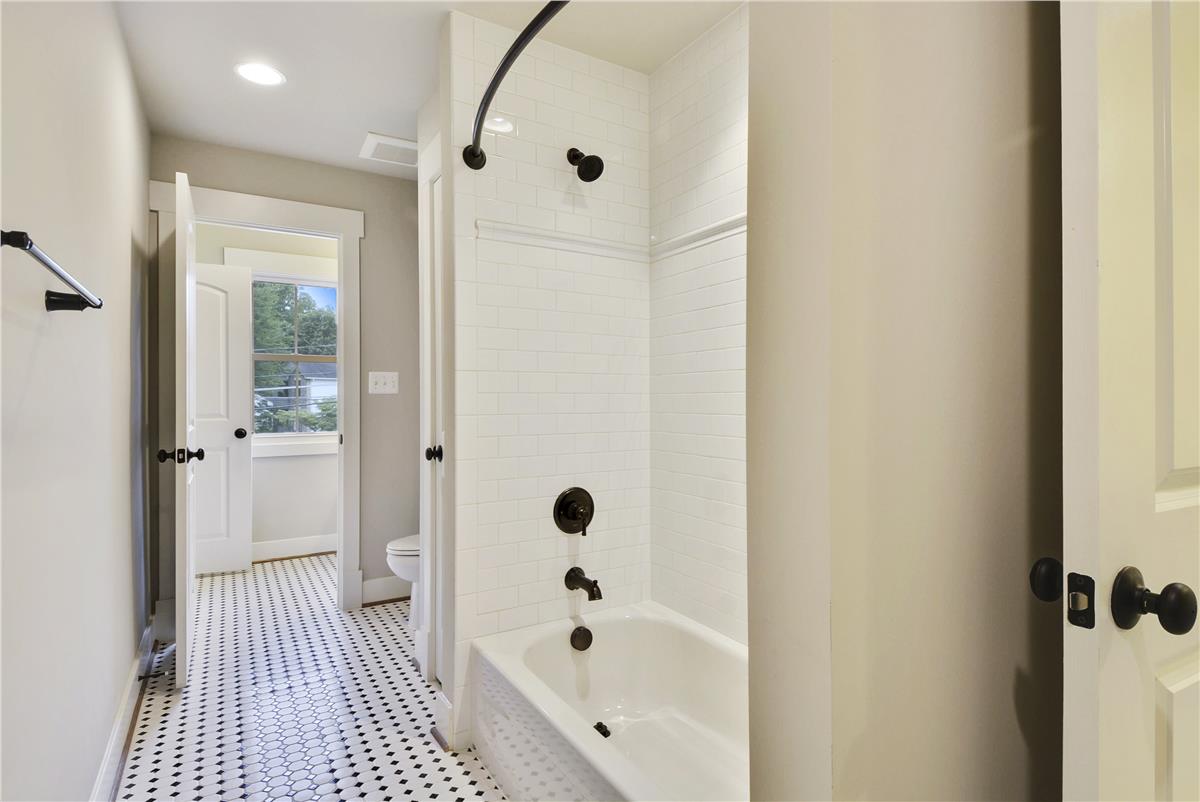 And on Thursday, I shared the finished photos from the Complete Custom we just built in Great Falls. I LOVE THIS HOUSE.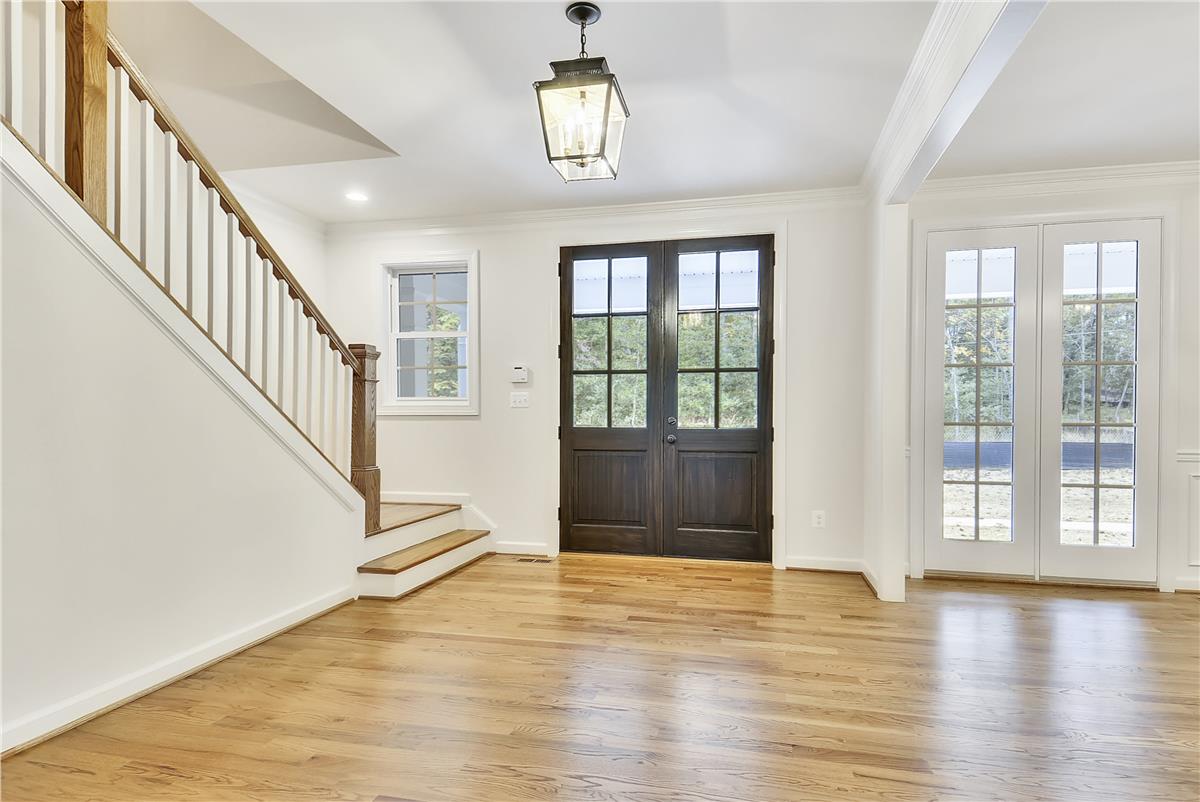 My Favorite Chili Recipe
It's finally chili & soup weather again! One of the first recipes I pulled out when weather turned cooler was my favorite chili recipe! I've been making this for over a decade now and it is still my favorite. It uses ground turkey and turkey Italian sausage (recipe calls for hot but you can also use sweet to make it less spicy). When it's stewing on the stove, it makes the house smell divine…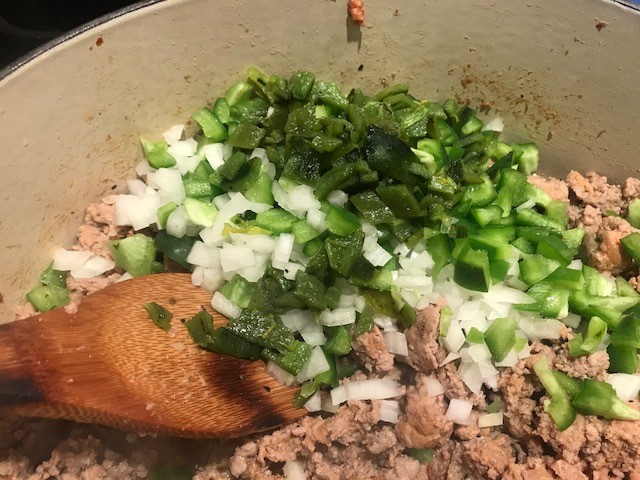 There are a couple of secrets to this chili and I'd urge you not to omit them from the recipe. The first is the roasted Poblano pepper. I know roasting your own pepper seems daunting (and a little annoying) but it really does add flavor. If you have a gas stove, you can put the pepper right on the burner and get it nice and charred on all sides. Then just throw it in a paper bag – letting it sweat in the bag makes it easier to remove the charred peel (I use the back of a chef's knife to remove the peel). Chop it up and throw it in with the green peppers and onions. YUM!
The second secret is a good lager beer. Now, I'm not going to get into it with all you beer connoisseurs out there about what constitutes a good lager beer. Just make sure it's a lager (bud light will not work!) and make sure it is something you would drink on its own. My personal favorite lager is Yuengling.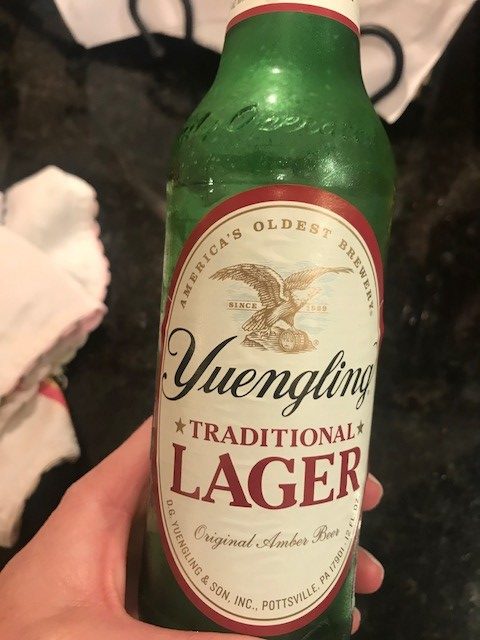 Once you throw in the beer, you let the chili get happy for about an hour and then its ready to enjoy!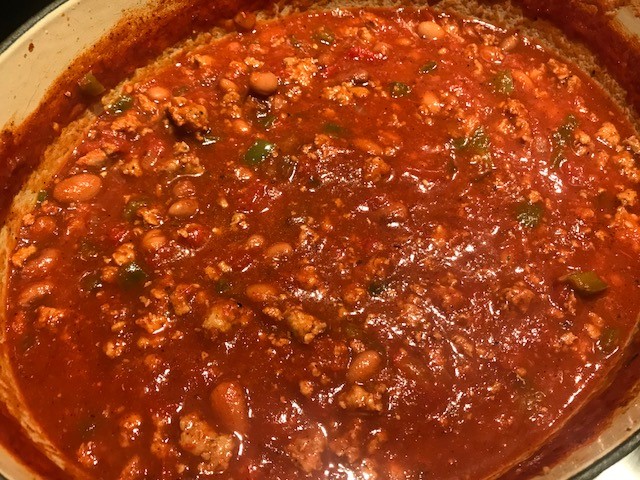 And one of the best things about serving chili is that everyone can add whatever they want on top! We put out cheese, sour cream, fresh jalapenos, cilantro, and avocado.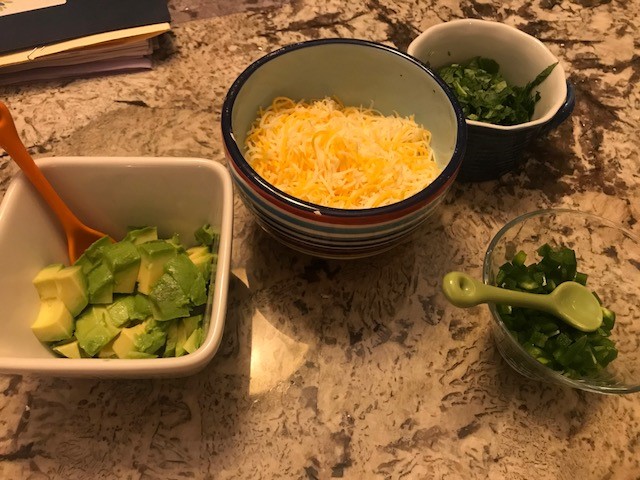 YUM YUM YUM!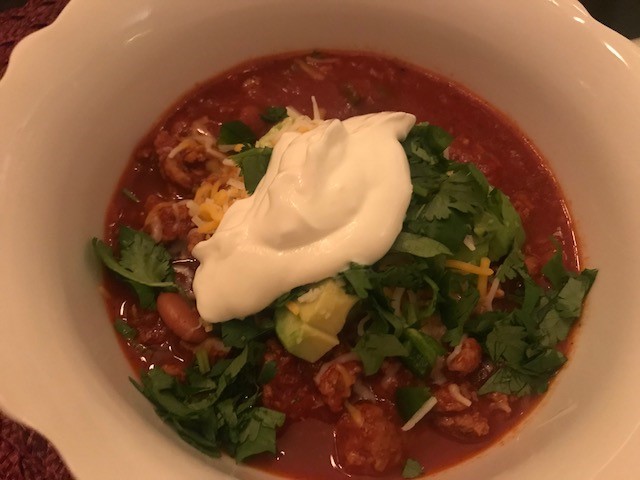 FULL RECIPE
Turkey & Hot Sausage Chili
Serves 8
1 tablespoon vegetable oil
1 pound ground turkey
12 ounces hot Italian sausage, removed from casings and crumbled
2 teaspoons Essence, recipe follows (you can also buy this in the store pre-made)
1 1/2 cups chopped yellow onions
1/2 cup chopped green bell peppers
1/2 cup chopped, roasted and peeled green poblano
2 tablespoons minced garlic
2 tablespoons chili powder
1 1/2 teaspoons ground cumin
1/2 teaspoon salt
1 (12-ounce) lager beer
1 (28-ounce) can chopped tomatoes with their juice (I use 28 oz crushed tomatoes & then I add whole tomatoes – crushed by hand – from another 28 oz can, I don't use the juice from the 2nd can)
2 cups cooked pinto beans, or canned beans, rinsed and drained
Your Favorite Toppings: fresh cilantro leaves, cheese, sour cream, fresh jalapenos, etc.
Tortilla chips, accompaniment
In a large pot, heat the oil over medium-high heat. Add the turkey, sausage and Essence, and cook, stirring, until the meat is no longer pink, 6 to 8 minutes. Add the onions, bell peppers, and chilies, and cook, stirring, until soft, about 3 minutes. Add the garlic, chili powder, cumin, and salt, and cook for 1 minute. Add the beer and tomatoes, stir well, and bring to a boil. Reduce the heat and simmer uncovered for 45 minutes to 1 hour, stirring occasionally to prevent the chili from sticking to the bottom of the pot.
Adjust the seasoning, to taste, and cover to keep warm until ready to serve.
To serve, ladle into large bowls and sprinkle each serving with your favorite toppings & tortilla chips on the side.
Do you have a favorite chili or soup recipe? Send it my way!
Thank you for stopping by my blog today! I hope you can slip by our POP-UP Open House This Weekend!
Dream Big. Build Smart.