What We're Building Next Door: Cabinets, Flooring & More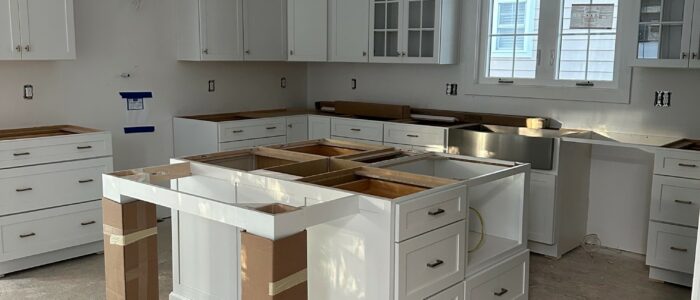 In case you missed it, I'm writing a blog series chronicling the construction of my neighbor's NDI home. I've built for friends before, but there is something about being asked by your neighbor! We've been friends and neighbors for over 10 years, and I am honored they asked us to build their new home.
So, what's happening next door? We're in the finish stage and the house is coming together so beautifully! This is an exciting phase since we get to see all the finished materials installed. Tile is the first flooring to go in since it's best to set the vanities after tile.
Conversely, hardwood typically goes in after the kitchen cabinets are installed. There are a couple of reasons for this. The main reason being that we are usually still waiting for gas & power hookups at the time we are ready for cabinets. And since we don't usually install hardwood before the house is conditioned, we will go ahead and install the cabinets and countertops in an effort to keep things moving. Once hardwood is in, we can set the appliances!
Other happenings next door? Trades are installing their fixtures, and we're beginning to work on the outside. It's a lot more involved than you think so stay tuned for the next post on What We're Building Next Door!
Dream. Build. Live.