Building a Custom Home Series, Part X: Selections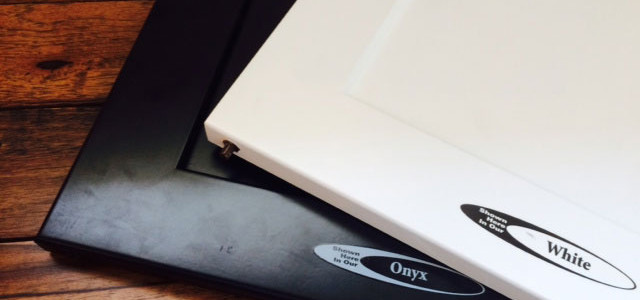 OK – now for something fun!
We've gone through the plan phase and have submitted for our building permit which means it's time to make color selections! If you are like me and you love HGTV and Pinterest, this is the moment you've been waiting for. I LOVE making color selections! I love making decisions in general but to create something from scratch and then see it built from the ground up is pretty cool! That's why I love what I do.
So how do I go about making selections for our spec projects like our project on Great Falls Street?
Step inside…
The first thing I do is pick out the kitchen. I think the kitchen is the centerpiece of the house (even if you don't like to cook!). Everyone gravitates to the kitchen. It's why so many modern floor plans are open concept. Gone are the days of the galley kitchen that was tucked away in another room.
So start with your kitchen cabinets. Do you like wood finishes or a painted finish? I tend to gravitate towards a painted cabinet. I also like a simple shaker style cabinet but there are tons of options out there.
For our house on Great Falls Street, I'm going to choose our standard maple cabinet. I love the simplicity of a shaker style cabinet and I think it fits the Craftsman style of the house. I am going to upgrade to a painted finish. I love white cabinets!
Here is the cabinet I'm selecting for our house on Great Falls Street: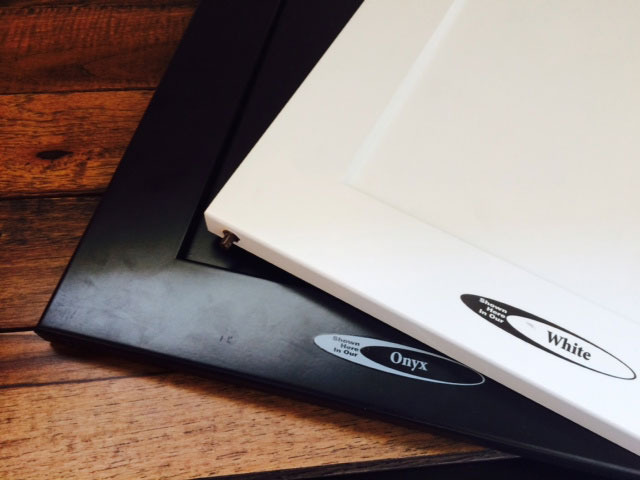 I'm going white on the perimeter cabinets of the kitchen and black for the island cabinetry. For the granite, I've selected White Diamonds. I love the lighter granite colors because it hides all fingerprints!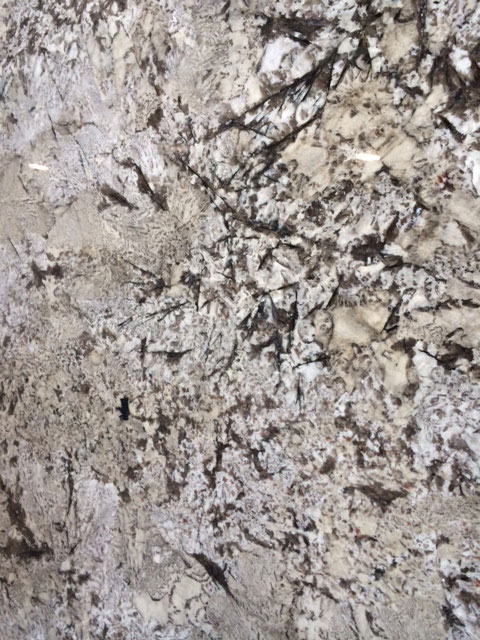 It's the same granite I recently installed in my own house.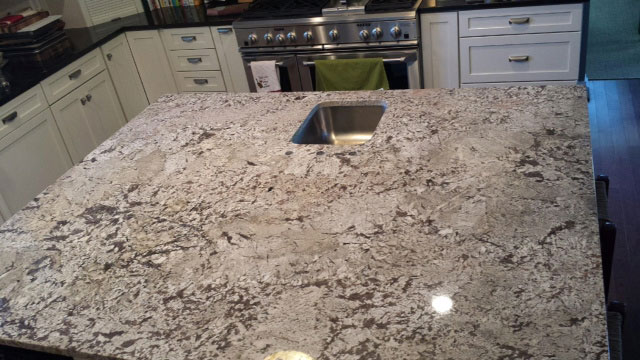 Unlike my kitchen where I installed a different granite color on the perimeter cabinets, I'm going to use the same granite color throughout the kitchen on Great Falls Street. Having a different colored cabinet on the island will give the room enough contrast. I don't want it to be too busy.
I've also decided to do a kitchen backsplash. I think white subway tile will look AWESOME in this kitchen.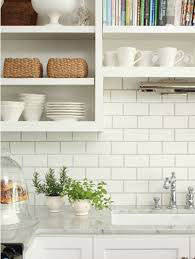 Such a crisp, clean look!
After I decide on the cabinets & countertop, the next selection I make is the flooring. I prefer hardwood in the kitchen. It feels warmer to me.
Here is the flooring we've selected for Great Falls Street. It's a distressed hickory. I think it fits the style of the house and people really love it!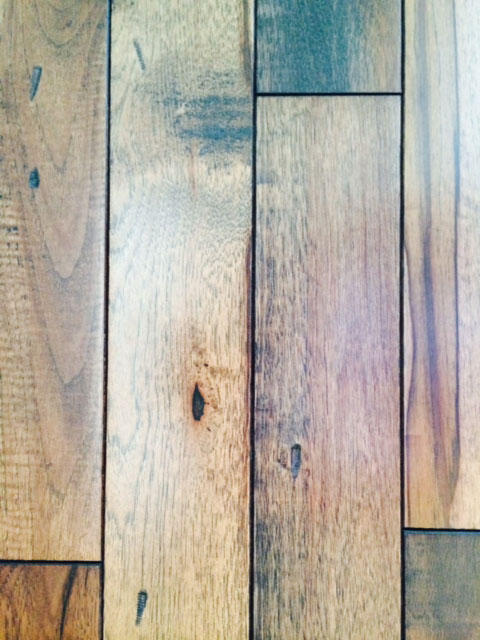 It's also great for hiding imperfections and scratches that come with wear and tear. Simply get out your favorite "Sharpie" and color in the scratch. It will look like it was meant to be there!
Here is how it looks installed. Gorgeous!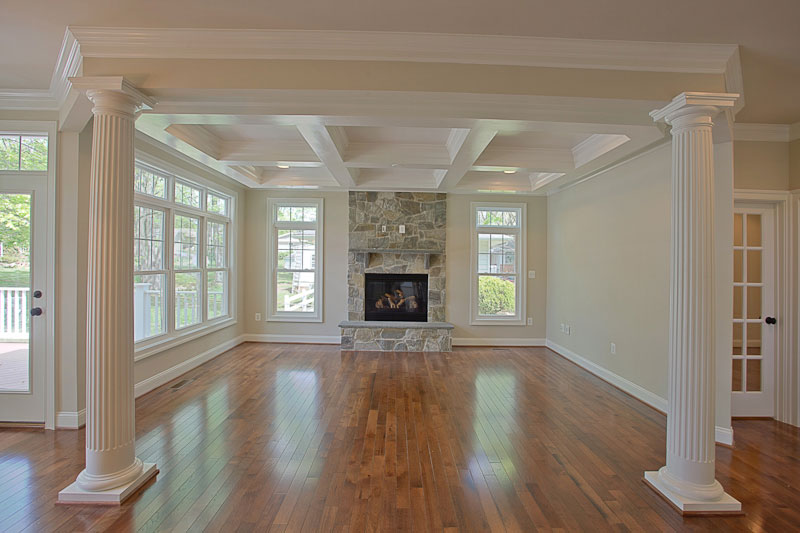 After I'm done in the kitchen, I move onto the bathrooms and then I do the exterior selections (siding color, stone selection, shingle, front door color, etc.).
So many decisions. After doing this a few times, there are a few things I've learned.
Lesson #1 – Be rested (both physically & mentally).
When I made the selections for our Clarendon Model in Falls Church, I had 6 bathrooms & wet bar to select in addition to the kitchen and butler's pantry. It was exhausting. If it's your first time building a custom home, you may not realize all of the decisions that have to be made. What door knob do you want? What color do you want your front door to be? All fun things but it can be a lot.
Lesson #2 – Realize you may actually sell this house to someone else one day.
Some of our clients are building their forever home. Others realize they will only be in the house a few years. Whatever you think is the plan, try to consider what other buyers might care for if you ever decide to sell your home. Most buyers like neutral and have a hard time seeing beyond the cosmetic features of a home. Several years ago I had a very sweet client ask us to install his white bathroom tile with Royal Blue grout. Royal Blue! We tried to convince him to do something more neutral but he insisted. He stills lives in the house but I'm sure there will be a day when decides to sell and oh my…Royal Blue!
Lesson #3 – Lean on an expert.
Whether it's your sister who has a flare for decorating or you decide to hire an interior decorator, talk to someone who has experience in visualizing what something will look like once installed. Here at NDI, we have a Design Consultant assigned to each client. This consultant's job is to guide our clients through the selection process. We're blessed to have such a talented woman in this role and ready to assist each client as they put the finishing touches on their NDI home design. In fact, in my next post, I'll introduce you. She's fantastic and loves to talk about this stuff.
Selections are fun and while it can be overwhelming, it's worth the effort once you start seeing your selections installed. I can't wait to show you how our house on Great Falls Street turns out.
Dream Big. Build Smart.