Jen In The Kitchen: Easy Chicken Pesto Bake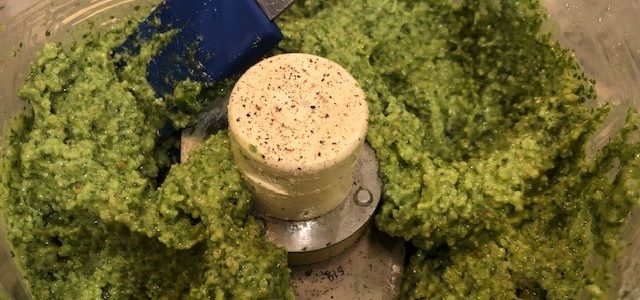 I have been trying really hard since the beginning of the year to cook more at home during the week. The amount of take-out and eating out we were doing was insane. Not cooking at home is unhealthy, expensive, and it cuts into our evening routine which I've come to adore. After going through a couple of busy baseball seasons with the boys, being home with them is time that I treasure. Going out is fun too but I feel like we have less quality time together. I love gathering around our dinner table together to talk about our days.
So why is it soooooo hard to pull dinner together. I'm not even talking gourmet people – just something warm (although we are not opposed to cereal for dinner around here) and maybe a little bit healthy. If I can squeeze out 3 homemade dinners a week, I'm calling that a victory.
Because getting dinner on the table feels like such an accomplishment sometimes, it's like I'm an actual grown-up when I do it. An accomplished grown-up.
I know. High aspirations over here.
Today, I wanted to share a recipe I've been making for years. It is a simple, weeknight dinner that is bursting with flavor thanks to the star ingredient – homemade basil pesto.
WAIT! Don't click out of this post just yet. I am not a fussy cook. When I can take a shortcut, I most certainly do (stay with me for a great shortcut for this recipe a little later), but there are some things I say never, ever, ever, ever, do (like using jarred garlic). Using store bought (especially jarred!) pesto is NOT worth it. Making pesto at home is so easy and once you taste the difference, you will never go back!
I timed myself while making the pesto for this recipe and it took me just shy of 11 minutes. The flavor is SOOOOO worth it AND this recipe makes enough pesto to freeze for another night (which means making this meal the next time, is even FASTER!). Trust me y'all – homemade pesto is easy and so yummy!
Pesto is simply basil, garlic, cheese, nuts, and olive oil thrown in a food processor.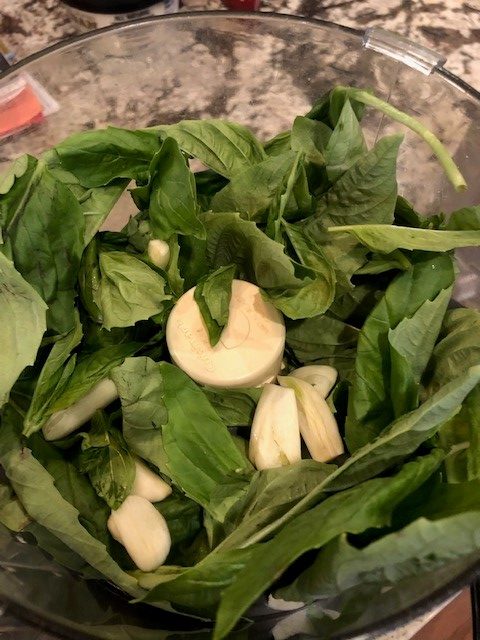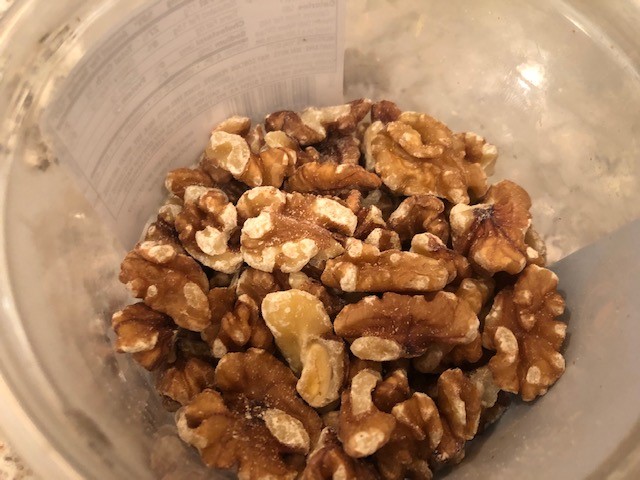 The result is perfectly nutty, cheesy goodness. And the fresh basil makes the kitchen smell amazing.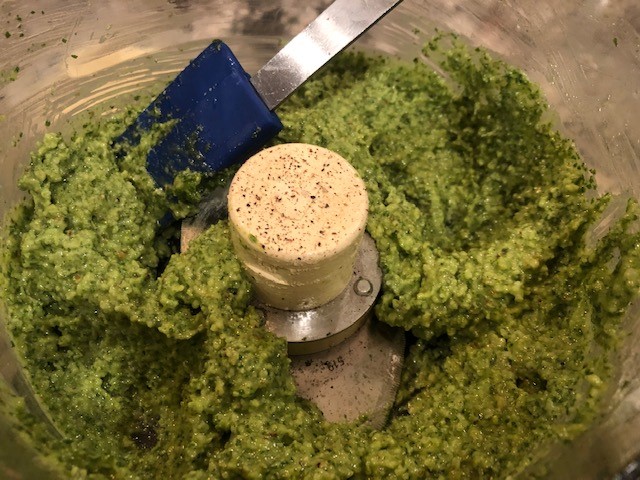 After the pesto is made, grab 3-4 chicken breasts and slice into thick strips.
SHORT CUT: If there is one task I hate (aside from peeling onions and garlic), it is handling raw chicken. A good time saver is buying a big old bag of frozen chicken tenders from Costco. They are individually frozen and you don't have to defrost them before cooking (BRILLIANT!).
Before placing the chicken in a greased baking dish, spread a little of the pesto on the bottom of the dish. As you can see here, I'm really good at following directions (it is why baking takes so much out of me!)…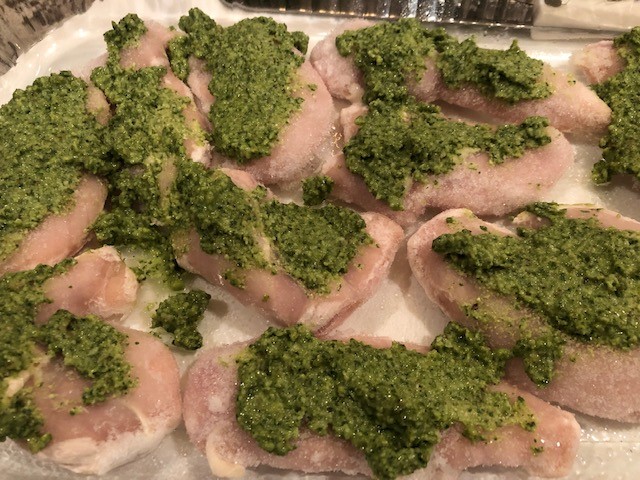 Throw it in the oven for 25 minutes. Take it out and sprinkle the chicken with shredded mozzarella cheese and throw it back in the oven for 5-8 minutes (careful not to overcook the chicken). I'll usually throw on the broiler for the last 2 minutes to get the top a little browned.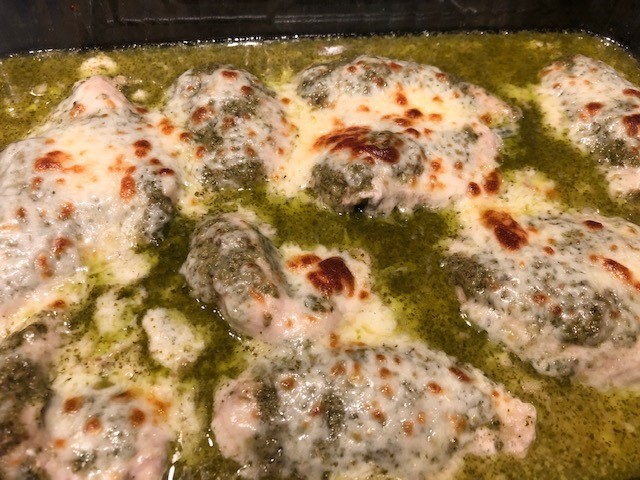 My only regret when I made this last is I didn't make enough. My boys devoured it in one sitting so we didn't have any leftovers (Nate said it was his favorite meal I make except for my pot pie!) . But the good news is this meal will be making a reappearance very soon because this extra pesto won't last long in the freezer…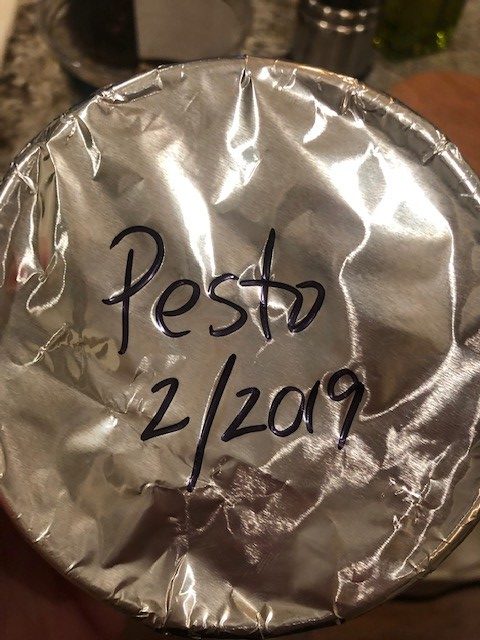 Here is the recipe in full!
Easy Pesto Chicken Bake
4 boneless, skinless chicken breasts
salt and fresh ground black pepper for seasoning chicken
1/2 cup basil pesto (see below)
1/2 cup grated mozzarella cheese
Preheat oven to 375F/190C. Trim all visible fat and tendons from chicken pieces, then cut each chicken breast lengthwise into 2 or 3 pieces. You can also use individually frozen chicken strips to save time – no defrosting or cutting required!
Spray a 9″ x 12″ baking dish with non-stick spray, then spread 1/4 cup basil pesto over the bottom of the dish. Lay chicken strips over the pesto, then spread 1/4 cup more basil pesto over the chicken.
Cover the baking dish with aluminum foil and bake the chicken for 25-30 minutes, just until chicken is barely firm and cooked through.
When chicken is barely cooked through, remove foil and sprinkle chicken with 1/2 cup grated mozzarella cheese. Put dish back into the oven without foil and cook 5 minutes more, just until cheese is melted. After I melted the cheese for 5 minutes I switched my oven to broil and broiled for 2-3 minutes more, just long enough to get the cheese lightly browned.
Homemade Basil Pesto
2 cups fresh basil leaves (packed into measuring cup)
3-4 cloves fresh garlic, peeled and sliced
1/2 cup extra-virgin olive oil (choose a a flavorful olive oil for pesto)
1/2 cup walnuts (you can also use pine nuts)
3/4 cup coarsely grated Parmesan cheese
1/4 cup fresh squeezed lemon juice
sea salt and fresh ground black pepper to taste
Put basil leaves and sliced garlic into food processor that's been fitted with the steel blade. Process until basil and garlic is finely chopped, adding oil through the feed tube as you process.
Add nuts, Parmesan cheese, and lemon juice to the chopped basil mixture and process 1-2 minutes more, until the pesto is mostly pureed and well mixed. (I like to keep it slightly chunky, but you can make it as finely pureed as you wish.)
Season to taste with salt and fresh ground black pepper and pulse a few times more.
I served this with orzo pasta and a simple, green salad. It is a quick and easy weeknight meal that can make you feel like a grown-up too!
Dream Big. Eat Well.