Jen In The Kitchen: Meal Train Recipes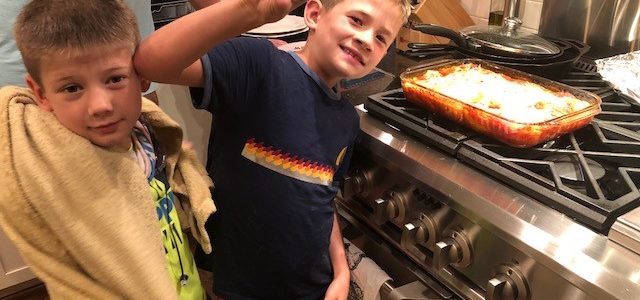 Have you ever been included on a meal train? Or have you been on the receiving end of a meal train? Maybe you are thinking to yourself, what the heck is a meal train?
Meal trains are a great way to organize meals for a family going through some sort of life change – new baby, surgery, or a death in the family – you get the idea. Meal trains allow family and friends to bless someone with a home cooked meal – seriously, there is nothing better than a worry-free meal in the middle of a life change.
Today would have been my step-father's 70th birthday. Sadly, George passed away on September 2, 2013. He was young, vibrant, and just a fun guy. And wonderful husband to my mother.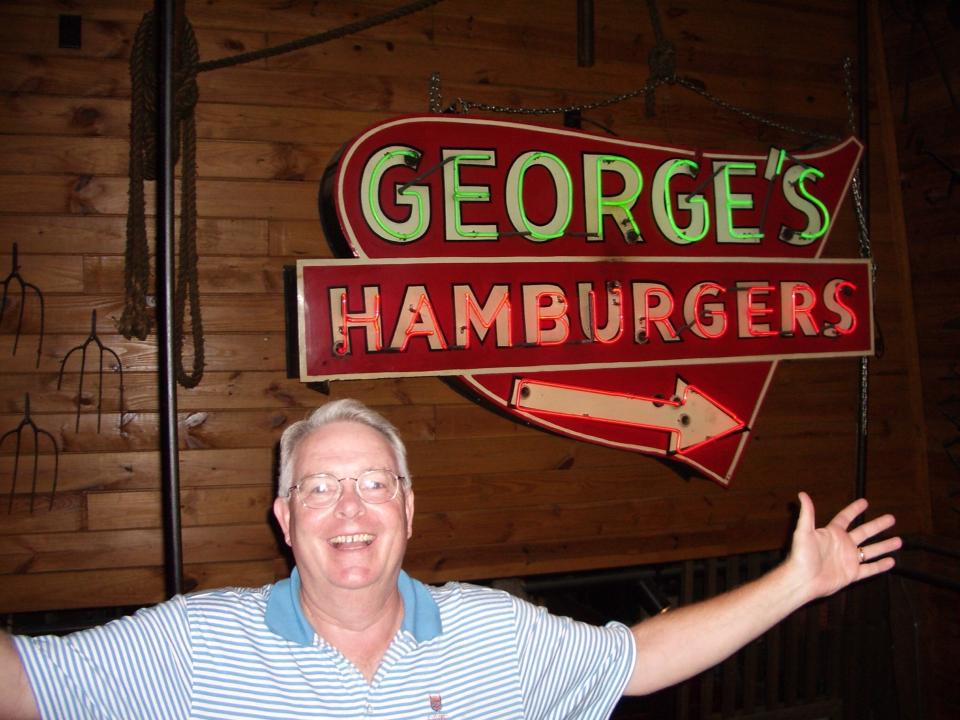 After George died, my mom's community rallied around her. And one of the ways they blessed her during this difficult time was with food. It seemed like every day, another neighbor was bringing a meal over to the house. It was so kind and it freed all of us from the worry of what we were going to eat. We just enjoyed the warm meal and supported mom.
And when Paul unexpectedly injured his shoulder last year, my world was thrown into a tizzy. He couldn't drive or do anything around the house while he was recovering from surgery. You can see why – look at this hardware!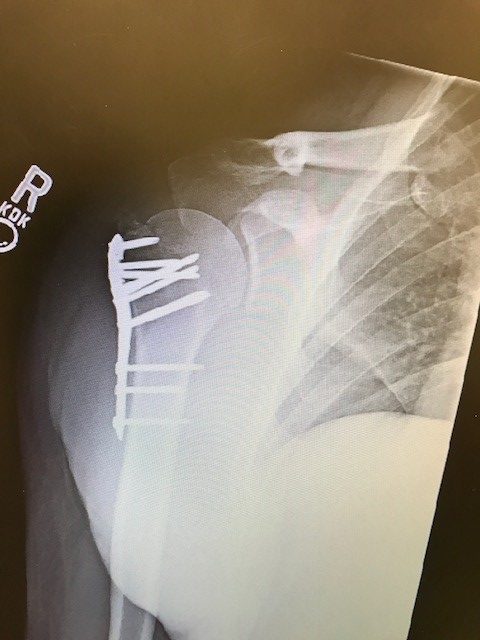 Some friends from our church organized meals for us during those first couple of weeks after his surgery. I think when you are unexpectedly thrown into a situation, you don't know what you need. But one thing is for sure – you need to eat. Not having to worry about meals after Paul's surgery gave me the free time (and free mind) to focus on caring for Paul. It was such a blessing to be served in that way. I'll never forget it.
Recently, we've had some friends experience some life changes. One just had their second baby (and she is adorable!) and the other is dealing with a cancer diagnosis. Again, our church community sprang into action and organized meals for these two families. As I was planning what to take them, I thought a blog post with ideas for blessing others with a meal might be fun!
But before I get to my recipe ideas, I have a few tips for you if you are planning to take someone a meal!
When meal planning, ask the recipient about any allergies or food aversions. It would be a shame to prepare a lovely meal only to find out it can't be enjoyed by all. And remember, even adults have food aversions. I have a close friend who doesn't eat cheese (or tomatoes or beans of any kind). I know – I don't understand it either but we love her to pieces any way!
Make it easy for the recipient. Don't bring a dish that requires any prep once it's dropped (popping it in the oven is about all you want them to have to do). I try and include sides that are easy – like salad in a bag (comes with everything you need!) and a fresh baguette. I also write the cooking instructions on the container. Speaking of containers…
Disposable containers are the way to go. This makes it so easy for the recipient because they don't have to worry about washing and/or returning a dish.
OK – so here are two recipes I love for meal trains! They're easy and delicious and great for freezing too! I've also included 3 no-cook meal options for you as well!
This recipe isn't new (also can be found on the back of the shells box!) but it is so good! I was telling the boys that this was my favorite meal growing up.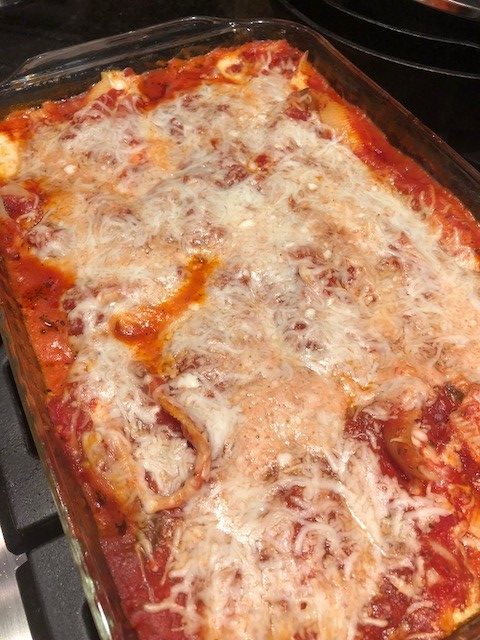 When we were prepping the shells to deliver, we also made a batch for our dinner that night. The boys had a blast filling all of the shells and they did a great job. And were very proud of their work!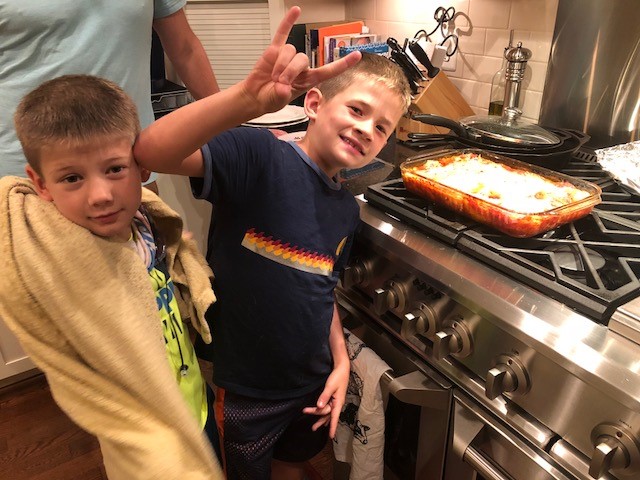 1 jar Tomato Sauce (I used 2 jars because I like it saucy)
2 lbs. Ricotta cheese
2 cups shredded Mozzarella cheese, (about 8 oz.)
1/4 cup grated Parmesan cheese
3 eggs
1 Tbsp. finely chopped fresh parsley leaves (I used dry parsley because that is what I had)
1/8 tsp. ground black pepper
1 package (12 oz.) jumbo shells pasta , cooked and drained
Preheat oven to 350°F. Evenly spread 1 cup sauce in 13 x 9-inch baking pan; set aside.
Combine cheeses, eggs, parsley and pepper in large bowl. Fill shells with cheese mixture, then arrange in baking pan (disposable if you're dropping it to a friend). Evenly top with remaining sauce (I also topped with some of the mozzarella & parm cheeses). Bake covered for 45 minutes or until sauce is bubbling (I don't bake it if I'm dropping it. I simply cover with tin foil and write the cooking instructions on the foil).
By doubling the recipe (please note, recipe above IS NOT doubled), we made a 9×13 pan (which fed our family of 4 and leftovers for several nights) and (2) 8×8 pans for the family we were serving (1 for them to eat that night, one to freeze for a future meal). We included Caesar Salad (in a bag) and Texas Toast. We also sent some sprinkle cookies (store-bought) for dessert!
Recipe #2 – Italian Turkey Meatloaf
When Paul had his surgery, a friend of ours brought this delicious meatloaf. I am not a huge fan of ketchup so I always appreciate meatloaf that doesn't have it slathered on top. This one is so flavorful and yummy. But the best part is my kids love this dish. They always beg for seconds!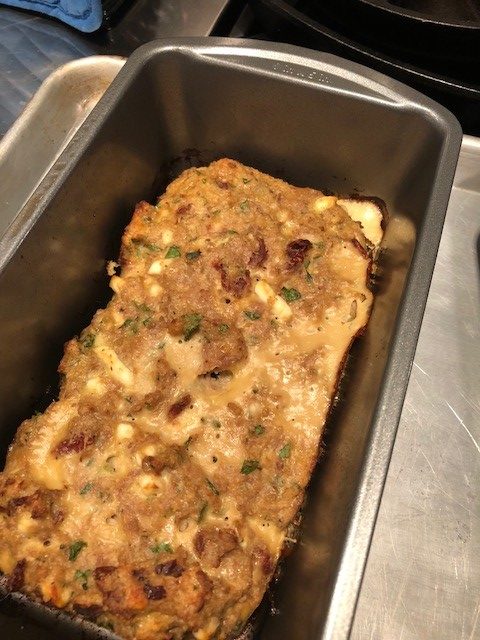 1/2 cup plan breadcrumbs
1/3 cup chopped fresh flat-leaf parsley
1/4 cup jarred sun-dried tomatoes
2 garlic cloves, chopped (I minced in a garlic press – so easy)
2 eggs, at room temp, lightly beaten
2 tablespoons whole milk (I used 2% because it was what I had)
1/2 cup feta cheese, crumbled
1 1/2 teaspoons kosher salt (I cut this in 1/2 and it was plenty)
1 teaspoon fresh ground black pepper
1 lb ground turkey meat (I used 94%, I've also used lean beef and it is just as good!)
 Preheat oven to 375°F. Spray 9×5 loaf pan with cooking spray. Combine bread crumbs, parsley, sun-dried tomatoes, garlic, eggs, milk, feta, S&P. Add the turkey and gently stir to combine, careful not to overwork the meat. Carefully pack the meatloaf mixture into the prepared pan. Bake until the internal temperature reaches 165 degrees F, about 45 minutes. Remove from oven and let rest for 5 minutes. 
I have never officially delivered this meal but when it was delivered to us, it was fully cooked. All we had to do was slice it up and reheat in the microwave. You could deliver the cooked meatloaf in an aluminum pan or simply remove it from the pan at home and wrap it in aluminum. And easy side would be a simple salad and roasted potatoes (they travel and reheat well).
When I made this recently, I made two. It is such an easy recipe to double (please note, the recipe above IS NOT doubled). You can make one for your family and one to deliver. We served ours with mashed potatoes and an arugula salad (simply dressed with fresh lemon juice, olive oil, and Parmesan cheese).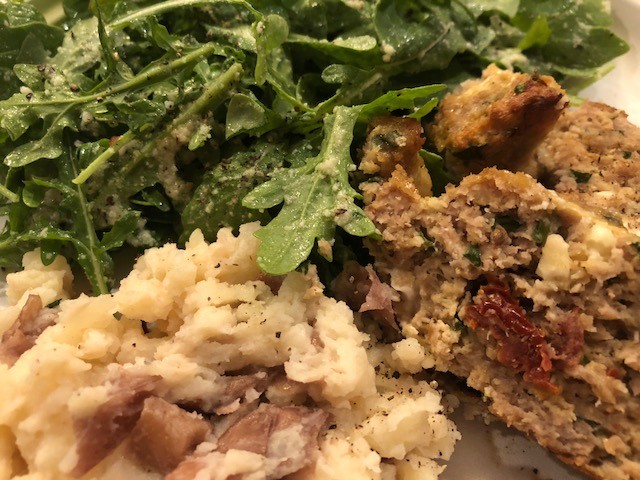 We devoured one and have been eating the other for leftovers (so good to have leftovers when the boys' sports are underway!).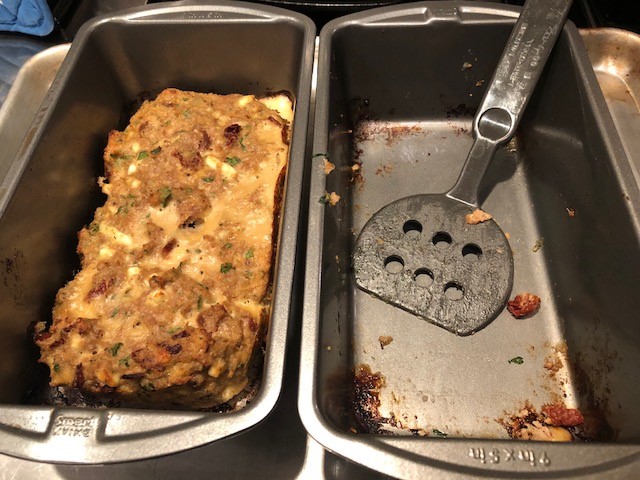 Not in the mood to cook but still want to bless someone with a meal? Here are some no-cook meal suggestions!
Store-bought rotisserie chicken with prepared sides from the store deli and a baguette
Pulled Chicken Sandwiches (Shredded, store-bought rotisserie chicken, rolls, bottle of BBQ sauce), include a bag of potato chips and some deli coleslaw and voila!
Have something delivered from a favorite restaurant (Bite Squad and GrubHub are great!)
It really doesn't matter what you bring because anything is going to be a blessing for a family going through a life change! What is your favorite meal to give or receive? I'd love to get the recipe!
Dream Big. Eat Well.