The Accent Wall: How to Do it Right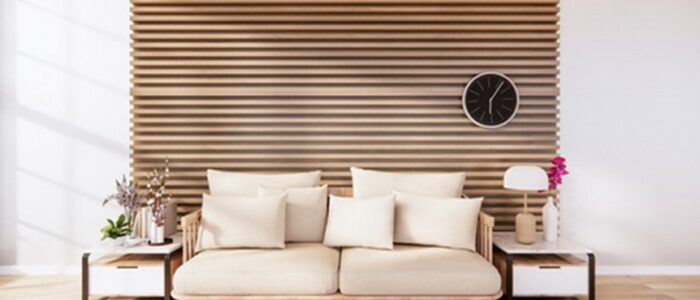 Adding your own personal style is one of the best parts of building a custom home. You get to choose the layout of your home and exactly how much space is dedicated to each room. And once your new home is done being built, it's time to add some custom style that's all your own. What better way to add style to your existing home than an accent wall? Let's look at some accent walls and how you might want to use them to transform your space:
Option 1: Bold paint.
Adding eye-catching color is the quickest, easiest way to create an accent wall! If you enjoy the pink/red family, take a look at Pantone's 2023 Color of the Year, Viva Magenta 18-1750 to add warmth and joy—maybe to your bathroom, to set the mood as you prepare for each day.
Option 2: Patterned wallpaper.
If you're going for more of a maximalist look, there's likely a patterned wallpaper to suit your needs. From living room to bedroom to bathroom—there's a wallpaper for any room and any mood. Consider a bold stripe in your foyer or a botanical print in your living room.
Option 3: Wood paneling.
We're not referring to the wood paneling of the 70s; modern wood paneling options are extensive. We love very thin, vertical panels to bring nature indoors in a modern way. Geometric paneling is another great way to add visual interest. Try adding either of these to your library or cocktail room.
Option 4: Upholstered wall.
Adding upholstered wall panels to an accent wall brings warmth and texture, making for a cozier home. This can be used in place of a headboard in your bedroom. An upholstered wall can also be an inviting feature in a living room. Try velvet for a glamorous look!
Option 5: Natural stone.
This luxury option is a great pick for your kitchen or living room. Marble makes a gorgeous accent wall in the kitchen. Ledgestone is a great choice for the wall behind a tv or around a fireplace. This adds luxury and interest to the room.
When you're building a custom home, there are a lot of design decisions! We're here to help you through that process—every step of the way.
Then, when you're ready to further customize your home with accent walls and other fun design trends, be sure to visit our blog for plenty of inspiration.
If you'd like to discuss any aspect of building a custom home, please feel free to contact us at hello@newdimensionsinc.com or 800-406-8555. We're here to help!
Dream. Build. Live.