Jen In The Kitchen: Roasted Butternut Squash Soup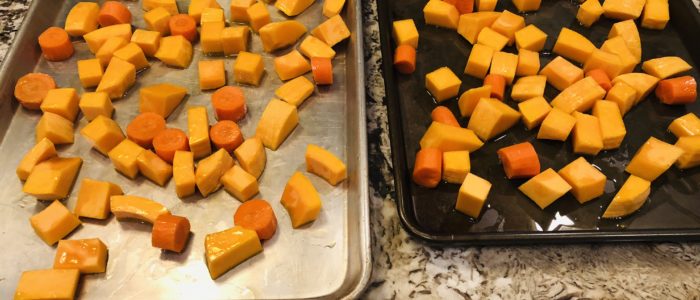 This is my very favorite time of year to cook. I love comfort food and when the temperatures start falling outside, I can't help but want to get in the kitchen. Today, I'm sharing one of my favorite fall soup recipes.
Let's talk about soup. I love making soup at home. It is the only way I'll ever actually eat soup at home because after having it homemade, the canned version does not measure up. In the Spring, I shared my recipe of Tomato Basil Soup (so yum!) and today, I'm sharing Roasted Butternut Squash Soup.
This soup is super easy to make and is so delicious! I took it over to a neighbor's house a few weeks ago and everyone devoured it (and asked me for the recipe). And I just made it again for a lunch we were hosting after church recently. This is a great make ahead dish because it gets better as it sits.
The key to good butternut squash soup is roasting the veggies until they're good and caramelized. I spread out the veggies on two baking sheets and coat with olive oil. Here I used a whole butternut squash (I buy 2 halves, pre-peeled to save time) and 2 large carrots cut into pieces.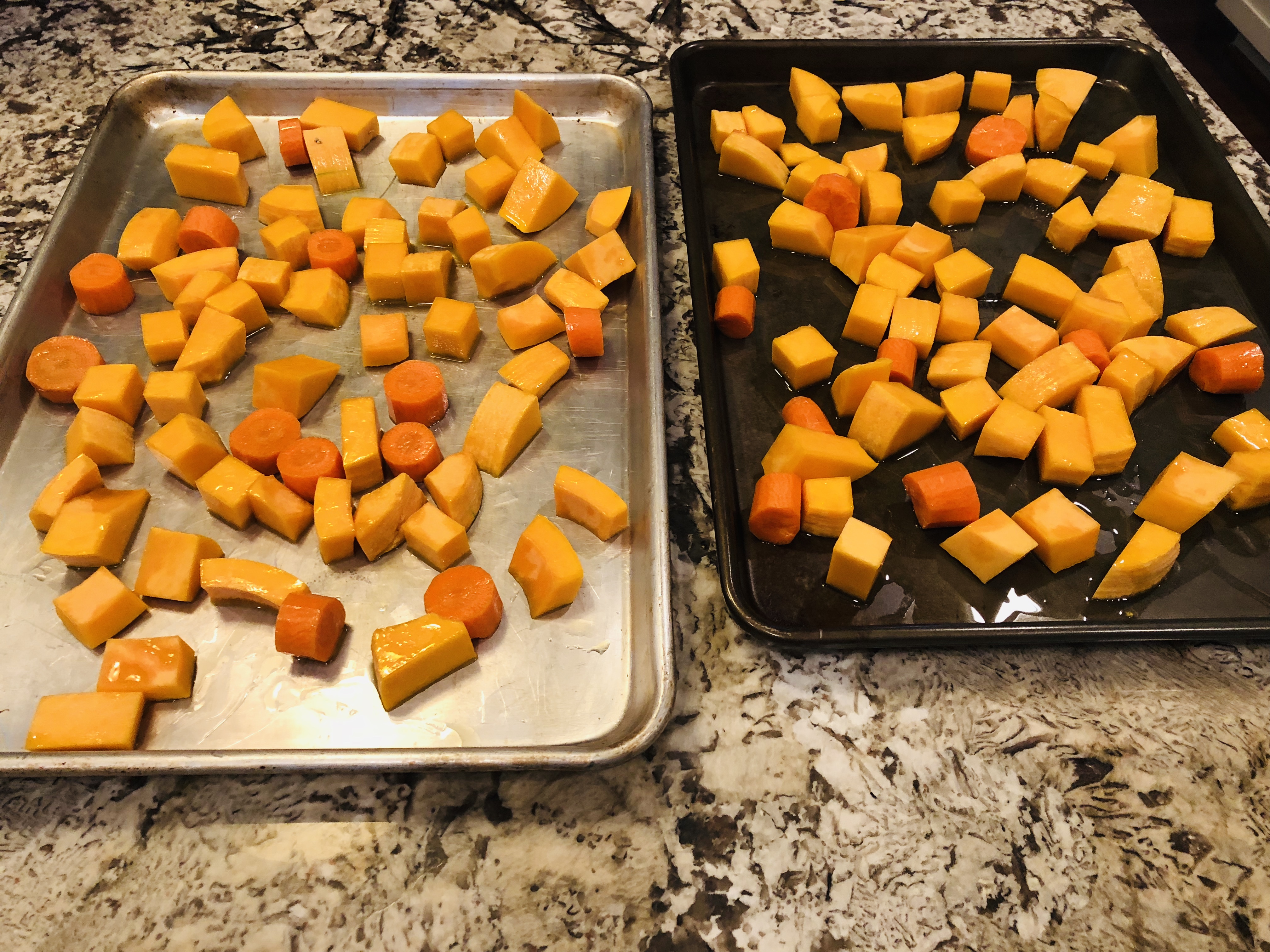 Roast these for about 40 minutes at 425 degrees.
In a large pot, melt butter and add the onions and garlic. The house is really starting to smell divine at this point…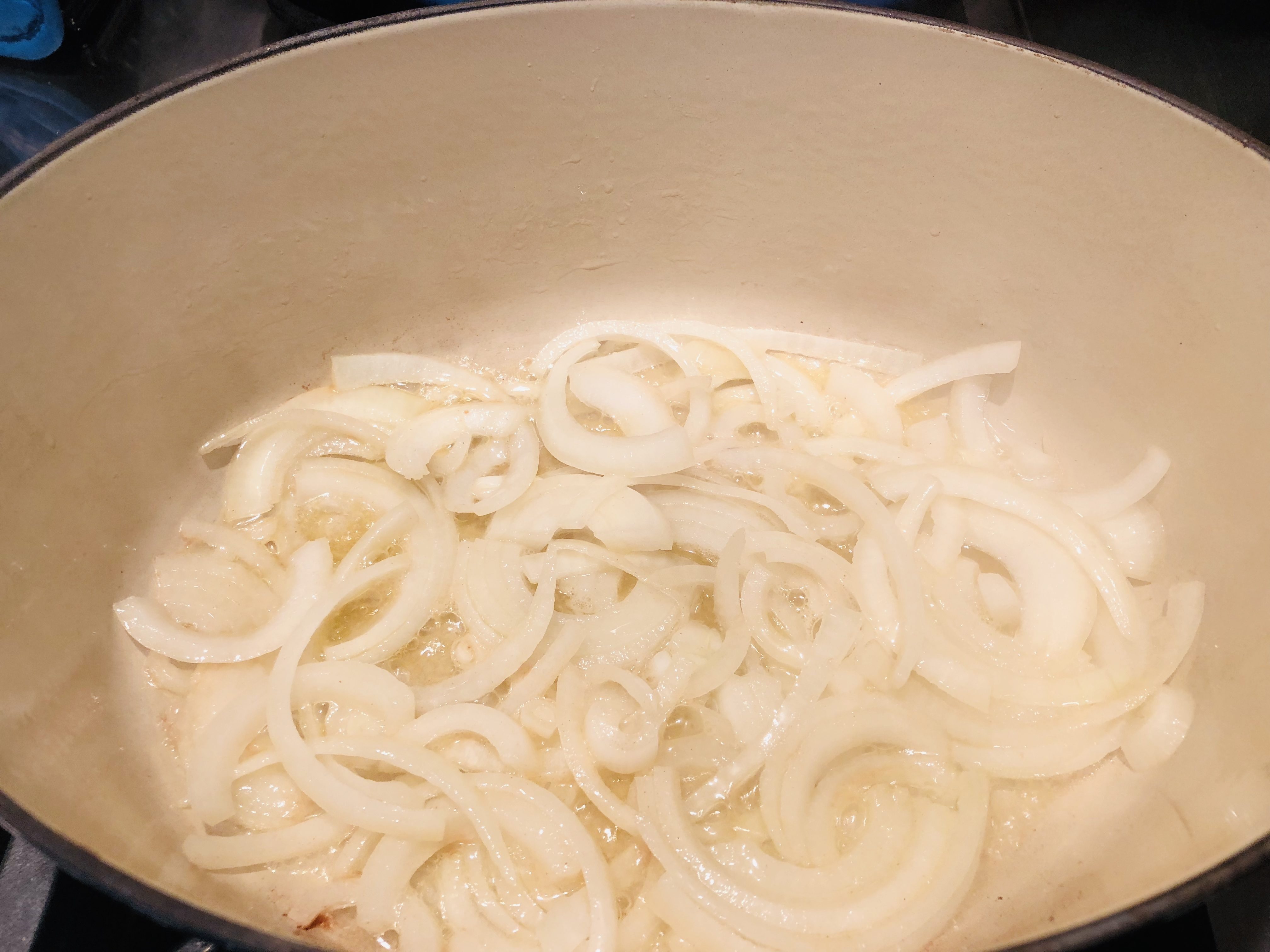 Once the squash and carrots are done, you can add them to the pot along with chicken stock, fresh thyme (bundled and tied with kitchen string), and a bay leaf.
Let it all get happy for about 10 minutes before discarding the herbs. Now you're ready blend everything up into creamy deliciousness.
For any creamy homemade soups that require blending, I use an immersion blender. While this may seem like an extravagant kitchen tool, it makes this recipe (and other creamy soup recipes) so much easier. Easy to use, easy to clean!
The dark color of this soup doesn't begin to tell the story of the yummy flavors in this dish. Here is the recipe in full!
Roasted Butternut Squash Soup
2.5 LB Butternut Squash, peeled, cut into 1" pieces
2 Large Carrots, peeled, cut into 1" pieces
2 T Olive Oil
2 T Unsalted Butter
1 Large Yellow Onion, sliced
4 Garlic Cloves, finely chopped
4 C Chicken Stock (I use unsalted)
Bunch of Fresh Thyme, bundled with kitchen twine
1 Bay Leaf
Heavy Cream, to taste
S&P, to taste
Preheat oven to 425 degrees. Toss squash & carrots in olive oil and place on roasting pan (don't crowd, use 2 pans if necessary). Roast for about 40 minutes.
Cook butter over medium heat. Add onion and garlic and cook until soft and lightly brown (about 10 minutes). Add the roasted veggies, stock, and herbs. Bring to a simmer and cook for about 10 minutes. Discard herbs.
Using an immersion blender (or standard blender), blend until completely smooth. You can stop here, season with salt and pepper to taste, and enjoy.
Or…you can add some heavy cream to make it super delicious. Then season with S&P and enjoy!
Dream Big. Eat Well.