The Clarendon Model in Falls Church: 3 Things I Would Do Differently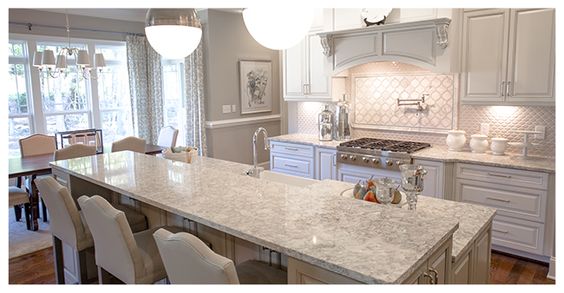 We turned the keys over to the new owners of our Clarendon Model in Falls Church last week. As always, I'm both happy and sad to let this home go. Happy because I'm thrilled for the owners – they are so excited about their home (and super sweet too!) but also sad because I am going to miss this home!
In a previous post, I outlined 3 things I love about this home. Today, I'm going tell you the 3 things I would do differently in this home if I had the chance.
Please understand – I LOVE THIS HOME! But in normal fashion, I'm constantly looking back to examine what we can do better. And even as I sit down to design our next spec project, I am looking at ways to make the next better than the last. So here is what I wish I had done differently…
Darker Island Cabinetry
For the kitchen, I chose a white shaker cabinet for the perimeter of the kitchen with a contrasting colored cabinet for the island. Unfortunately, I was looking for a little more "pop" with the contrasting island – something I didn't get by choosing Pebble Grey.
Again – I love this kitchen! Adding the windows to the side wall transformed the look and feel. But I wish I had chosen a darker color like Greyloft for the island. I think it would have made a bigger statement while still appealing to buyers. Greyloft is what we used in the Langley Model and what I plan to use in our next spec.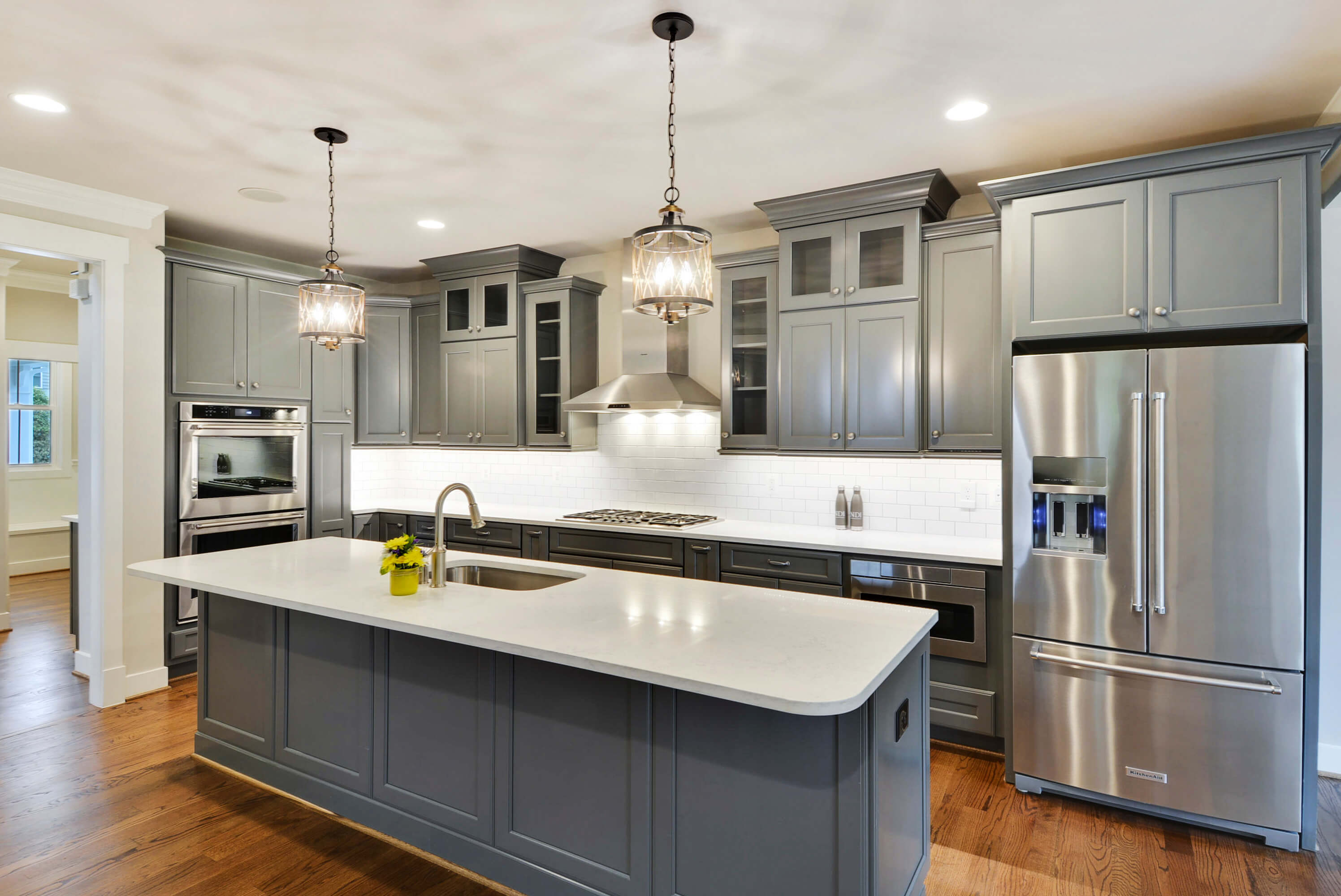 The lighting in this photo makes the island look blue but it is definitely Greyloft. Here is a photo of the Greyloft butler's pantry.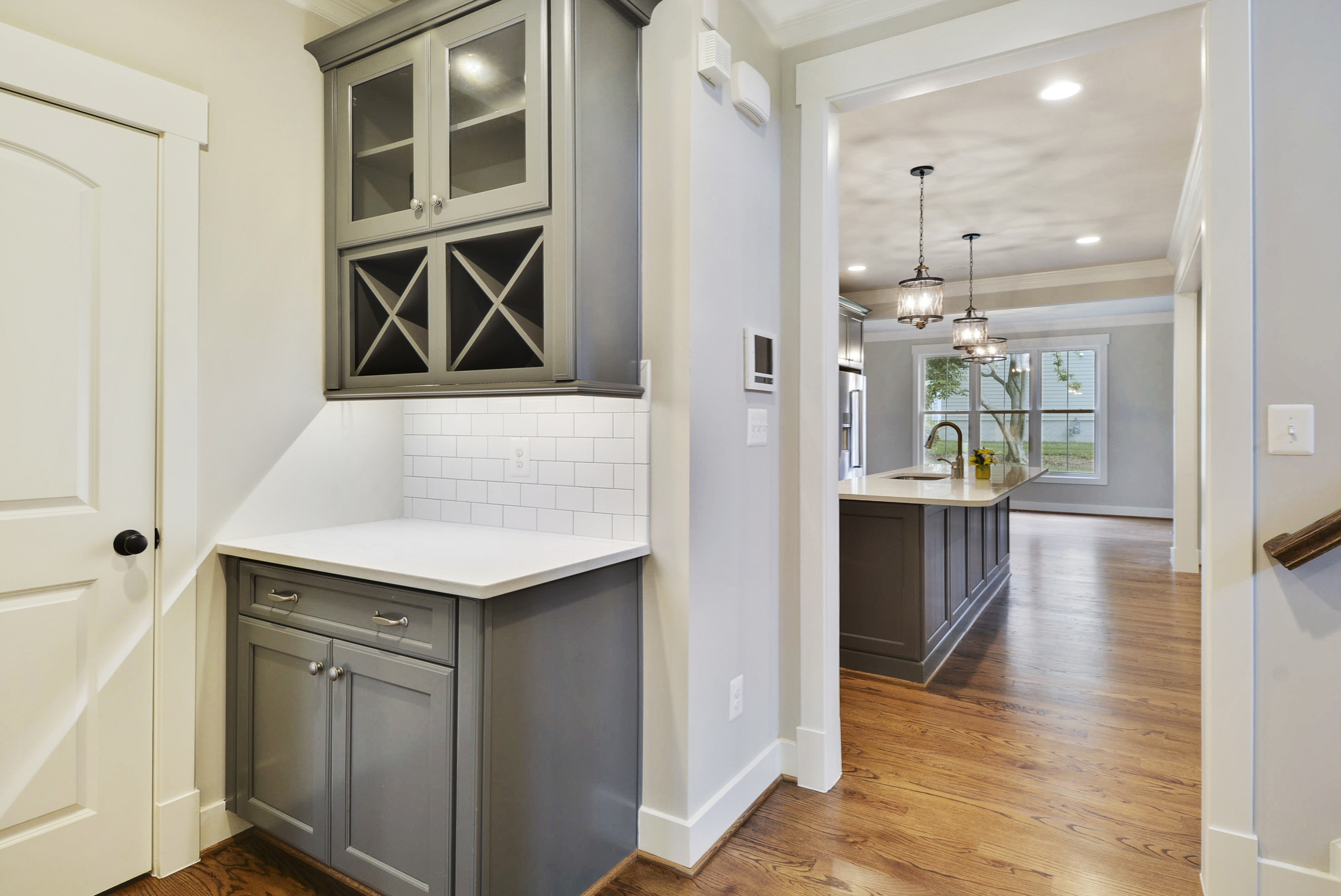 It is such a pretty shade of grey – dark enough to stand out without overpowering the room.
If you're looking to add a punch of color to your kitchen, choosing a different colored cabinet for the island is always a good choice! And you don't have to choose grey – there are plenty of great colors like blue, red, green, etc!
Quartz Kitchen Counter-Tops
Quartz is fast becoming a popular choice for counter-tops. We still do more granite installs than quartz but I'm not sure how long that will be the case. I love granite (especially the White Diamonds granite I picked for the Clarendon and in my own home) but as soon as the granite was installed, I had a ping of regret. I wish I had chosen quartz for the kitchen!
I'm currently crushing on a particular color of quartz called Berwyn. It is a swirly combination of grey and white with these fun little sparkles throughout. I first saw it while visiting friends in Charleston, SC earlier this year. I immediately fell in love and could see it paired with Greyloft cabinets.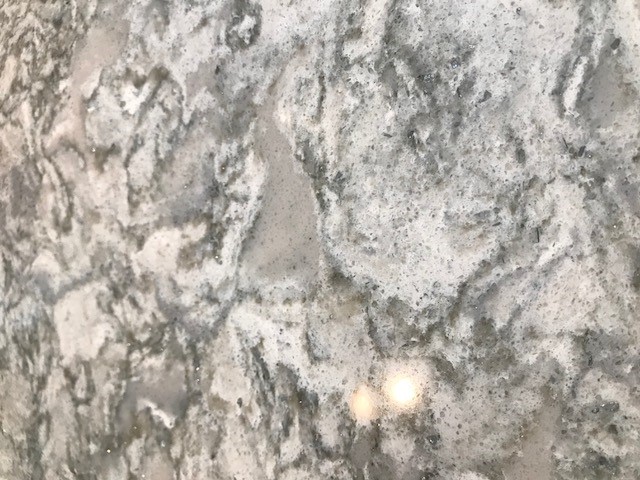 So I'm planning to use Berwyn quartz in our next spec – I look forward to showing you the finished product!
Additional Shower Heads
We built this beautiful shower in the Owner's Bathroom…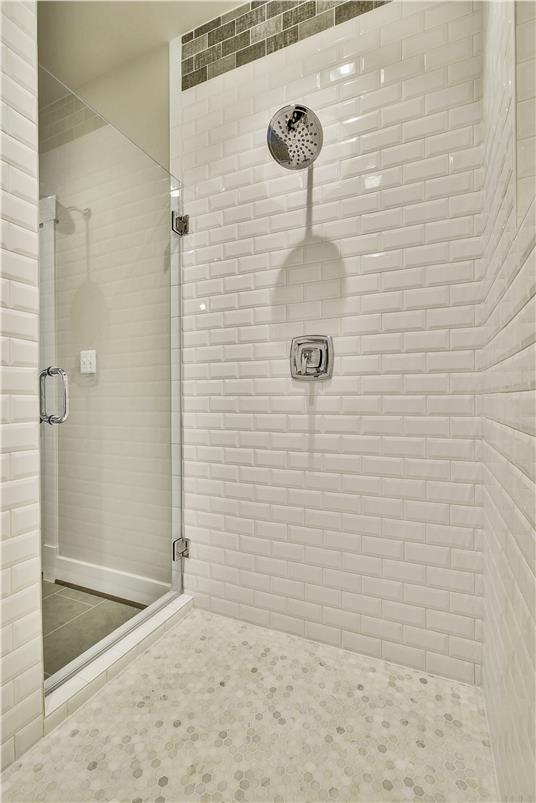 …and we only installed one shower head. UGH! Not sure how I overlooked this but in a 4×6 shower, I think you need more than one shower head. A rain shower head from the ceiling would have been really nice. Or a vertical shower system like what we installed at the Langley Model.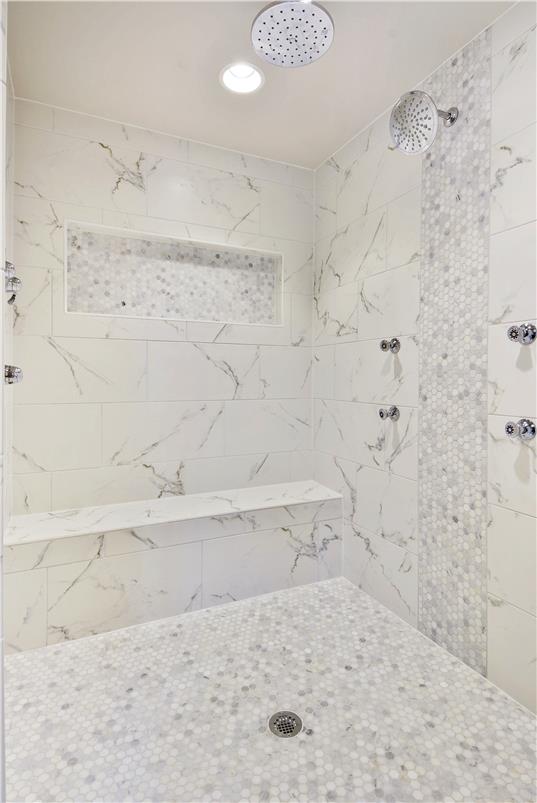 I know these things may seem a little trivial but hopefully it will get you thinking about the little things as you plan your new custom home. And please don't fret – it is nearly impossible to foresee everything which is one of the reasons why we don't charge a change order fee!
Dream Big. Build Smart.