What Does $XX Per Square Foot Buy Me?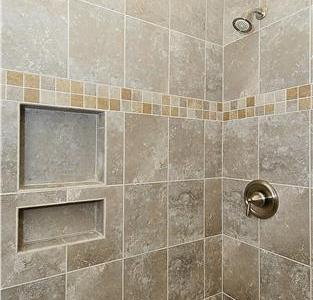 I'm asked this all the time. People have a hard time believing we can build a house (with indoor plumbing) for less than $100/square foot. Much less actually. Our top three sellers in 2014 are all priced under $100/square foot.
Well under.
The 3rd top selling design in 2014 was our Hastings, and it is priced at $91/square foot. This was the first time in nearly 10 years that the Hastings model wasn't our number one seller. It is still very popular, and it has a very flexible floor plan which is important to buyers. This model comes standard with over 3700 finished square feet, 4 bedrooms, 3 ½ bathrooms, and a brick front.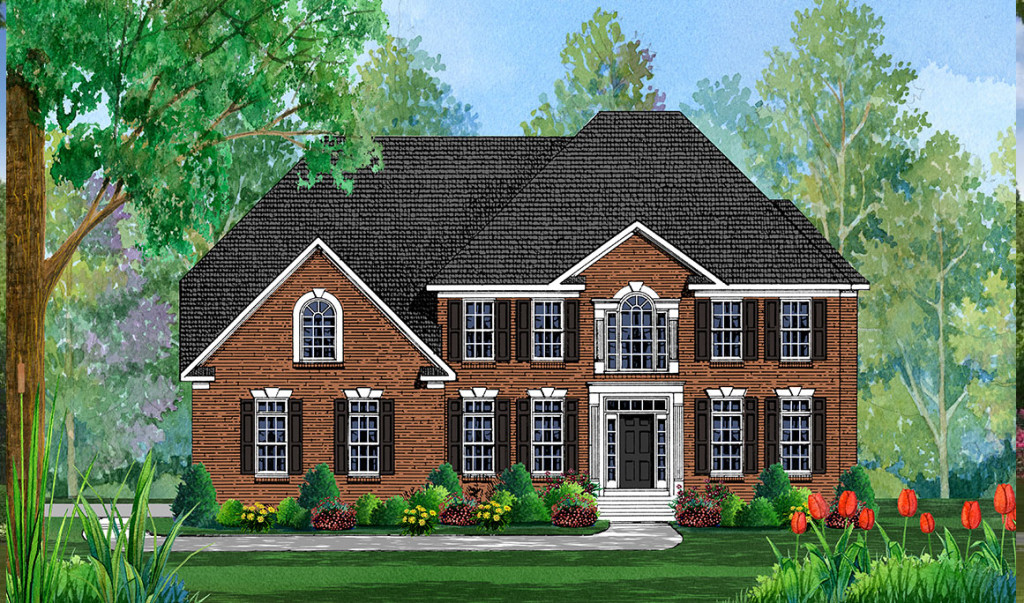 The 2nd top selling design was our Old Dominion, and it is priced at $81/square foot. This model was released in 2009 and is the biggest house in our standard line. At nearly 5000 square feet, The Old Dominion has 4 bedrooms and 4 ½ bathrooms. The double staircase in the grand foyer is really impressive!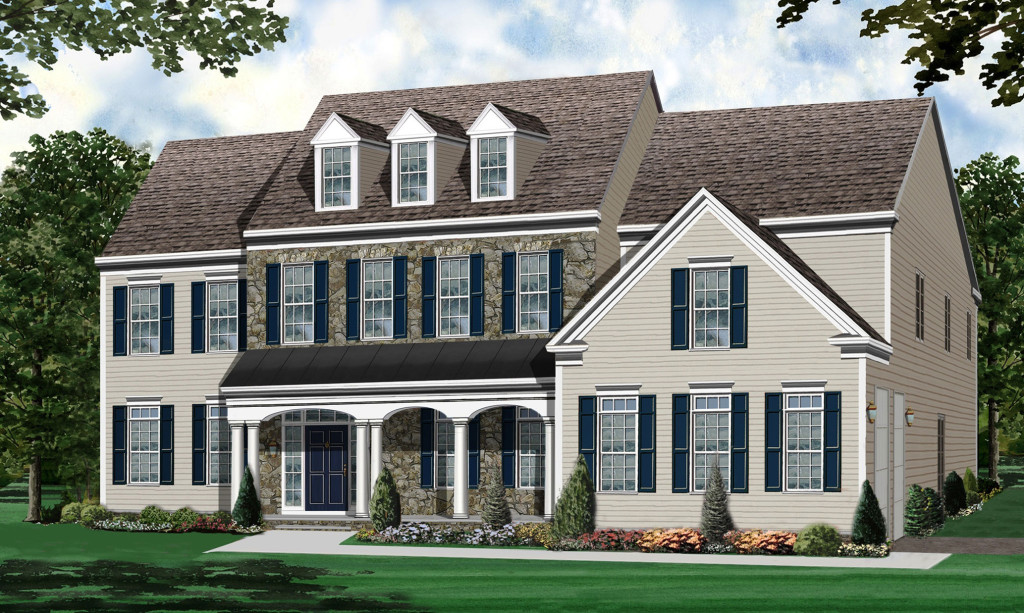 Our top seller in 2014 was our Vienna model, and it is priced at $80/square foot. We added the Vienna model to our standard line a few years ago and it hasn't taken long to reach the top spot! At just under 3700 square feet, it has 4 bedrooms and 3 ½ bathrooms. We love the front porch, the stone accents and the split staircase in this house!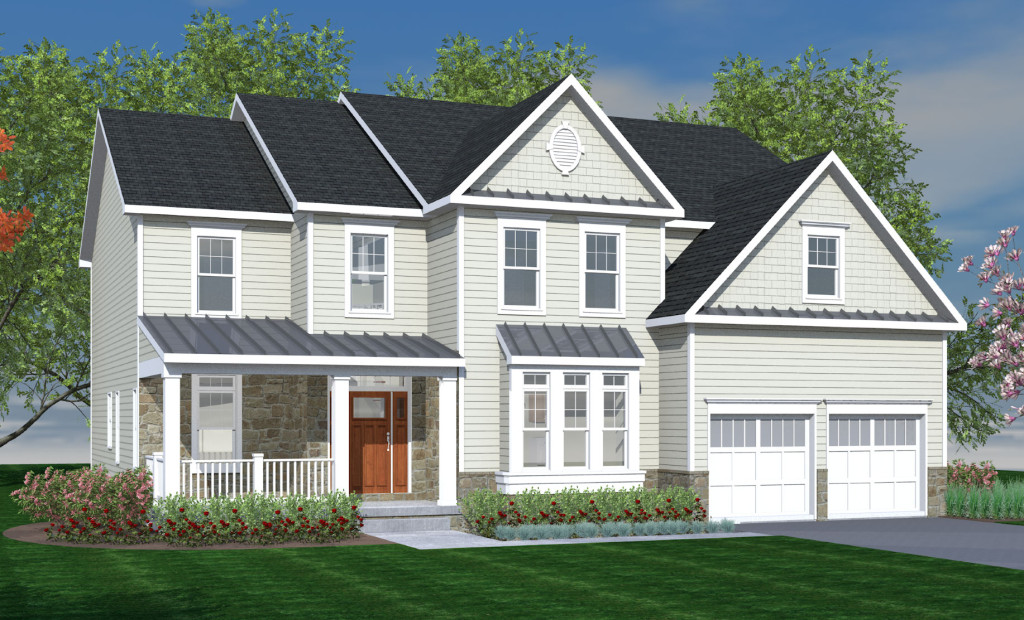 So let's focus on the Vienna since it is our top seller. What does $80/square foot buy you when you build the Vienna model on your lot? Let's step inside a recently completed Vienna model.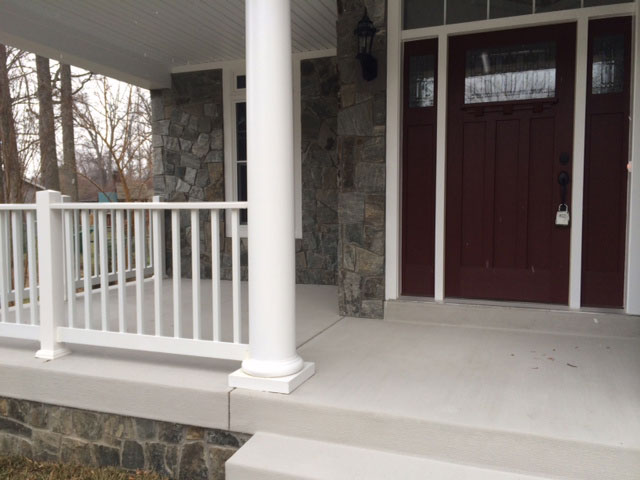 We will start in the kitchen…
Since 2010, we've been using KraftMaid cabinetry as standard. You're probably familiar with the name but you might not realize the quality and value that comes along with it.
All of our kitchens have 42" maple cabinets. There are 8 different stain colors to choose from.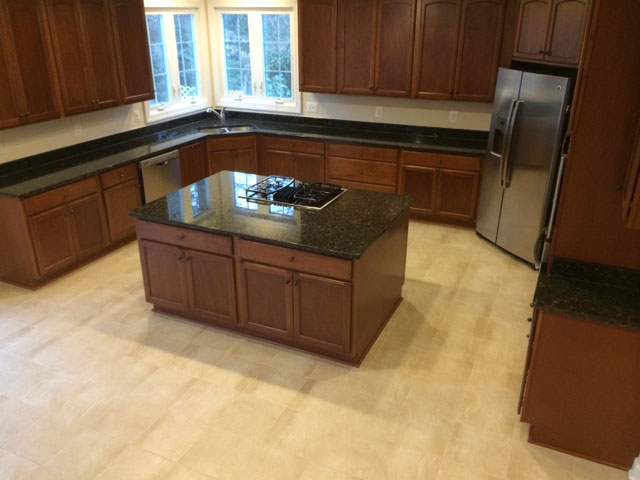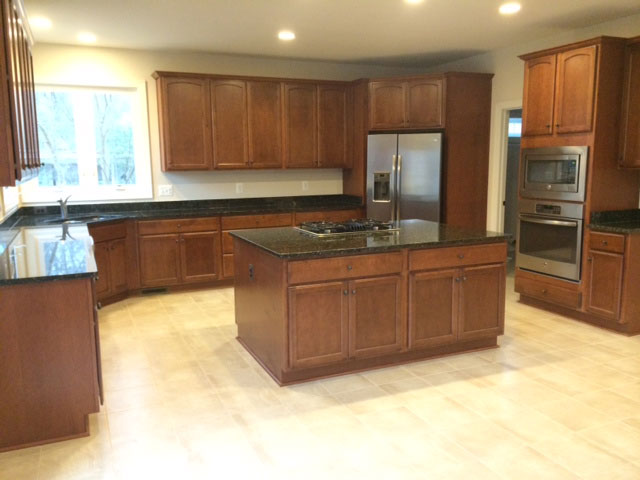 All of the doors are soft close and use a Whisper Touch System Hinge.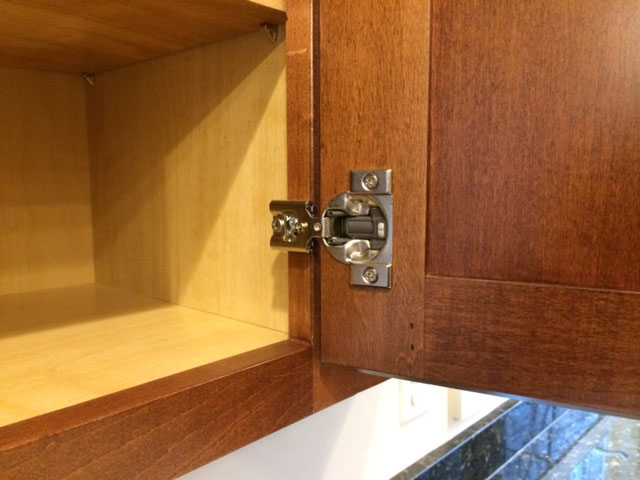 The drawers are also soft close. They are full extension and have under mount glides.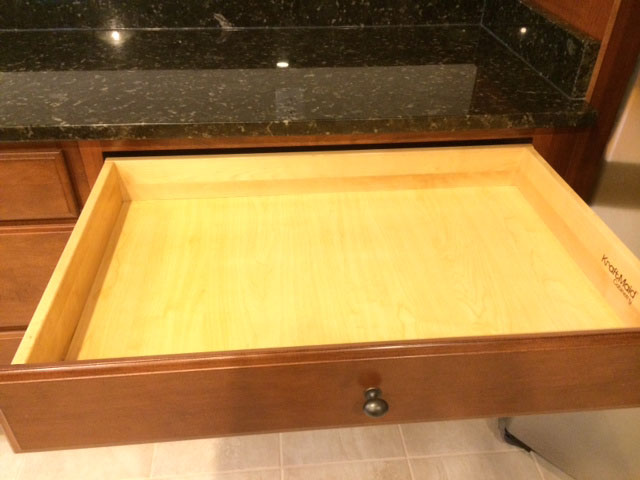 And they have solid wood, dovetail construction.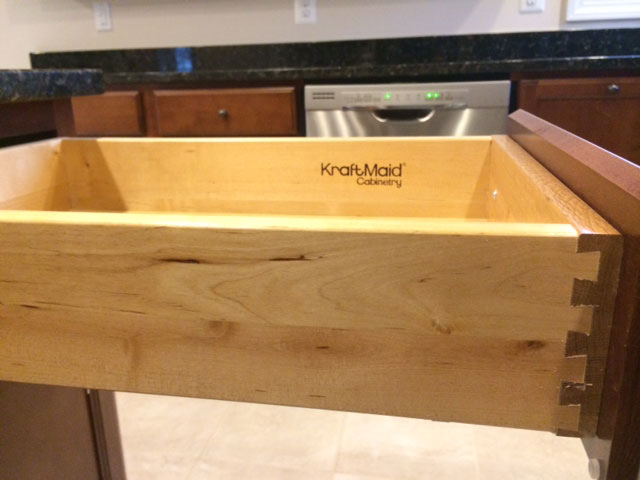 All of this translates into a better constructed and better performing cabinet. These cabinets are built to last and you can feel the quality as you use them.
All standard.
Granite countertops are standard in the kitchen. We have 18 (yes 18!) standard colors to choose from. This is one of the standard colors, Verde Butterfly.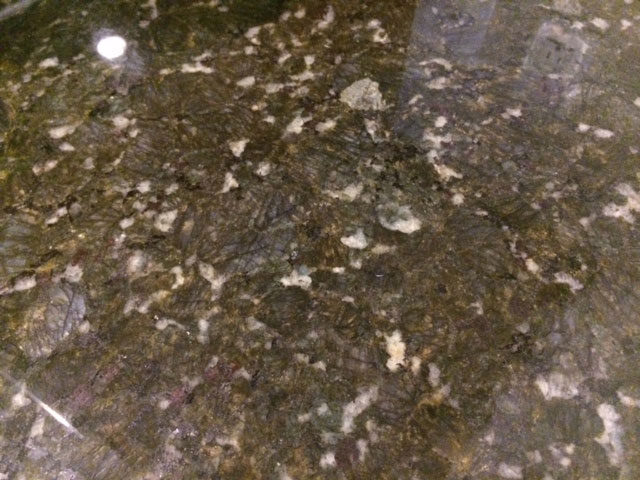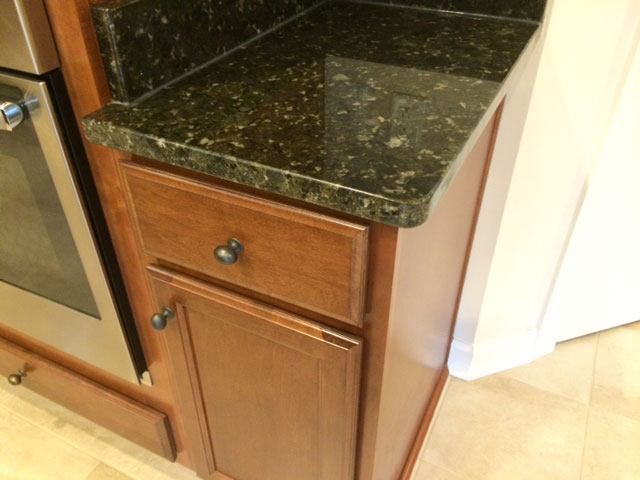 All standard.
Now let's talk about the appliances. Dad's been using GE appliances since he started NDI in 1988. We've come a long way in what we offer as a standard. It used to be pretty basic – white or black. Now we offer a deluxe stainless steel appliance package as standard.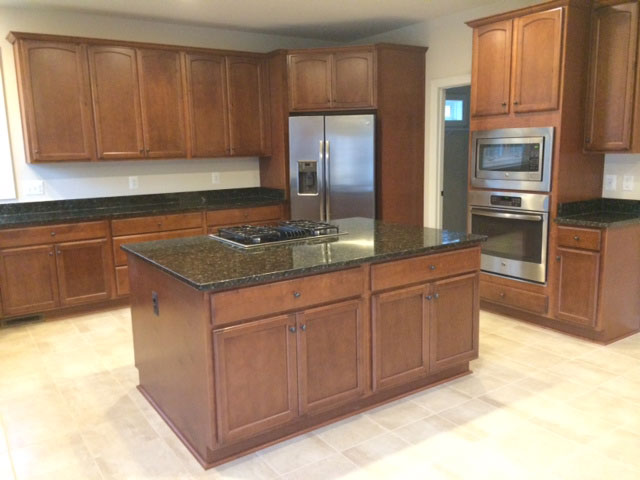 The refrigerator is side by side and 25 cubic foot. And of course it has a water and ice dispenser.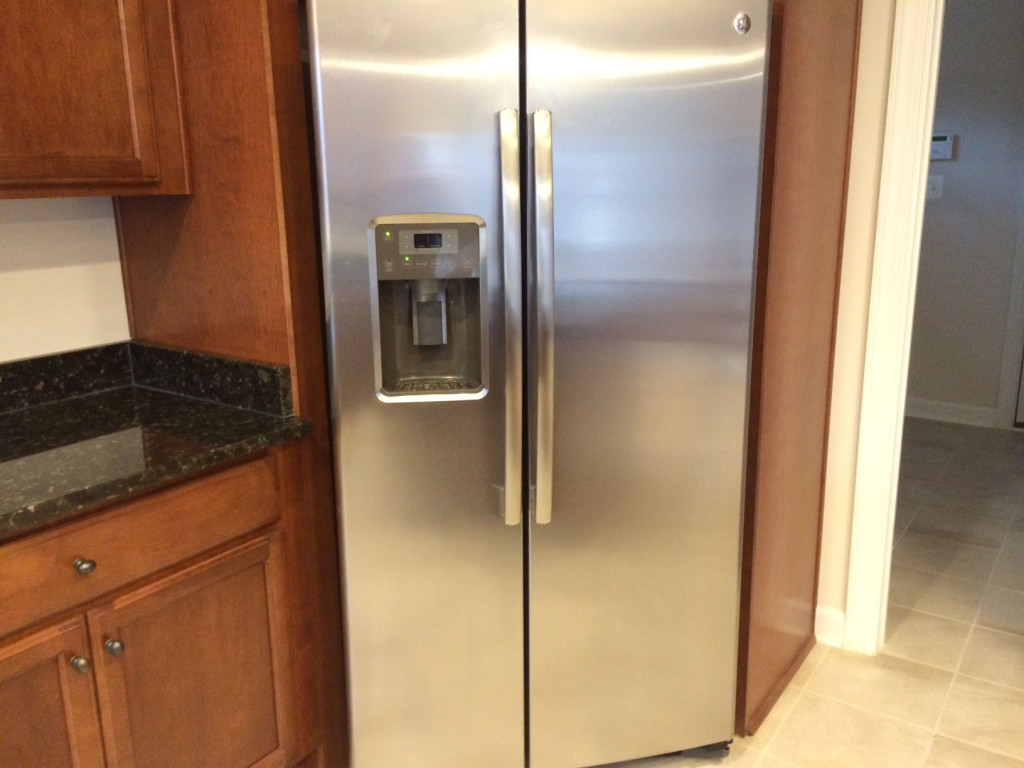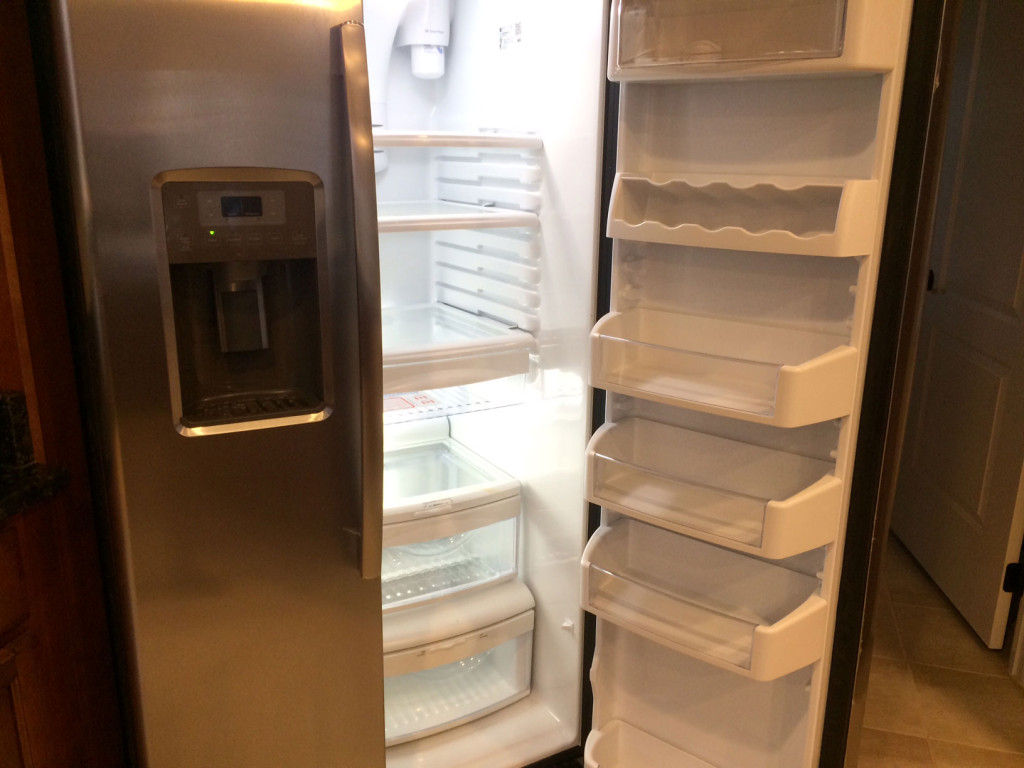 The downdraft cooktop is gas as standard (electric can be substituted if gas is unavailable on your lot).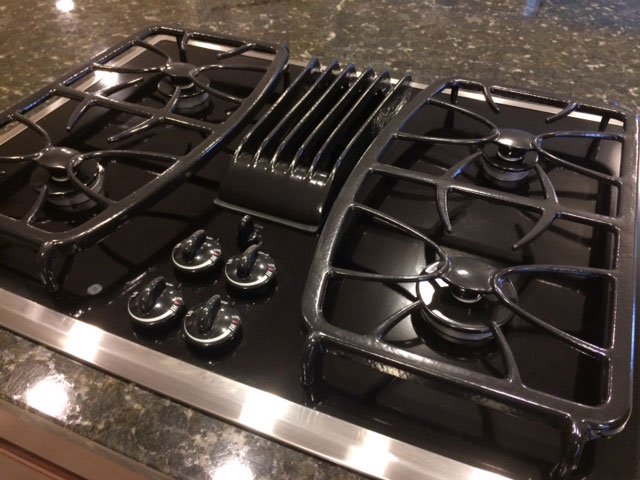 The wall ovens can either be a double wall oven or a single wall oven and built in microwave.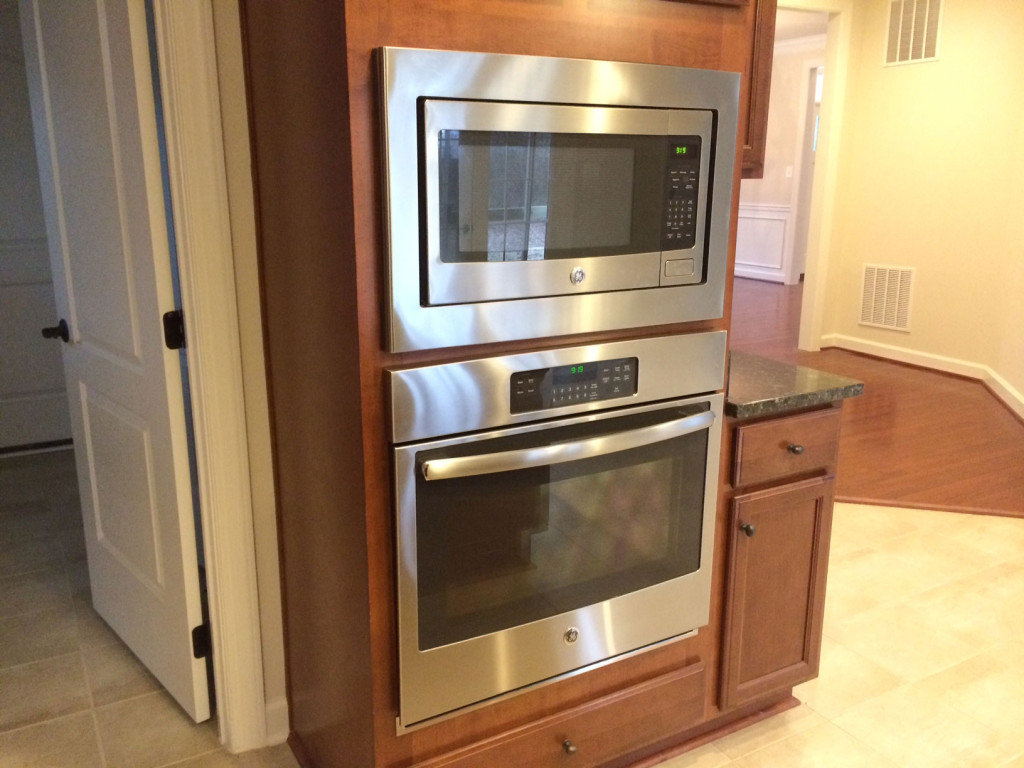 And of course we install a dishwasher as well.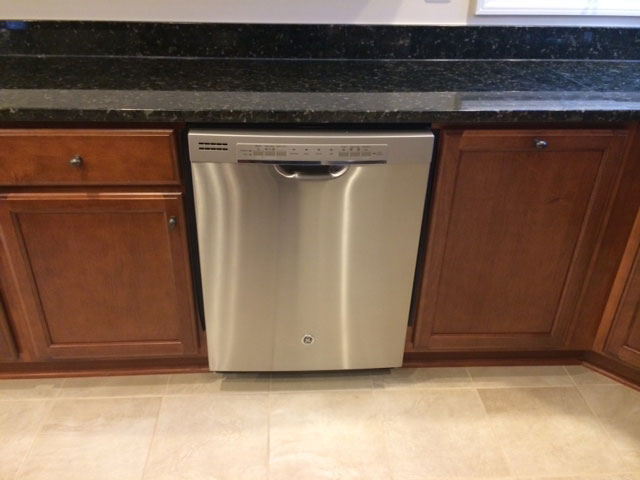 Our standard dishwasher has a stainless steel interior and cabinet depth installation.
And since we've had such a long relationship with GE, a 2 year appliance warranty comes standard for all NDI buyers instead of the usual 1 year warranty.
All standard.
For the flooring in the kitchen and nook, we offer a choice of hardwood or ceramic tile. I think they both look really nice. It just depends on the look you want.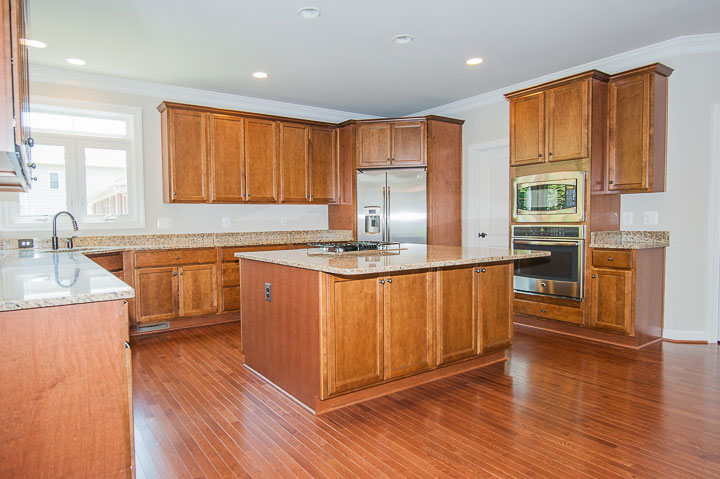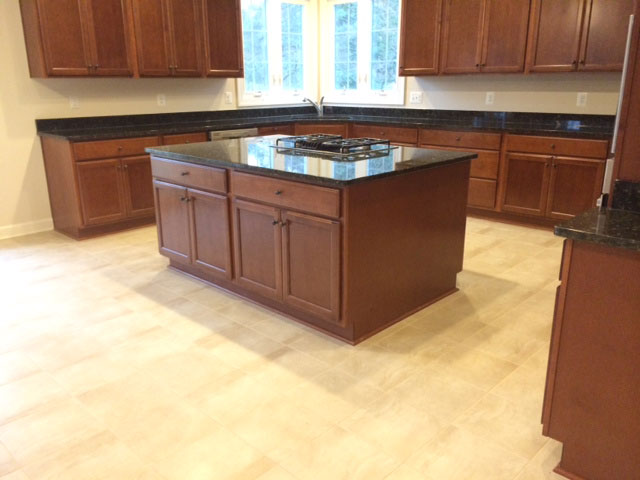 All standard.
OK – let's move on to the rest of the house.
Hardwood is also standard in the Foyer, Powder Room, and Dining Room.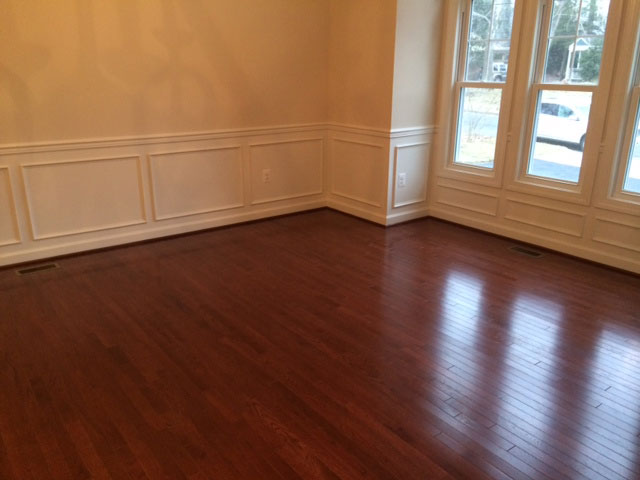 We offer solid hardwood flooring in several different stain options. We also offer a 5" engineered wood floor as standard. It comes it several stains as well. Here is a sample…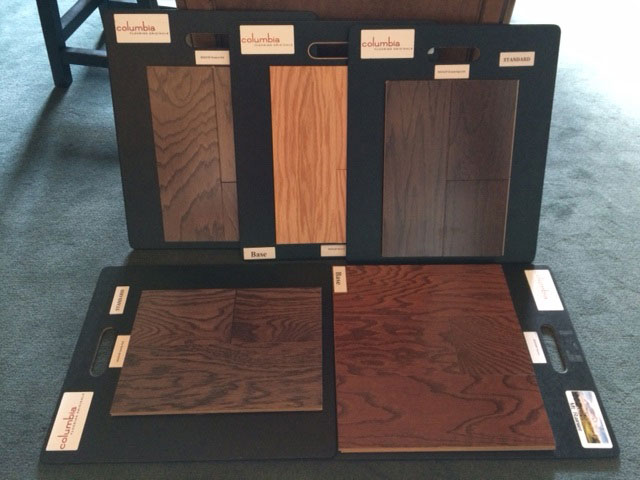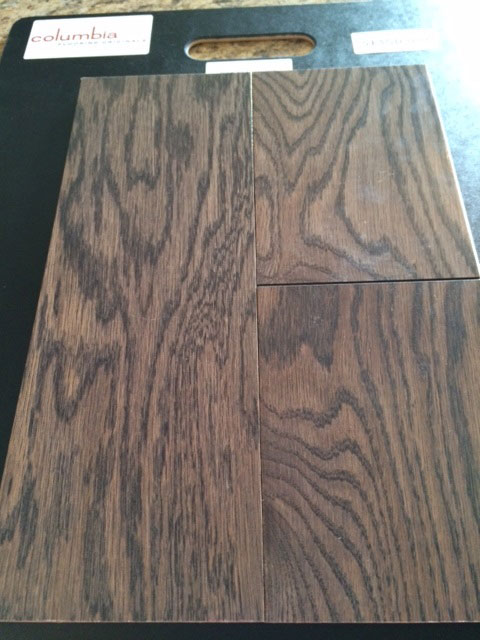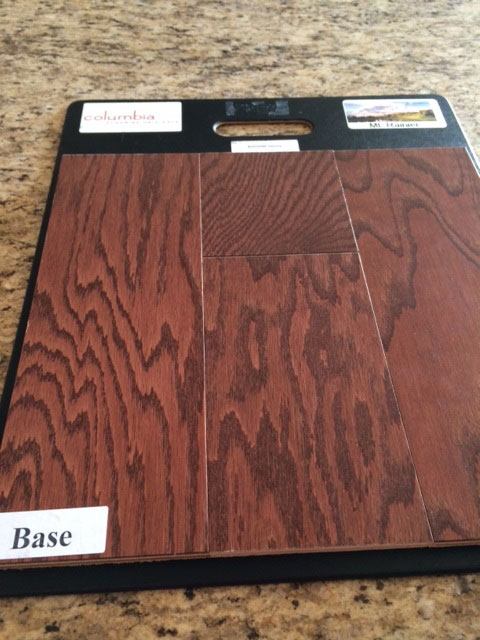 All standard.
Let's talk trim. One of things that can make or break the "feel" of a home is the interior trim. If the quality isn't there or if there is too little (or too much) interior trim, the house can feel "off." Our standard trim package is pretty awesome.
It includes Crown Molding in the Foyer, Dining Room, Living Room, and the Second Floor Hallway.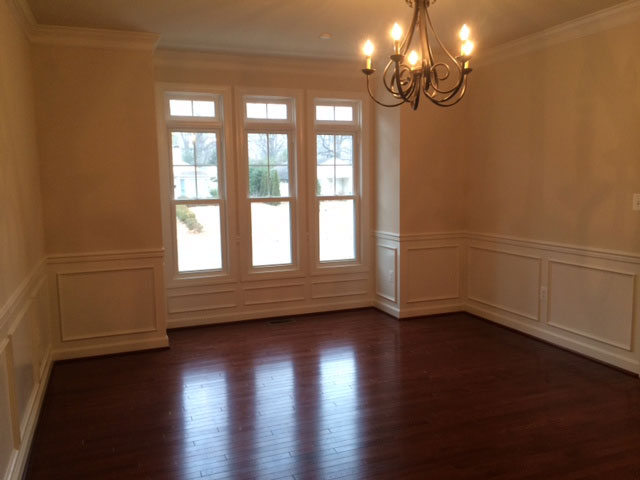 We also offer Shadow Box Trim in the Foyer and Dining Room.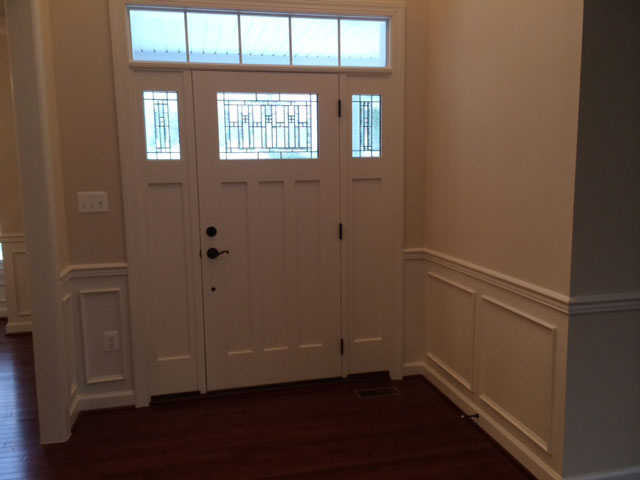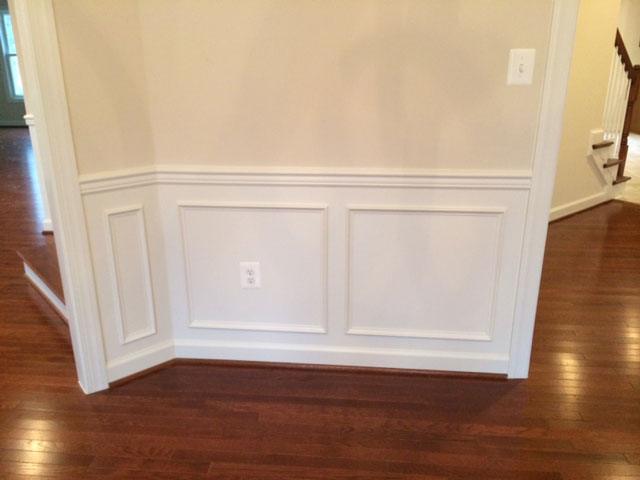 And Chair Rail in the Living Room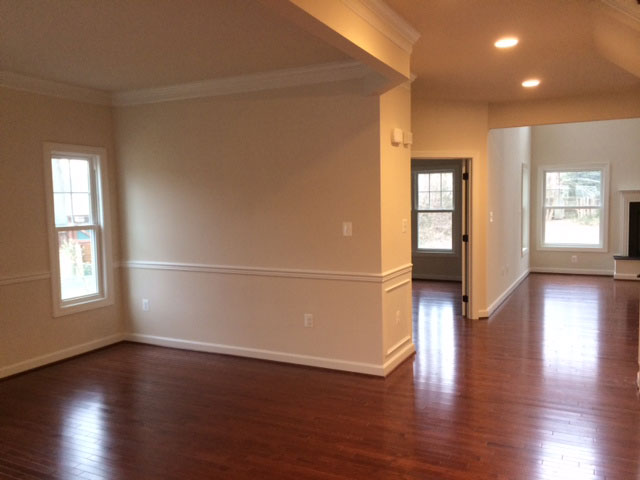 We also offer choices in interior door styles. You can choose from a 6 panel door or a 2 panel door.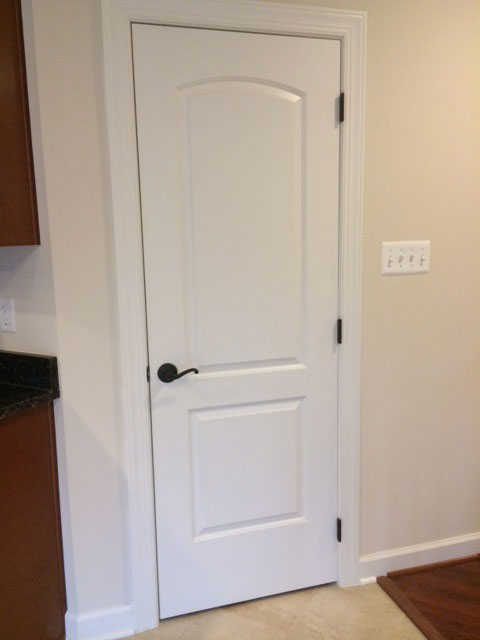 And door hardware comes in a choice of round or lever knobs in Brushed Nickel or Oil Rubbed Bronze finish.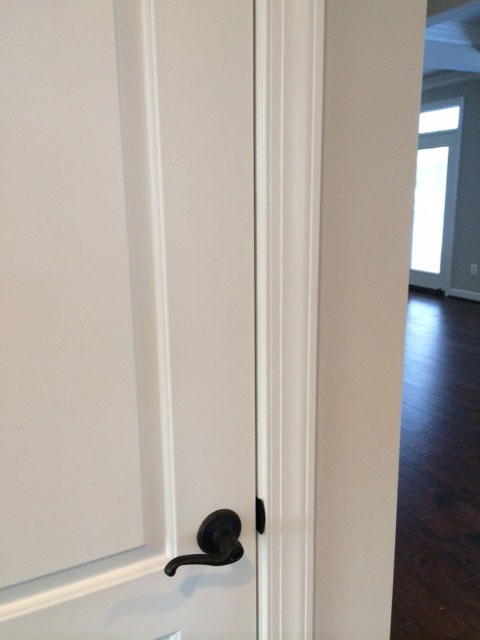 All standard.
What about our bathrooms?
I'm really proud of the enhancements we've made to our bathrooms. We use KraftMaid vanities in the same Maple door style as the kitchen. What's so great about that? You get the same features and quality cabinet construction as the kitchen cabinets.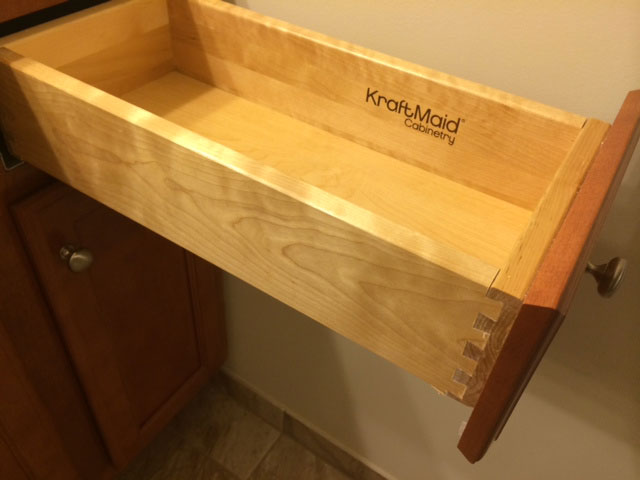 And all KraftMaid vanities are raised height. Most vanities have a standard height of 30-32". KraftMaid vanities are 34 ½"making it a very comfortable height. No awkward leaning over the sink anymore!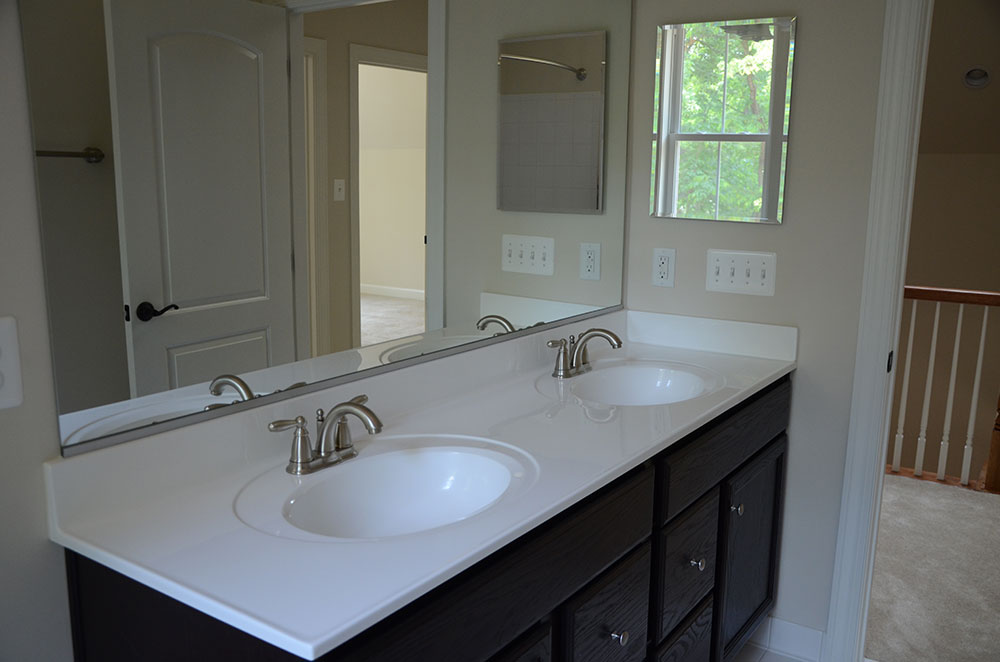 We recently upgraded all of our bathroom floor tile to 12×12 with a coordinating wall tile and listello accent tile.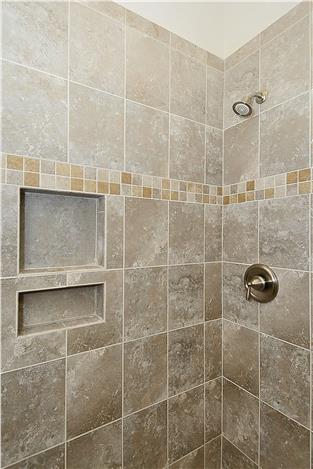 And in all showers, we carry the tile to the ceiling.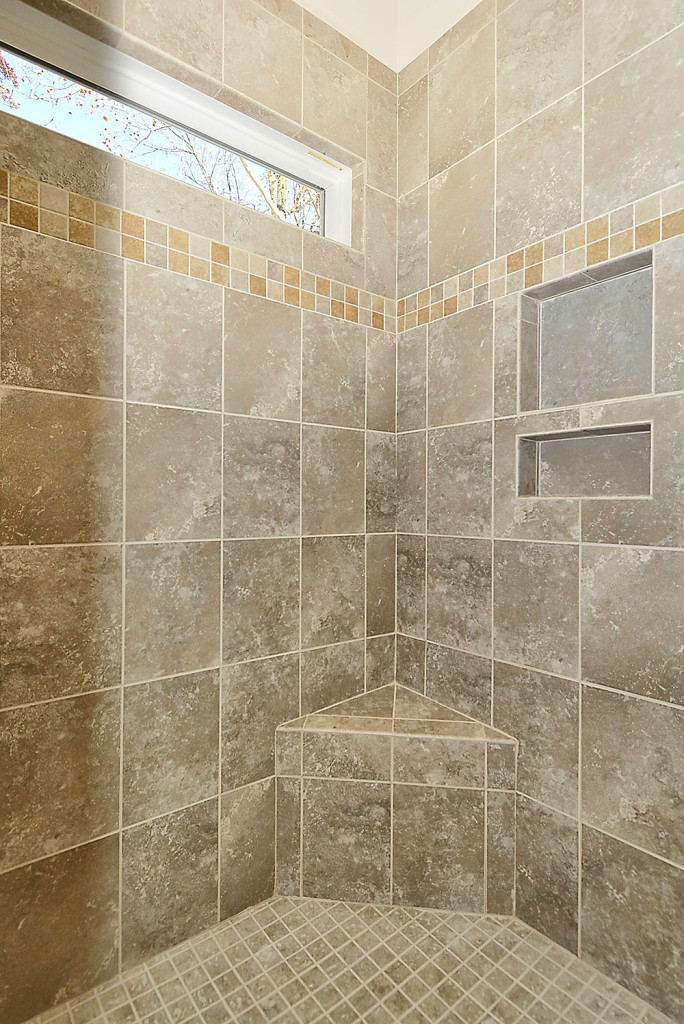 So pretty and what a difference it makes!
All standard.
How about the rest of the house? We offer a gas fireplace with a choice of marble, granite or slate surrounds.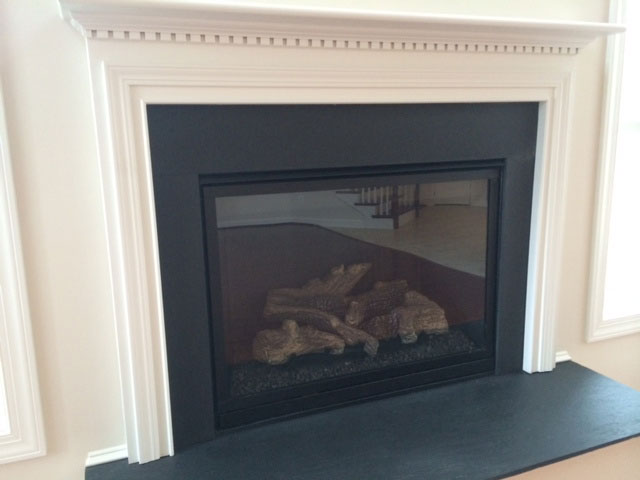 And don't get me started on the 90% Gas Furnace, Structured Wiring & Electrical Package, the awesome window we use, the insulation package, or our Quality Assurance Program. Have you ever seen so many scheduled walks and meetings?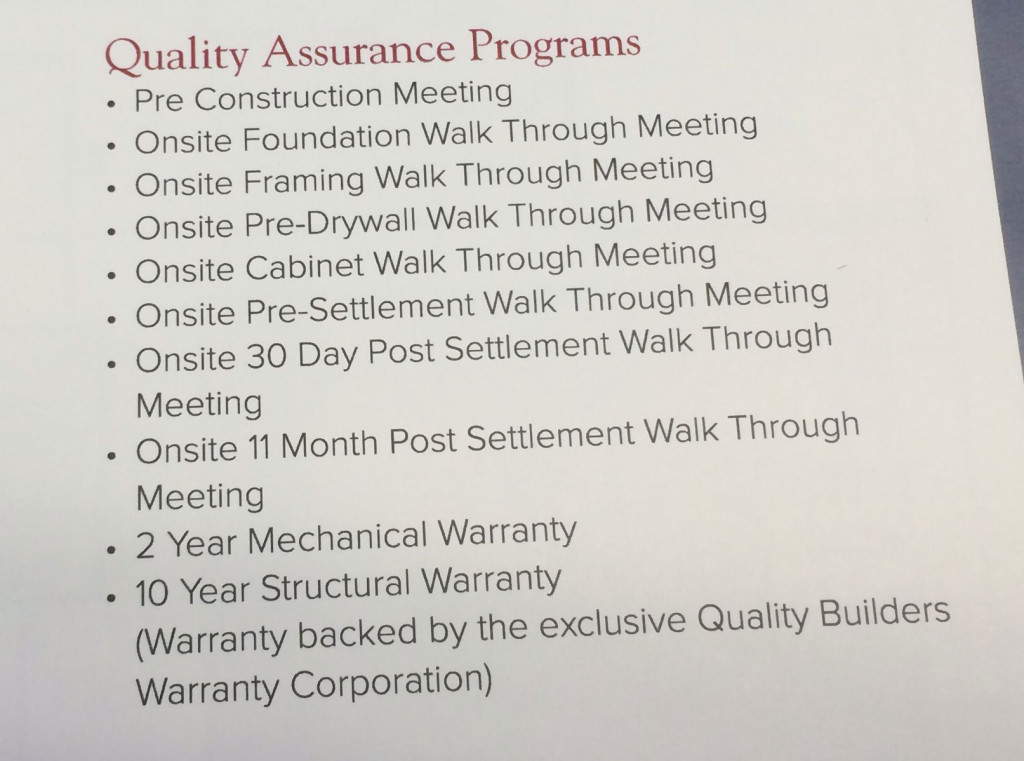 All standard.
This is a just a sampling of what you get for the base price of an NDI home. I'm very proud of the value and quality we can offer. It gives the buyer who never thought they could afford a custom home the opportunity to build. It also allows those who are looking to build a custom home with all the bells and whistles to pick and choose the features they want to add while still keeping it affordable. It's a program that can be tailored to fit our client's needs, wants and budget.
Now that's a cool thing.
Dream Big. Build Smart.