Exterior Materials For Your New Home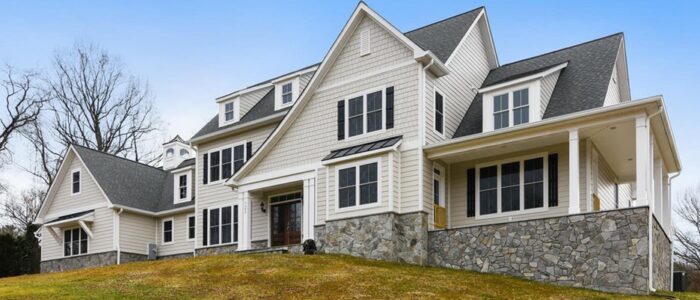 There are lots of decisions to make when you build a new home. One of the early topics you should be researching and thinking about is exterior building materials.
If you already live in Virginia, you know that our weather can be unpredictable. It's generally mild overall, but we can have heavy precipitation and severe weather at times. Our summers are hot and humid, and insects can be an issue. When you build a new home, you want your roof, siding, and windows to be able to withstand all these factors and last for a long time.
Let's run through some popular materials often used to build a new home in Virginia:
Roofing Materials:
Asphalt is the most popular roofing material, and for good reason. It's versatile, energy-efficient, and low-maintenance. Some varieties (like three-tab shingles) last for 15+ years, while other varieties (like the architectural style shingles we offer) last for 30+ years.
Metal is durable, long-lasting, and beautiful. Metal roofs do create noise during precipitation—this may be a pro or a con depending on personal preference!
Slate is the longest-lasting roofing material, but it's extremely heavy and expensive.
Tile is also extremely long-lasting and heavy. With materials like slate and tile, your home must be built to withstand the extra weight of a heavy roof.
You also don't have to pick only one material! You can choose a primary material with an accent material—for example, an asphalt shingle roof with metal accents.
Siding Materials:
Vinyl is the most popular siding material in Virginia. It's great for handling humidity and precipitation and it's very low maintenance. Modern vinyl has beautiful color options and is fade-resistant.
Fiber cement siding, like HardiePlank is heavy, durable, and resistant to weather and insects.
Brick and stone are classic, attractive, and long-lasting. We love stone accents in the front of a home to make a warm and inviting entrance.
Just like with roofing, combining materials is an option. For example, you could use vinyl as your primary siding with brick or stone accents. This combo is the best of both worlds!
Window materials:
Vinyl frames are energy-efficient, durable, and low maintenance. Modern vinyl has very attractive options.
Wood is, again, a great look, but one that requires regular maintenance.
For the actual window, we recommend LoE (low emissivity) glass. These windows are filled with argon gas to insulate your home better and provide protection from UV rays. We have used Simonton Windows for over a decade, and we love them. They have performed better over time than any other brand of windows we've used (and we've used them all!).
Once you have your exterior materials chosen, it's time to think about the smaller design decisions—check out some front door color trends or take a look at colored window exteriors!
If you have any questions about exterior materials, we're always available to help at hello@newdimensionsinc.com or 800-406-8555.
Dream. Build. Live.