So You Think You Can't Build?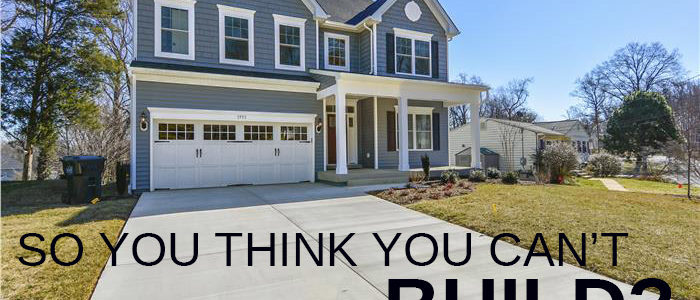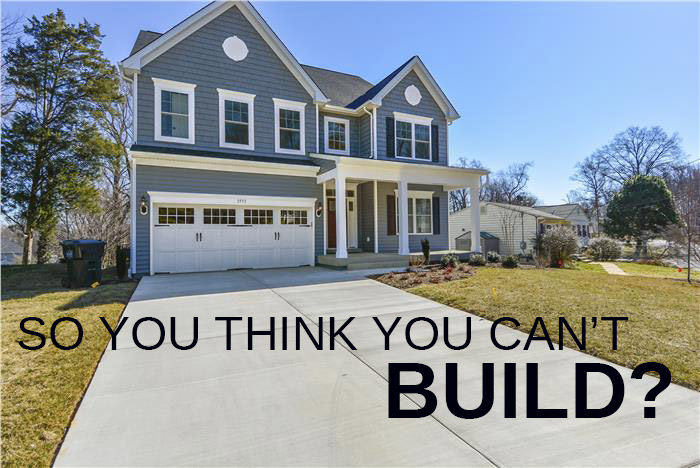 Building a custom home can be a scary thing. It is likely the biggest investment a person will make and most people find it difficult to imagine how you go from a hole in the ground to a beautiful new home.
I can't tell you how many discussions I've had with the clients who tell me building a custom home is something they've always wanted to do but they didn't think it was possible.
I get this all the time. And when I dig deeper and ask why, I get the same answers.
Answer #1:  We can't afford it.
When people think about building a custom home, dollar signs start popping up. Granted, it can be expensive. But when you consider the cost of new construction in this area, building on your lot will usually allow you to build more for less.
For example, if you are currently living in your home, your budget will likely look like this…
Payoff of Current Mortgage + NDI Base House Price + NDI House Options + Site Development Costs
Now let's plug in some sample numbers…
Existing Mortgage – $400K
Fairlington Model – $339,900 (the Fairlington is over 3500 square feet, 4 bedrooms & 3.5 bathrooms)
House Options – $20,000 (with this $20K, you can get a Fairlington that looks like THIS!)
Estimated Site Development Costs – $85,000 (costs vary, we recommend following THESE GUIDELINES)
Total Estimated Project Cost is $844,900*
Don't own a lot yet? Plug in your lot budget in the above equation to get your estimate.
When I run this exercise with someone, they're usually shocked at the affordability and the value. Where can you buy a 3500 square foot custom home for under $900K in northern VA? You can't which is why most of our clients experience instant equity (home is worth more than they paid) the day they move in.
Answer #2:  Building a custom home takes too long.
I get it. There is definitely a perception out there that you need to tack on 3-6 months to whatever completion date a builder gives you. While weather and normal building delays will occur, a reputable builder will factor in these normal conditions and give you a good time estimate.
We build our homes in 5-6 months from the day we start the dig. How long it takes to get to that point depends on how quickly we can get the client through the design phase and county permit approvals. We just settled a home that took 9 months from contract to settlement. That's quick. Our average is right around 12 months from start to finish. That's still quick.
Whether you're living in the house you intend to tear down or you're purchasing the lot, you will need to live somewhere while the house is being built. A good builder will also strategize with the client to reduce the time spent in temporary housing. Because that time is also money. We work with our clients to limit that exposure as much as possible.
Answer #3:  I don't know where to start.
There are a lot of builders out there and finding one that is a good fit for you isn't always easy. Getting a referral from a family member, friend or neighbor is often the best way to start. Most of the clients we work with know someone who has built with us in the past.
But the biggest piece of advice I can give someone researching custom builders is to meet the decision makers. It is one thing to have a good rapport with the representative guiding you the through the process of building but you should also know who you're really working with. Meet the person or persons responsible for the operations of the company. Because it doesn't matter who you decide to build with, the unexpected will occur. Find someone you trust and someone who shares your integrity. It could mean the difference between an enjoyable building experience and a nightmare.
Dream Big. Build Smart.
*Total Estimated Project Cost is based on current pricing as of the date of this post.